RAK offshore company registration is popular with people seeking tax efficiency in a relatively stable jurisdiction. However, as we'll explain below, this is usually a poor choice.
RAK Offshore Company Registration Warning:
RAK offshore company registration is increasing in popularity. Unfortunately, so are the bank account opening challenges for these entities. For this reason, it's important to understand your banking options before moving ahead with RAK offshore company registration. 
The overarching concern, of course, is that banking options for most RAK offshore companies are extremely limited. In fact, most owners are now forced to accept subpar EMI and fintech solutions or restructure their company entirely in another country. That said, as always, there are rare exceptions.
In this article, we're going to help you navigate the banking options if you are considering RAK offshore company registration. We'll also highlight common challenges you'll face, as well as some other alternatives that you can consider instead.
But first, if this is your first time visiting GlobalBanks be sure to download our FREE Business Banking Starter Guide. In short, it's designed to help business owners find and open accounts for their international companies in top banking jurisdictions.
What is an RAK Offshore Company?
Before diving into RAK offshore company registration, let's agree on some common language. Firstly, RAK offshore companies are actually called RAK ICC companies.
ICC stands for International Corporate Center, which is the corporate registry in Ras Al Khaimah, which is itself one of the Emirates in the UAE. In other words, an RAK ICC company is a UAE offshore company. However, it's only one of the many structuring options in the UAE — though it is one of the most popular choices.
In short, RAK ICC companies can be used as international business companies (IBCs) or as holding companies. However, in this article, we'll be using the term "RAK offshore company" to represent all of these activities.
RAK Offshore Company Challenges & Limitations

Like other "offshore" structures, RAK offshore companies are not allowed to conduct business within the country of registration — in this case the UAE.
Additionally, RAK offshore companies cannot engage in certain regulated activities, such as insurance or reinsurance — either as an issuer or a broker.
But, these restrictions don't tend to bother most people. Instead, where most people considering RAK offshore company registration get stumped is when it comes time to open a bank account.
Is It Possible to Open a Bank Account for a RAK Offshore Company?
The simple answer is yes, it's possible. In fact, it's possible to open bank accounts for pretty much any structure. But, the real questions are: 1) where can you realistically open accounts, and 2) will that bank account actually be useful, cost-effective, and at a bank that actually meets your business banking objectives?
But, unfortunately, business owners with RAK offshore companies today are often left with limited options or feel forced to accept subpar EMI and fintech solutions.
Using alternative banking solutions, such as an EMI or fintech, have obvious drawbacks when it comes to transaction fees, foreign currency conversion costs, safety and security of deposits, access to SWIFT, online banking, cards, transaction volume restrictions, and more.
Authentication of UAE Documents
Also, it's important to mention that the UAE is not a signatory to the Hague Convention. in other words, the procedure to authenticate corporate documents is more complex and costly for RAK offshore companies. Even if you're just trying to open an account at an EMI or fintech abroad, you'll still need to submit authenticated documents. Certainly, this cost often comes as a surprise to entrepreneurs. To sum up, here's the legalization process for UAE companies opening in the UK.
Economic Substance Requirements
Additionally, while most people think they'll be able to open bank accounts in the UAE for their RAK offshore company, that's not going to happen as the UAE has introduced Economic Substance Requirements (ESR). Consequently, opening bank accounts for non-resident offshore entities is nearly impossible in the country.
Reputational Concerns With EMIs & Fintech
Another downside is that the perceived reputation of your business may take a hit. For instance, if you ask clients or suppliers to transfer funds to a digital platform, that doesn't exactly scream credibility. Plus, some international banks will refuse to send outgoing transfers to fintech platforms — so that's something to consider as well.
In short, in most instances, RAK offshore companies have limited banking options these days. As a result, if you register a company in a different jurisdiction, you may have more options.
RAK Offshore Company Registration Benefits

Despite the banking challenges mentioned above, RAK offshore company registration can offer some (limited) benefits to the right type of business and business owner.
So, let's take a look at those now.
Benefits of RAK Offshore Company Registration
Useful for companies with limited (zero) banking needs
No corporate reporting requirements
Exempt from taxation (including withholding tax) in the UAE
Can be registered with one shareholder and director
Low-cost registration & maintenance
Privacy: RAK company info can only be accessed by licensed service providers.
Of course, benefiting from these factors hinges on whether an RAK offshore company can actually carry out the business that you're involved in. Likewise, if you need a bank account for that business, chances are you're going to face serious challenges. Consequently, it's important to stress that RAK offshore company registration should only be considered for businesses with limited banking requirements. In other words, businesses that don't need a bank account to fulfill their purpose.
Such business may include entities that are registered with the sole purpose of holding intangible assets such as intellectual property or trademarks. Alternatively, RAK companies may also be used for holding real assets such as a property where the owner does not have any intention in receiving income from rentals.
If your intended business falls into one of these categories, RAK offshore company registration may be worth considering — though in most instances, better options usually exist elsewhere.
RAK Offshore Company Registration & Banking
In this section, we'll talk about bank account opening options. In other words, if you register an RAK offshore company, will you be able to open an account. Firstly, your options are going to be severely limited. In fact, if you have an RAK offshore company you should expect one of the two following scenarios…
Open an account with an EMI or fintech
Make a significant deposit to incentivize the bank
However, if you are setting up an RAK offshore company for business purposes and/or you chose to use RAK offshore company registration simply because it's a low-cost option and lets you operate tax-free, these two scenarios probably aren't in your game plan.
So, what should you do instead?
Well, there are still a few banking options available for RAK offshore companies. However, these banks can be challenging to access and they tend to be very cautious about onboarding RAK structures. In other words, many of these banks won't entertain applications from businesses involved in high-risk (or even moderately high-risk) industries.
On the other hand, the other alternative is restructuring the business in a more acceptable jurisdiction.
This is a practical choice for a few reasons…
First, even if you can open a bank account for your RAK offshore company today, that doesn't mean the account will stay open long term. Additionally, as compliance increases and AML and KYC rules get stricter, it's inevitable that your non-resident business will come under greater scrutiny.
Secondly, RAK offshore companies are not as well known as other types of UAE companies and other offshore entities from other countries. So, RAK companies will often attract more scrutiny (and eyebrow raises) from bankers and compliance teams during the application stage and after the account is open. In other words, assuming you're opening a bank account outside of the UAE, RAK offshore companies stick out like a sore thumb compared to other company types.
Alternatives to RAK Offshore Company Registration

When it comes to choosing where to register an offshore company, there are several factors to take into consideration.
Unfortunately, most corporate service providers skip over these factors since it could delay your decision-making or result in you going to a different country altogether. In other words, they wouldn't profit from you registering a company.
It's a similar story when using local bank introducers for opening accounts. For example, introducers don't offer you the best account opening options around the world. Instead, they just push banks that they have relationships with, which isn't helpful and isn't what most people need. But, more on that in a bit.
Factors When Choosing a Jurisdiction to Register a Company
The factors to consider when choosing a jurisdiction include everything from tax efficiency, bilateral agreements, public vs private registries, the cost of registration and maintenance, perceived (and actual) risk, reputation, and of course — which banks you can realistically open at if using that structure.
Above all, it's wise to choose more established jurisdictions that have a long history of company registration. Similarly, entities that are widely used will be more familiar to bank compliance departments. In short, such entities will have access to multiple bank account opening options.
Certainly, these jurisdictions can sometimes seem more expensive upfront. But, when you take into account the time, effort, and costs associated with opening new bank accounts, you'd be surprised how inexpensive these jurisdictions actually are.
Here's a look at a few alternative jurisdictions and tax-efficient structures that many entrepreneurs look at when considering RAK offshore company registration.
Alternatives to RAK Offshore Company Registration
1
British Virgin Islands
Business Company
$$
2
Canada
Limited Partnership
$
3
Cyprus
Private Company Limited by Shares
$$
4
Estonia
Private Limited Company (OÜ)
$$
5
Hong Kong
Private Limited Company
$$$
6
Ireland
Limited Partnership
$$
7
Malta
Private Company Limited by Shares
$$
8
Singapore
Private Limited Company
$$$
9
United Kingdom
Limited Liability Partnership
$
10
United States
Limited Liability Company
$
This is obviously not an exhaustive list. Instead, it's just a few examples of structures that entrepreneurs often consider when trying to determine the best jurisdiction for their international business. And of course, each of the above options has its own set of pros and cons to consider, including a varying range of bank account opening options.
However, it's important to note that the available account opening options will ultimately depend on your business and personal profile. In other cases, banks around the world will welcome you as long as you can pass due diligence and meet deposit requirements.
In addition, some readers may be surprised to see a number of classic offshore structures excluded from this list. Well, that's because the practicality of registering, operating, and banking certain types of offshore entities has become too challenging for most people — rendering them relatively useless for banking. For instance, such offshore jurisdictions include Panama, Belize, Seychelles, St. Vincent and the Grenadines, Vanuatu, and elsewhere.
So, if you have (or are considering) an entity registered in one of the jurisdictions in the above table, you will be glad to know that there are banking options available.
Unlock Account Opening Strategies for Offshore Companies
In fact, we cover account opening for these entities (and many more) in a recent premium report, "How to Open International Bank Accounts for Offshore Companies". Above all, it outlines specific banks and jurisdictions for owners of offshore companies to consider. In addition, it also shares proven account opening strategies, special tips and considerations, and much more.
But, this report is only available to members of GlobalBanksIQ and GlobalBanks Insider. So, you can access it immediately after you join either of these membership services.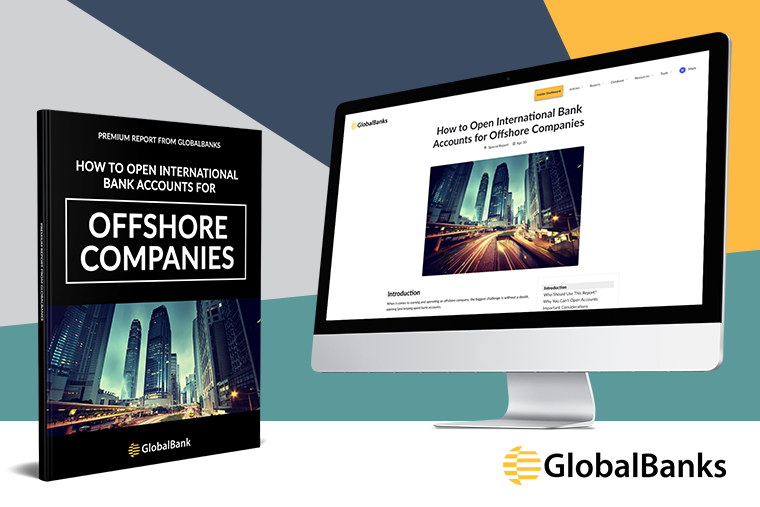 Alternatively, if you chose to open either a UK LLP, UK LTD, or US LLC, our team has also published members-only premium reports focused on bank account opening for these structures. These detailed account opening reports are also available through our membership platforms.
How Can You Open Accounts for Offshore Companies?
In conclusion, if you have already gone ahead with RAK offshore company registration and you want to understand what banking options are available, we can help. But keep in mind, your options will be limited.
Alternatively, if you have an offshore company in another jurisdiction (or you're considering registering one), the GlobalBanks team can help you navigate account opening and understand your banking options.
When joining GlobalBanks, you have three membership options tailored to your specific account opening objectives…
Here's a quick overview of how to start:
If you're ready to take action and start opening international accounts now, you can access GlobalBanks IQ, our dedicated international banking intelligence platform.
GlobalBanks IQ gives you everything you need to start finding and opening accounts for you or your business today.
When you join GlobalBanks IQ, you immediately unlock the GlobalBanks Database of international banks — home to 250+ banks in 50+ countries. 
And, you get access to our library of premium (members-only) reports, including proven account opening strategies, country-specific banking options, and lists of banks for specific client types.
Plus, you unlock our account opening checklists, dedicated account opening alerts, and much more. 
To get started, click here to see if GlobalBanks IQ is the right choice for you to start accessing the benefits of international banking today.
You can also view all of the account opening solutions offered by GlobalBanks on our products page.