If you're planning to open a Panama bank account online, you're probably well aware of the Hollywood plot to pin Panama as the poster-child for offshore banking and tax evasion.
But here's the thing, Hollywood's got it wrong.
In fact, Panama has some of the best run, financially stable banks worth considering in the region–of course, you need to know which banks to choose.
In today's article, we're going to explore how individuals, businesses, and even offshore companies can open a Panama bank account online.
We'll also discuss whether banking in Panama is safe, and a few important considerations resulting from the Global pandemic.
Before starting, don't forget to download your free copy of the Non-Resident Banking Starter Guide. It will help you identify and successfully open bank accounts online in jurisdictions like Panama. 

First, let's talk about the Panama Papers, and yes they're still relevant. You see, the Panama Papers put the spotlight on Panama as an offshore jurisdiction–resulting in beefed-up compliance and more account opening challenges.
So, while the leak may have happened in 2016, it's still a sore spot in Panama and in the local banking sector–not surprisingly.
Likewise, it would have been hard to find anyone in Panama that was excited about Netflix's star-studded film 'The Laundromat' when it was released last year.
In any case, it's hard to write an article about Panama without at least mentioning the Panama Papers. They exposed politicians, movie stars, and elite athletes from around the world. And yes, Panama played a role, albeit a lot smaller than the media would like you to believe.
Okay, that's the obligatory mention of the leak out of the way. Now, let's talk about something more relevant and much more exciting… interest rates.
Panama Bank Account Interest Rates
There are many reasons why someone might want to bank in Panama, not the least of which is the wide range of banks in the country. Additionally, it's common for Panama foundations and companies to open accounts here since they'll face challenges in most other countries.
But one of the main catalysts for foreigners and foreign companies are the high-interest rates at Panamanian banks. Unlike the US, Canada, or EU member states, banks in Panama offer attractive fixed deposit rates.
But, this isn't Argentina or Zimbabwe. When you bank in Panama, your account is denominated in USD, just like the local economy. Speaking of which, the economy is based on financial and professional services, tourism, and of course, the Panama Canal–making this tiny Central American country one of the most important transport and logistics hubs in the world.
So the interest rates on offer are not only attractive, but they're situated in a relatively stable economy backed by sound fundamentals. And if you're looking for a risk-adjusted return on your deposit accounts, Panama could be an interesting option for you to consider.
Now, let's look at another important consideration–the safety and security of Panama banks.
Are Banks in Panama Safe?

Before you open a Panama bank account online, take a close look at the bank. How are the financials? How strong are their correspondent banking relationships? These factors are extremely important, especially if you don't plan on visiting the branch in-person.
As always, we strongly suggest understanding each bank's financial stability, business operations, investment behavior, and strength of their correspondent banking relationships before you open accounts. That way you can sleep easy at night knowing your funds are safe.
At a minimum, we suggest confirming bank solvency, bank liquidity, and ask about the bank's business model. In other words, do they generate the majority of their money from lending to retail customers? Or do they generate revenue from fees and services?
COVID Considerations
Panama is a small country with limited domestic resources. It doesn't have a central bank, and the primary currency in use is the US dollar. The local currency (the Balboa) is only available in coinage.
With this in mind, it's no surprise that there has been limited financial support for small businesses, entrepreneurs, and individuals, during the COVID pandemic. In other words, companies and employees had to fend for themselves.
Why does this matter to you? Well, Panama doesn't have a deposit guarantee scheme. Instead, the country's bankruptcy code comes into play, which dictates that customers with deposits under $10,000 be paid back first.
That said, the National Bank of Panama, which is a quasi central bank without any monetary powers, issued a US $4.8 billion bond in August 2020. It was the largest issuance in its history. And it's expected that this will be used to provide aid to any of the financial institutions that suffer as a result of the pandemic.
Which Panama Banks Are Safe?
Like most places in the world, you should avoid banks that are actively engaged in retail lending, toxic investments, are overexposed to construction and real estate, shakey correspondent banking relationships, or 'fast and loose' compliance policies.
Instead, focus on banks that have small (or non-existent) loan portfolios, generate the majority of their revenue through fees and services, and have strong financials. In other words, their business is sound, they're not at risk of losing their correspondent bank relationships, and regulators aren't going to shut them down.
Yes, such banks do exist in Panama. In fact, a select few banks in Panama have significantly stronger financials than banks in the US, Canada, and Europe. To find them, you just need to know which questions to ask and where to look. Of course, having a direct introduction to a good banker doesn't hurt either–like the ones we provide to GlobalBanks Insiders.
Can You Open a Panama Bank Account Online?

Surprisingly, just about anyone can open a Panama bank account online. In fact, in recent months, we've helped many GlobalBanks Insider do just that. The best part, though, is that remote opening is possible not just for individuals, but also for local and foreign companies, structures, and even foundations.
Here is a list of the client types that can consider this option:
Panama Offshore Companies
Panama Foundations
Foreign Companies (EU, Asia, North America, etc)
Offshore Companies (BVI, Bahamas, Cayman, Belize, Nevis, etc)
Investment Vehicles (Trusts, Foundations, Funds, etc)
And many more…
Of course, your ability to open a Panama bank account online isn't guaranteed. Bank compliance here is intense and you'll need to pass due diligence. You'll also need to prove to the bank that you're worth dealing with and won't cause compliance headaches for them. And, of course, you'll also need to make sure that the Panama bank you choose actually offers the services you require.
After all, not all banks in Panama can handle the banking demands of international clients. And, sometimes it's difficult to find reliable English language customer support. Online banking can be archaic. And, some banks won't even let you make international transfers online. That means you'll have to physically go into the branch every time you want to send money abroad.
With this in mind, let's take a quick look at some of the challenges you'll face when trying to open a Panama bank account online.
Challenges When Opening a Panama Bank Account Online

Like many countries, you will face a few obstacles and inconveniences when trying to open a Panama bank account online. Banking in Panama (post-Panama Papers) can be bureaucratic, time-consuming, compliance heavy, and difficult to navigate.
Most people give up out of sheer frustration. This is usually because they chose the wrong banks or dealt with the wrong bankers. In other words, they didn't have the right information going in.
Let's take a look at some of the main challenges now…
Paperwork Required to Open a Panama Bank Account Online
Paperwork requirements can be intense. To open a Panama bank account online, you're going to be asked to provide a lot of documentation. Unfortunately, this isn't something you can avoid by showing up in person. It's just the nature of banking in Panama, after the Panama Papers.
So, while you can't lessen the paperwork requirements, you can expedite and streamline the process dramatically. To do this, you need to work with the right banker and confirm the requirements beforehand.
Certification Requirements to Open a Panama Bank Account Online
Additionally, if you are planning on opening accounts for a foreign or offshore company, you'll discover that banks in Panama require certified documents for everything. And, this can get expensive.
Of course, in many instances, you'll be asked to get documents certified by the local notary in the country where your company is registered. Then you'll have to get those documents couriered to the bank. And, on top of that, some banks will have different authentication requirements for different types of paperwork.
So, getting everything properly certified or authenticated on your first attempt can save you a few hundred dollars. If you do it incorrectly, or your banker gave you incorrect information the first time (which happens), you'll have to go through the process again and do a second mailing.
Bottomline, knowing what the real requirements are, and doing things correctly the first time around, saves you a lot of time and money. Especially when you're trying to open a bank account online in Panama.
Responsiveness of Panama Bankers When Opening Accounts
Finally, and most importantly, it can be very difficult to find attentive, competent bankers to help you open accounts. While that might seem counterintuitive, it's similar to what you'll find in other banking hubs around the region.
To solve this, you really need to be put in direct contact with a reliable and experienced banker. Someone that's going to take your application seriously and respond to email. Not to mention, pick up the phone when you call.
This means finding a banker that speaks your language, understands your business and sees you as a profitable client. Of course, they also need to be willing to deal with a picky foreigner.
Open a Panama Bank Account Online Right Now
If you've already joined GlobalBanks Insider and you're interested in exploring how you can open a Panama bank account online, just let us know. We have already helped other GlobalBanks Insiders open accounts with some of the top banks available for non-resident individuals and foreign companies.
If you're not a GlobalBanks Insider, here's what you're missing…
GlobalBanks Insiders have access to our premium report, Panama Offshore Banking. This report covers the top banks in Panama for expats, foreigners, non-residents, foreign companies, and offshore entities. In it, we detail proven account opening strategies, remote opening options, special opportunities, and useful loopholes.
And, we also provide direct introductions to bankers that will open a Panama bank account online for you, your company, or foundation–for free. The only thing you need to do to access our Panama Banking Report and to start opening accounts today is to join GlobalBanks Insider.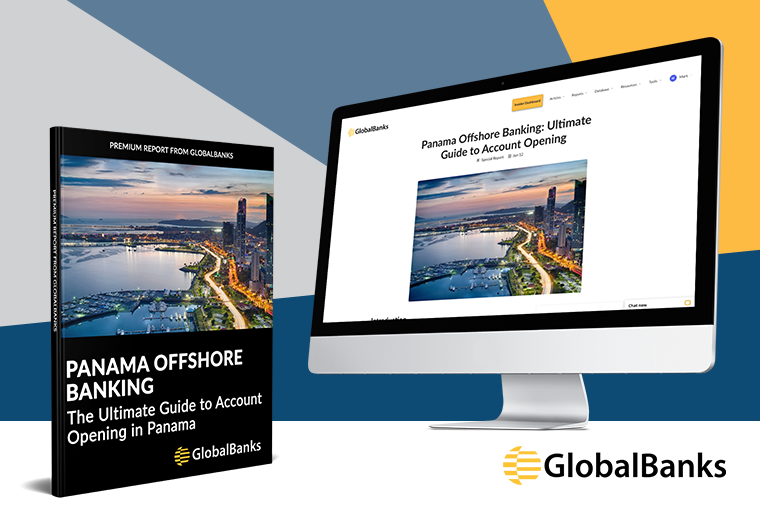 Ready to Open a Panama Bank Account Online?
If you're ready to start opening a corporate bank account in Panama, then we'd be happy to help you on your journey.
If you're ready to take action and start opening international accounts now, you can access GlobalBanks IQ, our dedicated international banking intelligence platform.
GlobalBanks IQ gives you everything you need to start finding and opening accounts for you or your business today.
When you join GlobalBanks IQ, you immediately unlock the GlobalBanks Database of international banks — home to 250+ banks in 50+ countries. 
And, you get access to our library of premium (members-only) reports, including proven account opening strategies, country-specific banking options, and lists of banks for specific client types.
Plus, you unlock our account opening checklists, dedicated account opening alerts, and much more. 
To get started, click here to see if GlobalBanks IQ is the right choice for you to start accessing the benefits of international banking today.
You can also view all of the account opening solutions offered by GlobalBanks on our products page.