How to open a bank account in the UAE for non-residents is one of the most common questions that we get asked from entrepreneurs and investors, especially those living or doing business in the Middle East.
The UAE is popular, thanks in part to the country's perceived stability (and secrecy) and relatively lenient banking environment.
And while the UAE is "small" compared to many other financial centers, it punches above its weight in terms of privacy, financial services, and of course, banking.
As the epicenter of stability in an otherwise turbulent Middle Eastern region, several of the emirates may offer the type of stable banking options you're looking for.
That said, banking in the UAE as a non-resident comes with restrictions. It can be tedious to navigate, and in many cases, opening an account will require a personal visit.
In today's article, we'll explore whether the UAE could be a suitable banking hub for you. We'll look at the three most important UAE emirates for banking, the account opening processes, challenges and pitfalls, and how you can start opening accounts.
If you haven't already downloaded your free copy of the Non-Resident Banking Starter Guide, grab yours below. It's free. And, it will help you choose banks, select bankers, and open accounts around the world. 
Before diving in, it's worth noting that the UAE is no longer on the EU's list of non-cooperative jurisdictions. In fact, the UAE was removed in October 2019. Likewise, the country also doesn't appear on any  FATF lists, so it's not considered a high-risk jurisdiction, nor is it defined as a country under increased monitoring by FATF standards.
And, that's a good thing.
It means that the UAE has taken the necessary steps to become a decently transparent country and has successfully met the international standards imposed by regulators and other quasi-government bodies.
But should you bank here as a non-resident?
Well, that's a big question. And, the answer depends on your specific banking objectives and reasons for wanting to bank in the UAE.
To start, let's look at banking in the UAE followed by the three emirates that are most popular for non-residents to open accounts in.
After that, we'll share how you can open a bank account in the UAE for non-residents. We'll also highlight some important (and often overlooked) non-resident-specific restrictions and account opening challenges.
What to Expect When Banking in the UAE as a Non-Resident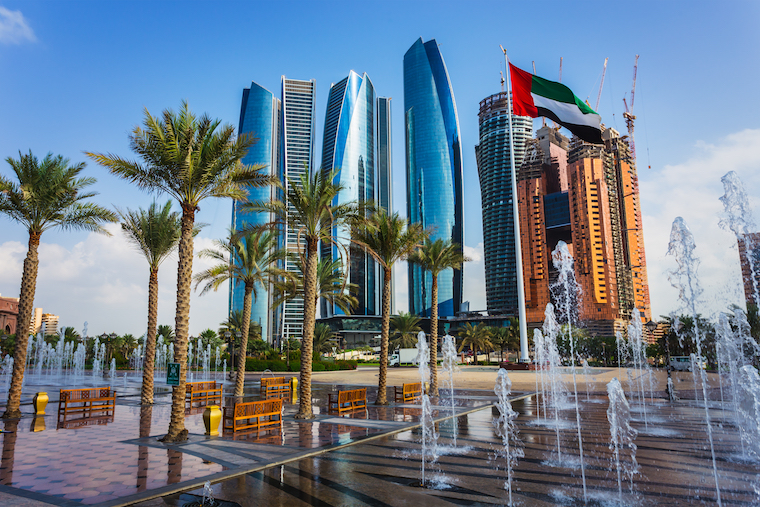 Banking in the UAE can be attractive for a few different reasons, namely secrecy, stability, and diversification.
But it's important to note that all UAE banks comply with FATCA and CRS. In fact, the UAE started participating in the automatic exchange of information (AEOI) in 2019. So if you bank here, expect your information to be automatically shared with tax authorities in your home country or country of residence.
Additionally, non-residents are drastically limited in the types of accounts and products they can access in the UAE. And, these restrictions are mandated by the Central Bank, so they're something you can negotiate your way out of.
On a positive note, the UAE banks have IBANs. This means you can easily manage transactions to and from partners in Europe. Simply having a bank with an IBAN can offer huge savings in terms of time and money. IBAN access, therefore, makes the UAE significantly more attractive than other international banking jurisdictions.
Lastly, bank account opening in the UAE will almost always require an in-person visit. We'll discuss this in more detail below. But ultimately, if you're in search of a remote account opening option, you'll have better luck elsewhere.
Where to Open a Bank Account in the UAE for Non-Residents?
The UAE is home to seven different emirates. But from a banking perspective, there are three emirates that attract non-residents and expats, which include:
Ras al-Khaimah (RAK)
Abu Dhabi
While banks are regulated nationally by the UAE central bank, not all banks are present in every emirate. So you may find that the bank selection is better in one emirate over the others.
Additionally, depending on your specific objectives and why you want to bank in the UAE, one emirate may better meet your needs.
How to Open a Bank Account in the UAE for Non-Residents in Dubai
When most people ask how to open a bank account in the UAE for non-residents, they're really asking about Dubai.
One of the main reasons for this is that Dubai is home to some of the most established free trade zones (FTZs) in the world, making it an ideal place for non-resident entrepreneurs and investors to consider doing business. Though, if you're just getting started, you'll likely find Ras al-Khaimah more accommodating and affordable.
Additionally, while not as affordable as Ras al-Khaimah, Dubai is less conservative than Abu Dhabi and can be easier to access from a banking perspective.
With this in mind, Dubai is often best suited to individuals and companies who do business in the region, have UAE companies, or regularly visit the country.
How to Open a Bank Account in the UAE for Non-Residents in RAK
Alternatively, Ras al-Khaimah (or RAK), is a popular destination for setting up international companies in a tax-free environment. So, it's an interesting jurisdiction for anyone looking to register a new company.
Like other popular tax havens known for secrecy such as Anguilla, Bahamas, Cayman, Panama, Seychelles, or Vanuatu, RAK offers entrepreneurs and investors strong privacy. But unlike these other countries, RAK also offers access to relatively stable banking.
Unfortunately, bank account opening for RAK companies isn't as straightforward as most business owners would like. Plus, all the typical challenges of opening a UAE non-resident account, still apply. We'll discuss these in the next section.
But first, let's look at the third emirate that many foreigners consider for non-resident banking in the UAE: Abu Dhabi.
How to Open a Bank Account in the UAE for Non-Residents in Abu Dhabi
If Dubai is the business and shopping center of the UAE, Abu Dhabi is a more conservative, more reputable, financial center. So, it's no surprise that the account opening process in Abu Dhabi can sometimes be more difficult than Dubai or RAK.
Similar to UAE's other emirates, Abu Dhabi banks often attract non-residents and their UAE companies thanks to the perceived stability of the banking sector. And in the case of Abu Dhabi, this reputation is well earned. In fact, on several occasions, the Abu Dhabi government had to step in to save Dubai from collapse.
That said, if you eventually intend on opening a company in the UAE, Abu Dhabi will be a more expensive option than both Dubai and RAK. But, if you plan on having a true physical presence with meaningful economic substance, Abu Dhabi is worth exploring.
How to Open a Bank Account in the UAE for Non-Residents?
If you don't plan on obtaining residency in the UAE, your account opening options will be limited. The reason for this is that non-resident accounts are for individuals that have already started the process of obtaining residency or a visa.
However, depending on the bank, branch, and the banker you approach, there are still several account opening options available for non-residents that don't intend on establishing ties in the UAE.
In addition, there are also several restrictions and limitations that non-residents need to be aware of when banking here. For example, most non-residents can't open checking accounts (or current accounts), aren't allowed to have checkbooks, and sometimes have restrictive minimums and maximum rules for account balances.
Requirements to Open a Bank Account in the UAE for Non-Residents
Typical personal documentation
Minimum deposits apply but amounts vary from bank to bank
Maximum limits may also apply
Minimum account activity (e.g. one transaction per quarter)
Restrictions aside, non-residents can still open a savings account and receive a debit card.
Additionally, UAE banks do offer multi-currency accounts with most major currencies available. However, these aren't always available and you'll want to confirm if the bank offers your desired currencies before opening.
You'll also want to calculate fees for international transfers in certain currencies. For example, if you plan on converting AED to USD to invest in ETFs in Ireland via your European broker, you could face higher fees if you choose the wrong UAE bank.
Overview Available Bank Products for Non-Residents
Savings accounts
Debit card
Online banking
Multi-currency (most major currencies available)
Remote opening possible (more on this below)
Bottom line: With the right information, knowing which banks are most open to accepting non-residents, and what their account opening quirks are, non-residents can open bank accounts in the UAE without too much hassle.
How to Open a Bank Account in the UAE for Non-Residents Remotely?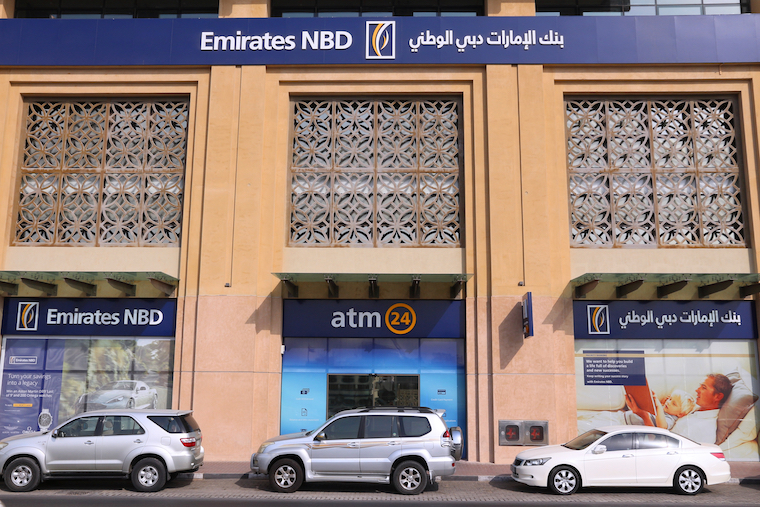 Unfortunately, most people still need to visit the UAE in person to open a bank account. This requirement is from the UAE's central bank, which makes the UAE one of a handful of countries where an in-person visit for bank account opening is almost always necessary. For private banking, exceptions can be made, depending on the bank and banker.
However, there are certain situations where some groups can open an account in the UAE without visiting a bank. But such opportunities are rare and require the applicant to meet specific parameters. We share these options (and what the requirements are) with our premium members, GlobalBanks Insiders.
To get immediate access to GlobalBanks Insider, just follow the link at the end of the article.
Risks of Opening a Non-Resident Bank Account in the UAE
Obviously, there are risks anytime you open a non-resident bank account anywhere in the world. The UAE is no exception.
UAE banks are particularly susceptible to the economic outcome in the local property market and oil industry. So, it's no surprise that during times of global economic turmoil, bank stability becomes a concern.
However, during times of economic uncertainty in the past, like the 2008 financial crisis, the UAE government has insured 100% of depositor accounts. That's certainly one major benefit to having a savings account in the UAE as a non-resident instead of other jurisdictions that offer little to no deposit insurance.
Beyond the economy, there are more basic operational account risks to take into consideration as well. For instance, UAE banks sometimes charge high non-resident fees and high penalties if your balance drops below a certain threshold.
Lastly, a warning for anyone that intends to become a resident of the UAE:
If you plan on acquiring credit cards, lines of credit, car loans, or mortgages, there are severe penalties for late-payments and default. In fact, many expats have found themselves in prison, literally, for missing credit card payments. So, be careful. Otherwise, you might be parking your Ferrari next to the others left behind by fleeing expats at the Dubai airport.
How You Can Start to Open a Bank Account in the UAE for Non-Residents Today…
Whether you want to know which banks will accept you, which account opening strategies to use, or you just don't know where to begin, we can help.
If you're ready to take action and start opening international accounts now, you can access GlobalBanks IQ, our dedicated international banking intelligence platform.
GlobalBanks IQ gives you everything you need to start finding and opening accounts for you or your business today.
When you join GlobalBanks IQ, you immediately unlock the GlobalBanks Database of international banks — home to 250+ banks in 50+ countries. 
And, you get access to our library of premium (members-only) reports, including proven account opening strategies, country-specific banking options, and lists of banks for specific client types.
Plus, you unlock our account opening checklists, dedicated account opening alerts, and much more. 
To get started, click here to see if GlobalBanks IQ is the right choice for you to start accessing the benefits of international banking today.
You can also view all of the account opening solutions offered by GlobalBanks on our products page.