Ever considered a Vanuatu bank account?
Most haven't.
But, in certain situations and for certain people, Vanuatu bank accounts are highly sought after. For others, it's the opposite.
In this article, we're going to explore the Vanuatu banking scene, the pros and cons, what to watch out for, and how you can take advantage of it.
---
KEY TAKEAWAYS
Banking in Vanuatu can be an attractive option for foreign non-residents and companies
Account opening in Vanuatu can be very expensive
Bank selection is very important as a foreign non-resident
Not all banks in Vanuatu accept foreign non-resident clients
---
Opening Accounts With Vanuatu Banks
Since the 1930s, wealthy Americans have used the Caribbean as a tax haven. But by the 1970s, two of the biggest players, the Bahamas and Bermuda, were unstable.
The Bahamas foolishly adopted foreign exchange controls, considered adding taxes (bad idea for a tax haven), and made a host of other dumb decisions.
(Don't worry, the Bahamas has since stabilized and regained its status as a hub for wealthy depositors. You can read more here.)
Investors fled. And smart money looked for a new home.
Enter: Vanuatu.
In the 1950s, it was virtually unknown.
But by the 1960s, the British realized Vanuatu's potential as a tax haven and booking center for banking and started to lay the foundation. The result? They architected policies and created a burgeoning offshore financial center out of thin air. The Vanuatu bank account was born.
There are no personal or corporate taxes here. In fact, no tax scheme has ever been implemented in the island nation's history.
The time-zone was also perfect: Three hours ahead of the Asian markets and 10 hours ahead of London. The stage was set.
If you'd like to get a head start on account opening in Vanuatu as a non-resident download our FREE Non-Resident Banking Starter Guide right now!
Feel free to use the table of contents to jump ahead to the sections most relevant to you.
Table of Contents
How Vanuatu Became a Banking Boomtown
Vanuatu, or "New Hebrides" as it was called, was an unassuming Anglo-French colony that gained independence in 1980.
A string of sleepy little islands in the middle of the South Pacific, the Brits transformed it into one of the largest booking centers the offshore world had ever seen in the 1970s.
And, it all kicked off thanks to Britain's thirst for world domination… and Eurodollars.
In 1970, the Brits introduced new regulations in Vanuatu for banks, companies, and trusts, as they did across their other territories previously.
And thanks to clever policies and British ingenuity, Vanuatu was off to the races and so was the Vanuatu bank account.
Overnight, the Brits made Vila (the capital city) the first-ever offshore financial center and tax haven in the South Pacific.
And things took off from there…
By 1971, land prices in the Central Business District had surged from A$.10 cents per sq foot to A$15 in less than a year.
Between 1972 and 1974, Vila's population tripled. Expatriates came pouring in. Land prices soared. Locals constructed buildings at the speed of light (with credit from Australian and British banks, of course). The Vanuatu bank account was becoming more popular, and people wanted them.
If you were the UK government, it all made sense…
Why wouldn't you use the offshore enclaves which already had super advantageous laws to dramatically expand the Eurodollar market and cement London's position as a financial powerhouse? No brainer.
By the end of the 1970s, there was already US$60 billion flowing freely between offshore financial centers like Hong Kong, Bahamas, Bermuda…and now Vanuatu was getting in on the action.
By 1980, Vanuatu was being called one of the "finest" tax havens and booking centers in the world. And, several insiders in the offshore industry thought Vanuatu was going to become the next Cayman Islands.
Afterall, Vanuatu was a critical piece of Britain's financial infrastructure. It helped to propel the Eurodollar market, eliminated taxes for banks and helped London dominate the world stage.
But dreams of a South Pacific paradise reminiscent of the success that the Brits had enjoyed in the Caribbean would not be realized.
Instead, Vanuatu became a shadow of its former self. But as you'll see below, there are still reasons why some people may still want to bank here.
Benefits of Vanuatu Bank Account Opening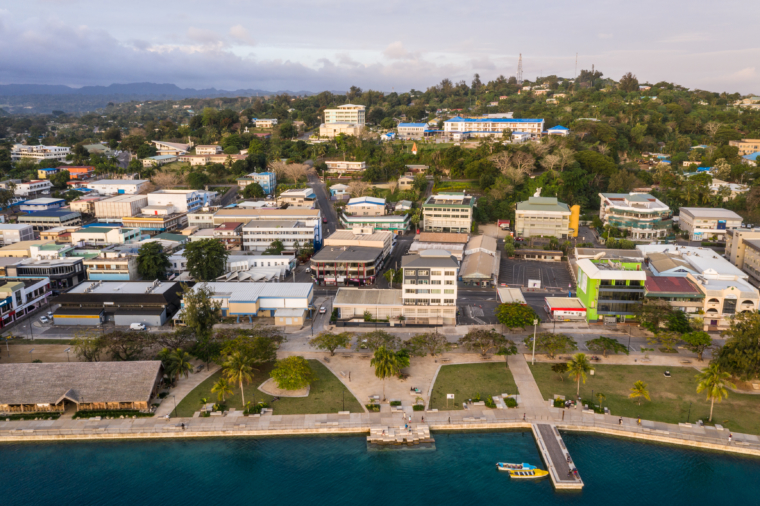 Today, stories of money laundering, tax evasion, economic citizenship-by-investment programs, and blacklists dominate the media headlines about Vanuatu.
But, if you look under the hood (and look very closely), you may uncover a few lesser-known opportunities that most people miss…
People used to bank in Vanuatu for bank secrecy and zero taxes. But this has largely evaporated thanks to foreign pressures, CRS, and blacklists. Plus, there are 100% legal, above-board ways to minimize (and even eliminate) taxes these days–so there is no need to hide.
So what are the benefits of having a bank account in Vanuatu today?
Here are some reasons why people and companies are still attracted to Vanuatu banking:
Some of the cheapest bank and brokerage licenses in the world
Remote bank account opening is normal in Vanuatu
Brokerage accounts with fewer rules
High tolerance for high-risk individuals and companies other jurisdictions turn away
Lower minimum balance requirements (but high fees)
Obviously, if you are able to open a bank account elsewhere, do it.
Vanuatu's banking sector is small, unpredictable, and not optimal for most people. The economy is struggling (some might say crumbling) and there are much better banks available in other countries.
Who Should Open a Vanuatu Bank Account?
Vanuatu attracts a wide range of characters. But those who find Vanuatu bank accounts most attractive typically fall into one of the following categories:
Foreign companies that can't open accounts elsewhere and will pay high fees
Foreign companies that plan to use Euros and the SEPA system
Those willing to pay a premium to open bank accounts and transact in EUR, AUD, NZD, SGD
Foreign companies and individuals that need remote opening
Those with crypto-related wealth that are struggling to find banks
Individuals who plan to apply for Vanuatu citizenship in the near future
Those who want to buy and operate cheap bank or securities licenses
In other words, if you're out of options and desperate for a bank account, check out Vanuatu.
If you can stomach the high fees, don't mind an unpredictable banking sector, and an economy that is highly dependent on foreign handouts, Vanuatu might be an option for you.
But banking in Vanuatu won't be without hurdles…
Challenges of Banking in Vanuatu
Vanuatu has a long history of bank failures, scams, and bank licenses being revoked. So, do your due diligence, be careful, and make sure you know what you're getting into before opening a Vanuatu bank account.
Here are a few of the specific challenges you can face when opening accounts:
No USD banking – most US correspondent banks left Vanuatu, US dollars are rare
If you don't want to bank in EUR, AUD, NZD, or SGD, don't bank here
Sending and receiving money is really expensive
Account fees can be outrageous ($250 per month is not uncommon)
No deposit insurance
The offshore banking sector is small with only $98 million in assets in Sept 2018
Bank quality varies drastically. Be very careful about which bank you choose
How to Open a Vanuatu Bank Account?
If you're looking to open an offshore bank account in Vanuatu, there are better options elsewhere.
Of course, if you need more help or want to know which specific banks will accept you, which account opening strategies to use, how to avoid high fees, and overcome tough paperwork requirements, then we'd be happy to help you with your journey.
If you're ready to take action and start opening international accounts now, you can access GlobalBanks IQ, our dedicated international banking intelligence platform.
GlobalBanks IQ gives you everything you need to start finding and opening accounts for you or your business today.
When you join GlobalBanks IQ, you immediately unlock the GlobalBanks Database of international banks — home to 250+ banks in 50+ countries. 
And, you get access to our library of premium (members-only) reports, including proven account opening strategies, country-specific banking options, and lists of banks for specific client types.
Plus, you unlock our account opening checklists, dedicated account opening alerts, and much more.
To get started, click here to see if GlobalBanks IQ is the right choice for you to start accessing the benefits of international banking today.
You can also view all of the account opening solutions offered by GlobalBanks on our products page.