So you want to open a bank account in Georgia remotely or online? Well, you're in luck. Georgia is the world's easiest country to open an offshore bank account as a foreigner. In fact, if you know the process, there are several ways that you can open a bank account online in Georgia… without paying intermediaries, middlemen, or even power of attorneys.
---
KEY TAKEAWAYS
Georgia is a suitable banking option for some non-resident individuals
Opening an account in Georgia is relatively cheap compared to other offshore banking jurisdictions
Remote opening is possible, but non-residents will need to overcome some challenges
Georgia is considered a non-CRS country
---
[presto_player id=20160]
Georgia is the easiest offshore bank account opening experience we've ever had. It only takes 30 minutes to open a bank account in Georgia. And you don't even need a proof of address.
Digital nomads, bitcoin millionaires, and those hunting for cheap residency, lower taxes, and non-CRS banking solutions have all been flocking to Georgia for years. And internationalization gurus have been plugging Georgia as a banking hub for more than 5 years.
In fact, Georgia has become a hub for non-resident banking, which can involve a difficult account opening process – especially when you're looking to open remotely.
If you'd like to get our #1 approach to opening accounts as a non-resident, download your FREE copy of the Non-Resident Banking Starter Guide right now (It's only available for a limited time)!
The Russians, however, had them all beat. Georgia has been the "Switzerland of Russia" for decades. And, to some, that's cause for concern. Just look at Latvia… what happened there is literally a blueprint for what could happen in Georgia.
But despite the risks, Georgia is still attracting account openers for the simple reason that it is the easiest place on earth to open an offshore bank account. But, it's not for everyone.
In this article, we'll explain why people are banking in Georgia, why it's so darn easy, what the benefits are, and how you can do it too. And yes, we'll even talk about how you can open a bank account online in Georgia.
Feel free to use the table of contents to jump ahead to the sections most relevant to you.
Table of Contents
Why is a Bank Account in Georgia so Interesting?
Well, it depends on who you ask. Georgia has a lot of positives and some negatives.
Up until 1991, Georgia was part of the Soviet Union. After gaining independence, they implemented a democracy, free-market initiatives, slashed tariffs, stamped out corruption, and invested in infrastructure. Today, Georgia is the pro-business darling of the former Soviet republics.
Yes, corruption still exists and Russian influence in the region is still very present. But compared to its neighbors, Georgia is the ultimate post-Soviet unicorn and is (comparatively) squeaky clean.
In fact, according to the World Bank in 2019, Georgia ranks #7 in the world for "ease of doing business", beating the UK, Australia, Canada, Germany, and the UAE.
In recent years, the government implemented favorable tax rates, investment incentives, and an easy visa program to attract foreigners. Hence, what inspired digital nomads and the internationalization crowd to flock here in the first place.
Why Open a Bank Account in Georgia?
Foreigners don't exactly want to bank in Georgia. It's more so that banking elsewhere has become incredibly difficult and expensive.
With the onset of Common Reporting Standards (CRS), stricter banking laws and regulations, and new AML and KYC procedures – opening bank accounts and keeping them open is a painstaking endeavor. This is especially true for non-residents and international businesses.
So, one major reason why Georgian banks are attractive is that they accept just about anyone.
Plus, opening a Georgian bank account is cheap and relatively easy. You can be in and out in 30 minutes.
If you compare account opening in Georgia to Singapore or Hong Kong – it's a dream. And, the likelihood that you will walk out with an active bank account as a non-resident is much higher.
In general, opening accounts in Hong Kong and Singapore is harder. Minimums are higher. More documents are required. Proof of address and tax residency are needed. And there are tons of new requirements and hoops to jump through.
Not to mention, there's no guarantee that you'll get an account open in the end. Comparatively, Georgia can seem like a much "safer bet" if you're keen to open a bank account.
Can You Open a Bank Account in Georgia Remotely?
Okay, if you want to open a bank account in Georgia remotely, it is going to be more difficult. But depending on who you are, where you're from, you could find that remote account opening is also an easy process.
In general, we say that this is possible if you know where to go, what to ask, and who to talk to. If you're a GlobalBanks Insider, you already have all the information you need in the premium Georgia Banking Report in the member's area of the site.
If you're not a GlobalBanks Insider, a quick Google search will show you a handful of websites that claim to help with remote opening. Prices range anywhere from 500 to $2000+. However, we don't recommend this approach, especially since you can access our strategies to open a bank account in Georgia remotely for far less.
That said, even for remote opening, we believe Georgia is more of a backup banking option. It's gained popularity amongst non-residents and digital nomads because of the problems and challenges that these groups are facing in other countries.
For instance, most non-residents can't open in Hong Kong or Singapore anymore – unless you're a GlobalBanks Insider. In which case you'll know that there are still options available as long as you have the right strategy and team behind you.
But unless you have a very compelling story, remote account opening in either of these countries is out of the question – unlike Georgia.
Open a Bank Account Online in Georgia
There are, of course, different ways to open accounts remotely. This is true in Georgia as it is elsewhere. But when it comes to the easiest remote opening opportunities, most people want to open a bank account online in Georgia. And yes, this is possible.
As with any remote opening opportunity, there are nuances to which clients banks will accept. Likewise, there is a specific process that has to be followed. Just because you want to open a bank account online in Georgia, doesn't mean that a bank is going to accept you.
When you become a GlobalBanks Insider, our team will explain these nuances to you. We will also provide direct contact for bankers that will help you open a bank account online in Georgia. You won't have to worry about whether you have the right information or not. Instead, you're getting tired and tested strategies and contacts from a team of experts.
Georgia Isn't Offshore, It's Mid-Shore
Georgia isn't "offshore" but it isn't really "onshore" either. It has a decent reputation. It isn't a tax haven. It's not an offshore financial center. And it's not on any greylists or blacklists… at least not yet.
To date, Georgia hasn't had any highly publicized money laundering scandals like Estonia, Latvia, or Malta. Georgian banks also aren't losing their correspondent banking relationships (CBRs) like their Caribbean counterparts.
So there's no negative stigma attached to banking in Georgia. In fact, most people couldn't locate Georgia on a map. So, Georgia is still very much under the radar and doesn't have to worry about the problems that many banks in offshore hubs tend to face. For this reason, we like to consider Georgia more of a "mid-shore" jurisdiction.
Transfers coming to or from Georgia will attract less scrutiny and raise fewer eyebrows than other offshore jurisdictions like Belize, Seychelles, or St. Lucia. And besides liberal account opening policies and being a "mid-shore" jurisdiction, people also like Georgia for banking because the country is economically and politically stable.
And while Georgian banks don't have deposit insurance, they are generally well managed and have decent balance sheets. Not to mention, they are so integral to the domestic economy that it's unlikely that the government would ever let them fail if they did get into trouble.
Information Sharing… Nyet, Not Yet
Another reason why banking in Georgia has attracted international attention is due to CRS. Or rather, a lack thereof. Georgia is one of a handful of non-CRS countries left in the world that have not signed on to CRS.
This means that Georgian banks do not share information on their account holders with tax authorities in their home countries. This also means that Georgian banks rarely request proof of address or proof tax residency, which lightens the paperwork load for account openers.
Now, if a lack of information-sharing agreements is one of the reasons that you want to bank in Georgia, you should read our recent articles. The first is about banking secrecy and the second article is about CRS.
Information sharing is happening and it will eventually be everywhere. In fact, Georgia has already agreed to begin participating in the automatic exchange of information in 2023. We share more information in a recent AEOI article. So if this is why you're opening an account, you should probably re-evaluate your banking priorities before applying.
Benefits of Opening a Bank Account in Georgia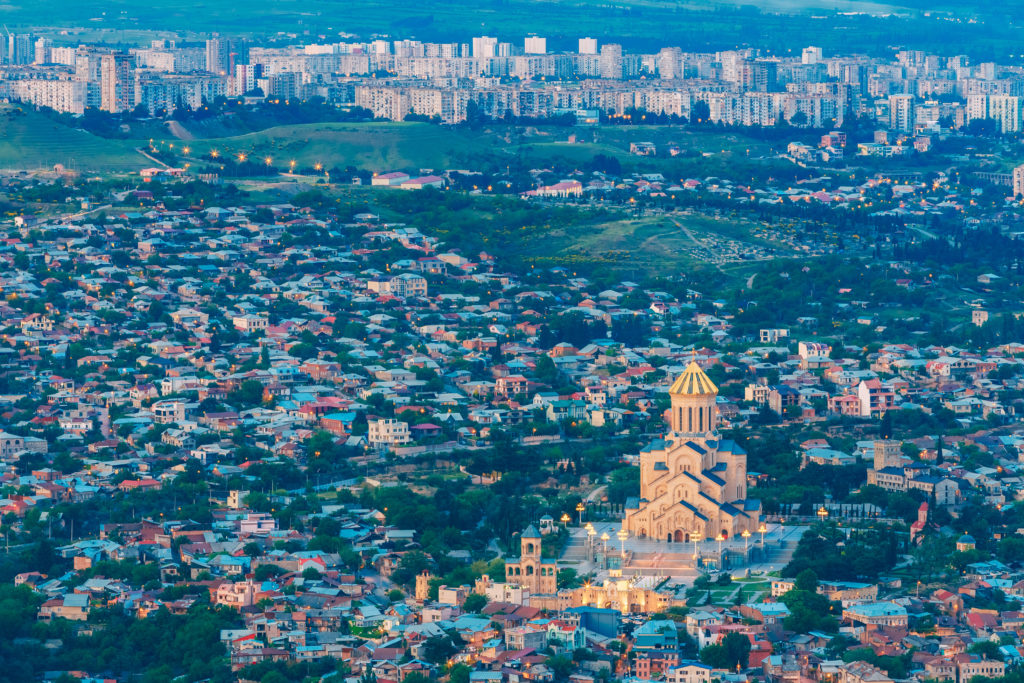 In short, low fees, higher interest rates on fixed deposits, diversification, and debit cards that you use anywhere in the world.
Georgia is also a handy banking option if you've failed or are struggling to open a bank account in other countries. We cover everything you need to know about banking in Georgia in our premium Georgia Banking Report, available to GlobalBanks Insiders.
Also, if you're in the Unlucky Passport Club or have an undesirable tax residency, you might have a hard time getting an American Express card in more developed countries. But, if you go to the right bank in Georgia, this too is accessible.
Likewise, digital nomads who struggled to open accounts and access certain travel programs can use Georgian banks to overcome these hurdles. They won't be the same as other countries, but it's a step in the right direction.
Georgia is a great banking hub for many people. And while it does have some challenges, it's still one of the best "accessible" banking hubs in the world right now. Opening accounts and accessing decent banks and banking products is increasingly difficult.
If you're interested in getting started and opening accounts in Georgia, you can get immediate access to our Georgia Banking Report, which covers everything from remote opening, Georgia-specific account opening strategies, specific bank recommendations, and contact details for specific bankers and branches that you should apply through.
To learn more about this report and the benefits you can receive as a GlobalBanks Insider, click through below
Here's what you'll receive instantly when you sign up:
Open accounts remotely without an intermediary or power of attorney
Access private banking for as little as $30,000.
Open personal or corporate bank accounts with only $10
Get 4%+ on USD fixed deposits
Access debit cards that can be used abroad
How to access your online banking with complicated codes, or pins
How to avoid the biggest mistakes that foreigners make when opening accounts in Georgia
Open a Bank Account in Georgia Remotely Now
If you're already a member of GlobalBanks IQ you can read about our Georgia banking recommendations, analyst insights, and specific account opening strategies in the Georgia Banking Report right now. Also check out more details on Georgian banks, their account opening quirks, and special opportunities in our database.
If you're not a member BUT you're ready to take action and start opening international accounts now, you can access GlobalBanks IQ, our dedicated international banking intelligence platform.
GlobalBanks IQ gives you everything you need to start finding and opening accounts for you or your business today.
When you join GlobalBanks IQ, you immediately unlock the GlobalBanks Database of international banks — home to 250+ banks in 50+ countries. 
And, you get access to our library of premium (members-only) reports, including proven account opening strategies, country-specific banking options, and lists of banks for specific client types.
Plus, you unlock our account opening checklists, dedicated account opening alerts, and much more. 
To get started, click here to see if GlobalBanks IQ is the right choice for you to start accessing the benefits of international banking today.
You can also view all of the account opening solutions offered by GlobalBanks on our products page.