With the exodus of entrepreneurs and businesses from Hong Kong, there's been a new surge of interest to open a bank account in Taiwan. And, it makes sense. With political unrest and uncertainty on the rise in Hong Kong, many are looking for new (and safer) banking alternatives in the region.
Now, Taiwan isn't your typical tax haven or wealth management hub. In fact, most people overlook it entirely, in favor of a Singapore non-resident bank account, a Hong Kong bank account, and even a Macau bank account. But, for those who are properly structured and understand the benefits, Taiwan can make a lot of sense.
---
KEY TAKEAWAYS
Not all client types can benefit from banking in Taiwan
Not all banks in Taiwan accept foreign non-resident clients
Opening a non-resident bank account without an Alien Resident Certificate is possible
Specific steps need to be followed to successfully open accounts in Taiwan
---
Open a Bank Account in Taiwan
To open a bank account in Taiwan, most foreigners and foreign companies will need to arrange an in-person meeting. However, there are alternative account opening strategies that enable remote opening. Such strategies require careful bank and branch selection and the collection of specific documents.
So, if you desperately need a personal bank account in Asia as a non-resident, but are struggling to find a bank that will accept you, Taiwan banking might be a suitable option. Assuming, of course, you can physically travel to Taiwan or use one of the Taiwan-specific strategies we share with our premium members.
In this article, we'll explore how to open a bank account in Taiwan, the benefits, and the disadvantages. Plus, we'll share what you need to watch out for and why certain digital nomads, businesses, and entrepreneurs are attracted to Taiwan's banking sector.
But before diving in, don't forget to download your FREE Non-Resident Banking Starter Guide – it'll give you the foundation you need to open a bank account in Taiwan and other countries in Asia.
Feel Free to use the table of contents to jump ahead to the sections most relevant to you.
Table of Contents
Why Open an Account in Taiwan?
While many people view Taiwan's political hostility with China as a risk — it's this testy relationship that has turned Taiwan into a lesser-known banking hub for many Asian investors, wealth owners, and businesses. Thanks to Taiwan's exclusion from various international bodies, as shared below, Taiwan enjoys relative privacy when it comes to banking.
In fact, certain organizations, structures, and individuals have found Taiwan to be a more convenient and welcoming tax haven than traditional Caribbean or Pacific island nations. So, it's no surprise that today, Taiwan's banking sector offers a few unique traits that literally cannot be found elsewhere.
Additionally, as China increases its influence over Hong Kong, more Hong Kong residents are expected to flee to Taiwan. While this could increase tensions between China and Taiwan, we believe it could have positive benefits for Taiwan's banking sector, which (thanks to China) has traditionally been very insular.
Potential Taiwan Banking Benefits
Exempt from FATF peer reviews since China has blocked Taiwan from joining OECD.
Under-the-radar tax haven because China blocks them from joining international regulatory bodies.
Has foreign banks, Taiwanese banks, and some banks from mainland China.
It's super easy to get a local ID… which you need to open a bank account here. In some countries, this can be a costly and time-consuming endeavor, but not in Taiwan!
Taiwan has its own form of banking secrecy as outlined in Article 48 of the Taiwan Banking law, which requires confidentiality of all information unless otherwise provided in law.
Taiwanese banks allow banking in RMB through their Offshore Banking Unit (OBU) divisions, which can be accessed by offshore companies.
OBU accounts do not incur any income tax, corporate value-added tax, sales tax, stamp tax, or withholding tax on account holders.
OBU accounts also allow for easy cross-border trade without currency restrictions.
Those struggling to open accounts in Singapore, or elsewhere in Asia in places like China, Hong Kong, Macau, or Malaysia, might have better luck in Taiwan.
Who Should Open a Bank Account in Taiwan?
As always, certain client profiles will benefit from banking in one country over another. Taiwan is no exception. When it comes to opening, maintaining, and benefiting from Taiwan bank accounts, those with connections to Taiwan are at the top of the list.
However, there are other groups that can also benefit from banking here, including:
Residents who live, work, and study in Taiwan
Non-residents who travel to Taiwan frequently
Non-residents who can demonstrate a connection to Taiwan
Companies doing business in Taiwan
Foreign companies with a connection to Taiwan, but that operate outside of Taiwan
Offshore companies with a connection to Taiwan that want an Offshore Business Unit (OBU) account
In all cases, the decision to open a bank account in Taiwan over another jurisdiction should be based on each prospective client's unique requirements and an assessment of whether Taiwan is in fact the best place to bank.
This is especially important because, depending on the client profile, there are likely easier and better banking jurisdictions available elsewhere in Asia and abroad.
How Can a Foreign Non-Resident Open an Account in Taiwan?
Once the decision to open a bank account in Taiwan has been made, there are a few steps that must be taken. Unfortunately, there's a lot of misinformation and confusion over how to actually open a bank account in Taiwan as a foreigner. Especially as a foreigner without an ARC, APRC, or visa.
Many bankers incorrectly tell foreigners that they must have an ARC ("Alien Resident Certificate") or an APRC (long-term resident certificate) to open a bank account in Taiwan. But this isn't true.
Below, we'll show you how a foreigner can open a bank account in Taiwan without an ARC and with as few headaches as possible.
But first, here's the problem:
ARCs are difficult to get. In fact, foreigners that don't have a work permit can't even qualify for an ARC. So, if you don't have a job, don't plan on getting residency, and don't have any substantive connection to Taiwan — you probably won't be able to get an ARC or APRC.
Like most countries, many people visit Taiwan but never become residents. But, there are others who spend long periods of time in Taiwan without having a resident or working visa. Those people are never issued numbers and incorrectly believe they can never open a bank account, which simply isn't the case.
In the following section, we'll share how a foreigner can open a bank account in Taiwan, open a bank account in Taiwan without an ARC, and discuss some of the unique considerations of banking in Taiwan.
How Can Non-Residents and Expats Open Bank Accounts in Taiwan Without an ARC?
To open a bank account in Taiwan without an ARC, you just need to follow the steps outlined below. Doing so will provide the necessary documentation that you need to successfully open an account. Of course, this doesn't mean you'll know which bank or banker to contact. For that, you'll need to continue reading the following sections of the article.
Step 1: Apply for a "Record of ID Number in the Republic of China" from the National Immigration Office. which you can do online.
Step 2: Identify a bank that has the features and functionality you need
Step 3: Identify a bank branch with a banker willing to accept a foreigner with a Record ID number (not all banks will accept this). If you're not careful, this can sometimes be a very time-consuming, frustrating, and costly process.
Step 4: Take your Record ID number, proof of address, local phone number, passport, and cash for an initial deposit to the bank. If you can, print out the immigration law that says foreigners with Record ID numbers are allowed to open bank accounts (just in case).
Step 5:  Apply for the account in person. To help streamline the process, it's always best to bring a local friend with you to translate if you don't speak Mandarin.
Deposit Requirements to Open a Bank Account in Taiwan
Many banks in Taiwan have low initial deposit and minimum balance requirements. Some local banks will allow you to open an account with as little as TWD $1,000 which is about US $35.
This is attractive for those who struggle to meet initial deposit or minimum balance requirements elsewhere. After all, if you can't meet a bank's deposit requirements or maintain a certain balance, you either can't open an account or you're hit with high fees.
If you're a GlobalBanks Insider and would like the contact information for a banker in Taiwan that can help you with this, just message us through your Insider Dashboard and let us know.
How to Open a Business Bank Account in Taiwan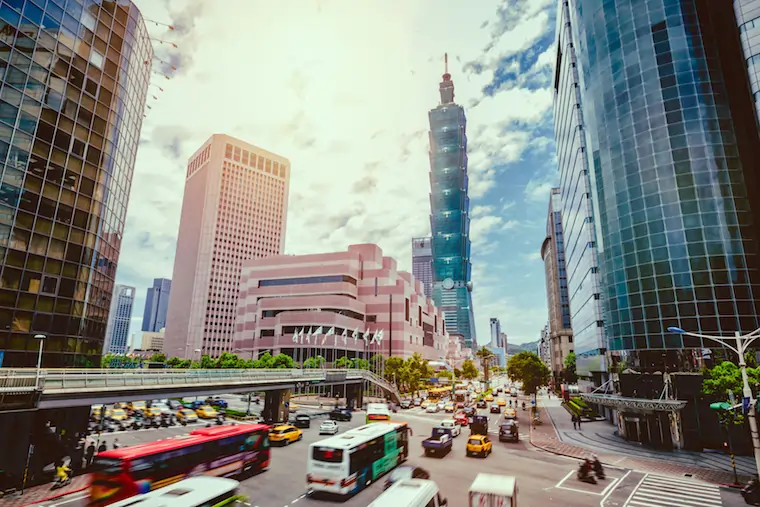 As is the case for personal accounts, Taiwan isn't going to work for every business. There are better banks elsewhere. But if you're struggling to open a business account in Asia and desperately need a transactional bank account in Asia — Taiwan could be an option.
For example, owners of foreign companies who are willing to register a branch locally might find Taiwan banking appealing. Likewise, those with foreign or offshore companies, who have a connection to Taiwan, and who need transactional banking, may also consider opening a business bank account in Taiwan through an Offshore Banking Unit (OBU). This allows the business to freely transact in foreign currencies and removes many restrictions.
Obviously, your overall risk profile, business type, transaction activity, and where you can currently open accounts elsewhere (outside of Taiwan) will ultimately determine whether opening a business bank account in Taiwan makes sense at all.
For instance, if you have a Hong Kong company that can easily open a bank account in Hong Kong or Singapore, you probably don't need to bank in Taiwan. But if you do business in Asia and are struggling to open accounts elsewhere, Taiwan could be a nice backup option.
If you're not sure, check out GlobalBanks Insider. We'll help you sort out the best banking options for you and your business.
Challenges If You Open a Bank Account in Taiwan
If you decide to open a bank account in Taiwan as a foreigner, it won't be all sunshine and rainbows. Especially if you don't have an ARC. In fact, it can be time-consuming, frustrating, and require persistence.
Below is a snapshot of some of the common problems and challenges that non-residents and foreigners face when opening accounts and banking in Taiwan.
Being Told You Can't Open a Bank Account in Taiwan
Taiwanese bankers love telling foreigners that they need an ARC to open a bank account in Taiwan. But, unless the bank has an internal policy restricting this, it isn't true.
If you find a banker that refuses to accept your Record ID Number, it's time to move on. Instead, find another bank or branch that is more accommodating.
Physical Presence Usually Required & Remote Opening Discouraged
The ability to open a bank account in Taiwan remotely is very rare. Unless you already have an account at that bank overseas, your only option will be to apply in person.
This is common throughout other banking hubs. For example, even if you can find the best bank for foreigners in Turkey, you'll likely be required to make an in-person visit to open an account. The same goes for opening a bank account in Macau.
Transferring Money From Your Taiwan Bank Account
Transferring money abroad from Taiwan isn't as easy as in other countries. That said, money transfers can also be made through banks, they are usually more expensive. International banks might be the most efficient for money transfers, but opening an account with them can come with high minimum deposit requirements.
Debit Card Functionality
In Taiwan, many of the functions that you would expect to automatically come with a debit card don't. Or, at least they will not work until the account holder requests to have them enabled. Many foreigners find this out the hard way. So, make sure you confirm the functionality before leaving the bank.
Additionally, before traveling outside of Taiwan, make sure that your debit card can be used internationally. Also, make sure to set up a four-digit magnetic stripe pin number on your card before leaving the country. Taiwan changed over to the "smart chip" system years ago. But, not all banks have debit cards with the magnet strip. And, the magnetic strip functionality must be turned "on" in order for the card to be used outside of Taiwan. Alternatively, the bank will issue an entirely new ATM card with the correct functionality. Both options can take up to five business days, so be sure to do this before leaving the country.
Online Banking Isn't Always Seamless
After setting up your account, an extra step is required to set up online banking. So make sure to confirm the details before leaving the bank. Additionally, not all Taiwanese banks offer online banking in English. So, if you're navigating Taiwanese banking on your own, check out the websites and apps of each bank first. This will allow you to confirm the language options, before opening an account.
There are other quirks and glitches to be aware of. For instance, we recently came across one Taiwanese bank that wouldn't let EU passport holders use internet banking.
Ready to Open a Bank Account?
If you need help sorting out your banking options or just aren't sure where to turn, we can help.
If you're ready to take action and start opening international accounts now, you can access GlobalBanks IQ, our dedicated international banking intelligence platform.
GlobalBanks IQ gives you everything you need to start finding and opening accounts for you or your business today.
When you join GlobalBanks IQ, you immediately unlock the GlobalBanks Database. Home to 250+ banks in 50+ countries. 
And, you get access to our library of premium (members-only) reports. Each report includes proven account opening strategies and country-specific banking options.
Plus, you unlock our account opening checklists, dedicated account opening alerts, and much more.
To get started, click here to see if GlobalBanks IQ is the right choice for you to start accessing the benefits of international banking today.
You can also view all of the account opening solutions offered by GlobalBanks on our products page.