For years, one of the best practices for foreign companies has been to open a bank account in Hong Kong. The jurisdiction was very popular for being stable, offering great banking services, and being easy to get into.
But in 2020, China aggressively rolled out a new national security law and arrested activists, journalists, and lawmakers. Changes were also made to voting rights, freedom of the press, and free speech. In short, Hong Kong has changed. In fact, foreign business owners are now considering other banking alternatives like a Singapore non-resident bank account instead.
For members of our team who have spent considerable time in Hong Kong, conducting business there and banking, this change reinforces the importance of backup international bank accounts and diversifying across banking jurisdictions.
Unfortunately, Hong Kong is no longer a jurisdiction that we suggest our members look to for banking – unless they have a very specific client profile that requires (or can benefit from) banking there.
---
KEY TAKEAWAYS
Banking in Hong Kong is not a suitable option for everyone
Non-resident business owners will need to overcome challenges when opening accounts in Hong Kong
Hong Kong bank accounts can be expensive to maintain
You may want to consider alternative banking jurisdictions depending on your client profile and banking needs
---
Of course, if Hong Kong is an option you're considering, read on to receive our expert take, the steps to open there, and to better understand the challenges you'll face.
Can Non-Residents Open Bank Accounts in Hong Kong?
While it is still possible to open a bank account in Hong Kong as a foreign business owner, the jurisdiction's attractiveness has changed considerably since China imposed a new security law in 2020. It is now much more difficult to open bank accounts and there are fewer benefits to doing so. Read on to see if Hong Kong is a good option for you. 
Before applying to open an account here, you'll want to ask yourself whether banking here is really the best option for you and your company. In this article, we'll help you answer that exact question.
We'll also discuss the many challenges foreign business owners face when opening accounts here. And, the new risks of banking in Hong Kong.
Before diving in, if this is your first time visiting GlobalBanks, don't forget to download your FREE Business Banking Starter Guide. It's designed to help your business find and open accounts with the services you need around the world.
Feel free to use the table of contents to jump ahead to the sections most relevant to you.
Table of Contents
Should I Open a Business Bank Account in Hong Kong?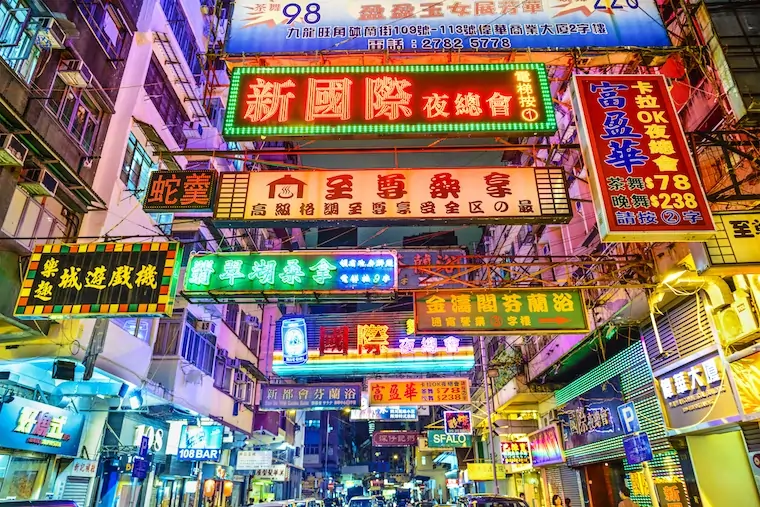 Hong Kong has been a top banking option for years. Whether you were a foreign non-resident with a Hong Kong company or a non-resident entrepreneur looking to buy a Hong Kong company with a bank account, banking in Hong Kong offered unique benefits.
But, over the past two years, banking in Hong Kong has shifted tremendously. Hong Kong went from being a lively global center of trade, with few restraints and rules, to now being fully under China's authoritarian control.
So, although Hong Kong has long been known as the corporate banking hub of Asia, if things continue as they are now, this won't be the case for much longer.
Ultimately, Hong Kong shouldn't be your first choice anymore. So when you see corporate service providers pitching Hong Kong bank accounts as the best and easiest option, be wary. In the best-case scenario, their information is outdated. In the worst case, they're just trying to make a quick buck off of you.
We'll explain the challenges that you'll face when opening an account in Hong Kong and the client types that might consider banking here – to see whether or not it is the right option for you.
If it's not the right option for you, there are other banking alternatives available. Including other Asian banking hubs such as Singapore, Turkey, Macau, Labuan, and even the option of Taiwan banking.
Of course, if you're absolutely sure that Hong Kong is the right option for you, we'll also cover how you can open a bank account without paying thousands of dollars in fees to service corporate service providers.
Sound good to you?
If so, let's get started!
Challenges of Opening Hong Kong Bank Accounts
As we mentioned above, the process of opening an account in Hong Kong completely changed once China took over. Specifically when China introduced the National Security Law in Hong Kong.
So, what does that mean in terms of opening an account here as a foreigner?
Well, with strict rules and tighter regulations now in place, account opening has become almost impossible. Especially, for foreign non-residents looking to open corporate accounts.
Whether you're looking to open a bank account in Taiwan, Singapore, Macau, Labuan, Turkey, or Hong Kong there will always be challenges to overcome.
Here are some of the most common challenges non-residents face when opening accounts here…
Challenges of Banking in Hong Kong:
Your company is not well established
The bank concludes that you won't be profitable for them
Unable to provide proof of Hong Kong address
Don't have an acceptable Hong Kong phone number
Unable to provide proof of personal ties to Hong Kong
No employees working in Hong Kong
No office presence in Hong Kong
Strict opening requirements
Strong compliance and due diligence procedures
High rejection rate in foreign applications
In-person account opening is likely required, with no opening guaranteed
Unable to meet the deposit requirements
And more…
If you're unable to overcome the challenges listed above or meet all bank-specific requirements, the chances of you opening an account in Hong Kong are very slim.
Even if you get past the initial application stages, don't be surprised if you have to wait several months for your application to be processed. Or if your application is then suddenly rejected with no explanation.
To have a chance at successfully opening an account here as a foreign non-resident business owner, you need to know specifically which bank and banker to apply with. Only then do you have even a slight chance to access Hong Kong's banking system.
Beyond the application process, you must also be mindful of the risks you can encounter when operating an account here as a foreign business owner.
Risks of Operating an Account:
1. Hong Kong is a Corporate Service Provider Industry
To some, opening a business bank account in a corporate service provider industry like Hong Kong is an ideal way to save time and hassle. And, it's true, at one point it did. But, unfortunately, there are more risks than rewards in today's Hong Kong banking system.
Increasingly we're seeing  Hong Kong corporate service providers promote Hong Kong companies and bank accounts to foreign non-residents without giving them the full information about the recent changes.
It's clear that they aren't considering the best option for their clients. Instead, they are just trying to sell as many Hong Kong companies as they can to meet their quota.
2. Accounts Are Expensive to Maintain (And to Open)
To open an account here, expect to not only pay an opening fee, an initial deposit, and ongoing monthly maintenance fees but also many ongoing service fees.
These service fees include:
Deposits
Withdrawals
Transactions (local & foreign)
Request for a report on account history
Account statements
Accounting services
And more…
Not to mention the fact that if you go through a corporate service provider to open a business account here, you'll also have to pay several thousand dollars for their help in the process.
And, even if you pay their fees, these corporate service providers can't guarantee you'll be able to successfully open a bank account.
So, before you begin applying, please be sure that you're aware of all the fees that may apply. This way, you avoid being caught by surprise by hidden fees.
As you may have gathered by now, while other platforms still consider Hong Kong a suitable banking option, we do not suggest Hong Kong as a jurisdiction for foreign non-residents to start personal or corporate accounts.
Of course, if it's the only choice available to you, we can help you open an account in Hong Kong. But luckily, several alternative jurisdictions are much better suited for foreign non-residents.
Alternative Business Banking Jurisdictions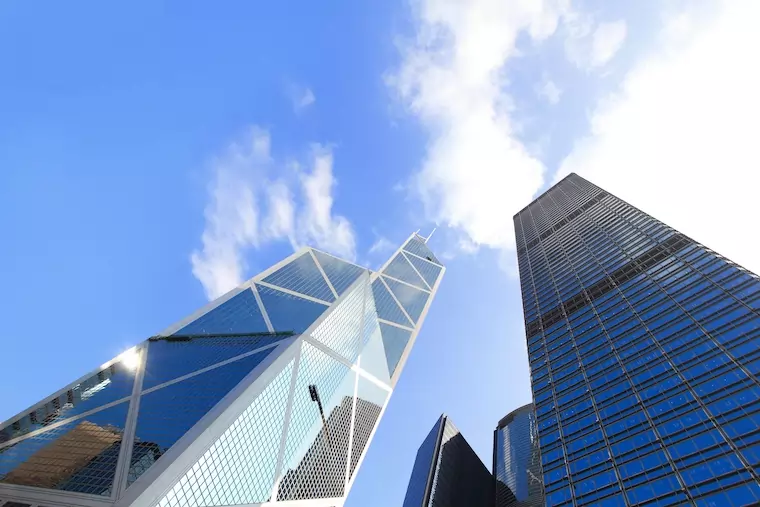 At this point, the only thing left that is attractive about opening accounts here is having access to some of the country's private banking options.
But even then, there are many more jurisdictions that can offer you the same if not better private banking services. Best of all, those jurisdictions and banks are not under China's imposing regulations and laws.
The key is in the fact that Hong Kong is home to a wide range of international banks.
For example, you could open an account with Citibank in the US and then use that account to open a new account in Hong Kong.
This way you can get the majority of the benefits you're looking for without the same risks of being fully under Chinese rule.
So, before you start applying to open an account in Hong Kong, you should consider all possible alternative banking options.
With the right information and if you know the specific banks (and bankers) to contact, you can open a bank account for a Hong Kong company outside of Hong Kong.
If you want to learn how to do this and which banks to target, you're in luck. We share all of these specifics along with detailed account opening strategies in our premium members-only report "How to Open International Bank Accounts for Offshore Companies". You can access this report when you join GlobalBanks Insider.
This report includes strategies, suggestions, and banks that specifically cater to offshore companies. Including companies incorporated in jurisdictions like Hong Kong, BVI, Belize, Panama, and more.
Of course, despite the challenges most foreign non-residents face when they apply to open an account here, it can still be an option.
So as promised above, if you're dead set on opening an account here, here's how to get started…
Ready to Explore Your Options?
Whether you're ready to open an account in Hong Kong today or you're just starting to explore your options, we can help.
GlobalBanks IQ gives you everything you need to start finding and opening accounts. 
When you join GlobalBanks IQ, you immediately unlock the entire GlobalBanks Database of international banks. It's home to 250+ banks in 50+ countries.
And, you get access to our library of premium (members-only) reports. These include proven account opening strategies, country-specific banking options, and lists of banks for specific client types.
Plus, you unlock our account opening checklists, dedicated account opening alerts, and much more.
To get started, click here to see if GlobalBanks IQ is the right choice for you. 
You can also view all of the account opening solutions offered by GlobalBanks on our products page by clicking here.