Isle of Man bank accounts seems to be enjoying a surge in popularity and for good reason. This tiny island in the middle of the Irish Sea has established itself as a stable and transparent financial center with a lot to offer non-residents and corporates.
---
KEY TAKEAWAYS
For the right client, banking in the Isle of Man can be beneficial
It is 100% possible to open bank accounts remotely in the Isle of Man
Isle of Man is suitable for both retail and corporate banking clients
Bank, branch, and banker selection is key when opening accounts in the Isle of Man
---
Isle of Man is now a favorite banking destination for third-country expats from around the world. So it's no surprise that it has become a favorite banking hub for members of GlobalBanks as they open accounts to support their international banking requirements.
But it wasn't always this way…
Before its dominance as a financial services hub, the Isle of Man was a hum-drum holiday destination. It wasn't until the 1990s that it started turning into a roaring offshore center.
For decades, while rich Europeans flocked to Switzerland, wealthy Brits found comfort banking closer to home– making use of the Channel Islands and the Isle of Man.
And while other offshore hubs have been reeling from bad press and scandals– the Isle of Man has been busy keeping as clean as can be.
If you'd like to get a head start on account opening in the Isle of Man as a non-resident then download our FREE Non-Resident Banking Starter Guide right now!
Feel free to use the table of contents to jump ahead to the sections most relevant to you.
Table of Contents
Benefits of Banking in the Isle of Man
There are many benefits to banking in the Isle of Man. Remote account opening, a well-regulated banking sector, and a favorable tax regime — make it undeniably attractive.
Plus, it's not an offshore rogue state.
It's known for being stable, well regulated, and not doing anything stupid (except for that Cayman National Bank hack in 2020).
Banks here are international and understand non-residents. They're all subsidiaries or branches of large international banks.
Nearly all the big British banks are here, joined by a few from South Africa and Cayman.
In all, there's about 2,000 banking staff spread across about a dozen banks. So, service quality is high and costs are low when compared to fee structures in other offshore banking hubs.
There's also deposit insurance up to £50,000. And SEPA transfers too.
Overall, the banking sector is big– $45bn in deposits with nearly 30% coming from the UK and rest from corporates, investment funds, and international depositors across the globe.
Much of the credit for attracting depositors can go to the island's transparent legal system, which is heavily influenced by English common law.
And it makes sense. With the Isle of Man economy heavily dependent on the financial sector, there's a low chance of knee-jerk regulation changes.
Who Should Bank in the Isle of Man?
Isle of Man has something for everybody. On one hand, there's retail transactional banking for non-residents. But more sophisticated offerings exist as well for corporates and the wealth management crowd.
Non-Residents & Expats
International clients who want remote account opening in a first-world country at stable banks with good service.
People Without UK Residency
Anyone working abroad who isn't a resident of the UK (or UK citizens who no longer have UK domicile or UK residency) will have a difficult time opening a UK bank account.
Increasingly strict AML and CFT regulations have made it extremely difficult for non-UK residents to open bank accounts in the UK – and that now applies to UK citizens too. For many people, opening an account abroad in a Crown Dependency like IOM (instead of the UK) is easier, cheaper and way more convenient.
Foreign Companies
Small businesses and entrepreneurs that have a foreign company and want to open a business bank account in a reputable first world country with good service are attracted to Isle of Man.
Banks here typically give outsiders the impression that only local companies are acceptable. But in reality, this isn't always the case. There are several loopholes. In fact, if you have the right information and know what you're doing, you can open an account for a foreign company doing business abroad.
Local companies
Entrepreneurs and business owners can structure local companies here to legally reduce (or eliminate) taxes elsewhere. This can also result in better business banking options, depending on where you're from.
For instance, a company registered in the Isle of Man is going to have better banking options than, say, a Seychelles company. So the Isle of Man can offer an alternative to other traditional offshore jurisdictions that have fewer banking options available to them.
HNWI, Trusts, Foundations
Also, as you might expect, wealth management service and private banking options are available.
Isle of Man Bank Account Opening
In our Isle of Man Banking Report, we explain the groups that stand to benefit the most from banking on the Isle of Man. We also show you the in's and out's of the banking sector, the specific benefits, and loopholes you can obtain here, and exactly how to open accounts regardless of where you're from.
When you become a GlobalBanks Insider, you get immediate access to this report. Plus you get instant access to the entire GlobalBanks Insider platform. Learn more here.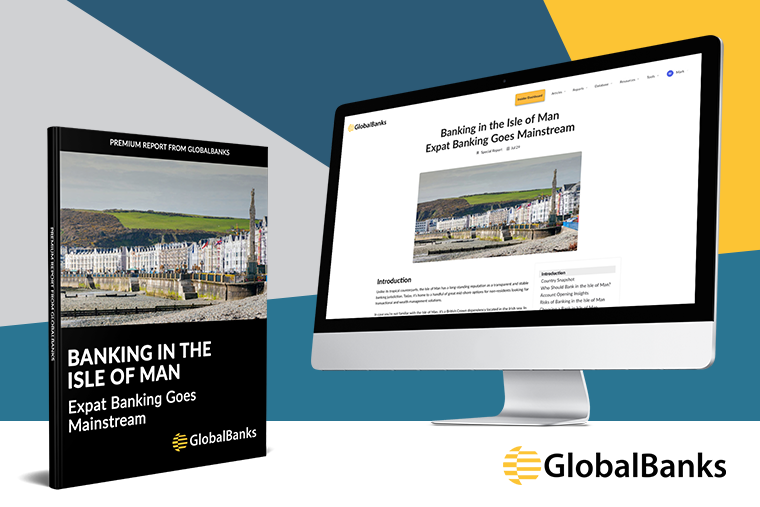 Challenges of Opening an Isle of Man Bank Account
There are many benefits and advantages to banking in the Isle of Man. But, account opening here can be expensive and comes with challenges.
If you don't have the right information or know which banks to target, you could be setting yourself up for failure and unnecessary rejection.
And if you don't have the right opening strategy, or you apply to the wrong banks, you could end up paying over US $1,000 in application fees. Not to mention the cost of expensive supporting documents, which you might not even need.
But, it doesn't have to be so difficult. In fact, we help our members, GlobalBanks Insiders, open bank accounts in Isle of Man all the time-–that's one of the benefits of being a GlobalBanks Insider.
Before rushing to open a bank account in Isle of Man, you can put yourself in a position of strength by understanding the challenges and pitfalls that can ruin your account opening experience.
Here's a closer look at some of the challenges you could face…
High Upfront Application Costs
Some banks have more expensive application fees than others. At some banks, you'll pay an upfront application fee and a due diligence fee just for the bank to review your application. That means you could end up paying US $1,000 just to be rejected.
Applying at banks with huge upfront fees is stressful and costly. That's why we analyze every bank's account opening quirks and real application costs to find the best options so GlobalBanks Insiders don't pay unnecessary opening costs.
Higher fees & Deposit Requirements
Like everywhere, banks have different fee structures and deposit requirements. But in the Isle of Man, banks have a heightened sensitivity to risk.
For this reason, any applicants perceived to be "higher risk" will be slapped with higher opening and maintenance fees. Sometimes, they'll even be hit with higher deposit requirements– just because of their client profile.
The size and scope of these fee increases will depend on how risky the bank thinks you are. But if you have the right information and know which banks to target, you can avoid being penalized based on your client profile.
Corporate Account Opening Challenges
Some banks here will refuse to open accounts for foreign companies. Others will open accounts, but they'll have special requirements. And in some cases, you'll have a banker tell you they can't accept foreign companies when the bank actually can.
Navigating through the sea of responses and different requirements and trying to figure out what is real and what isn't can be confusing, time-consuming, and expensive.
That's why in our Isle of Man Banking Report, we do all the hard work for you and give you actionable information that you can use. Plus, if you still have questions after reading this report, just message our analysts and they'll figure it out for you.
How to Open an Isle of Man Bank Account
In our Isle of Man Banking Report, we show you exactly how to find and open bank accounts in the Isle of Man. We'll also show you what to do, who to talk to, and what to watch out for.
We do this by sharing the specific banks, the most successful account opening strategies, the unspoken rules, and the lesser-known account opening requirements that individuals and companies need to be aware of.
Ready to Open a Bank Account in the Isle of Man?
If you want to open a bank account in the Isle of Man and need help figuring out what to do next, you can get started by using the information in this article.
But if you need more help or want to know which specific banks will accept you, which account opening strategies to use, how to avoid high fees, and overcome tough paperwork requirements, then we'd be happy to help you on your journey.
If you're ready to take action and start opening international accounts now, you can access GlobalBanks IQ, our dedicated international banking intelligence platform.
GlobalBanks IQ gives you everything you need to start finding and opening accounts for you or your business today.
When you join GlobalBanks IQ, you immediately unlock the GlobalBanks Database of international banks — home to 250+ banks in 50+ countries. 
And, you get access to our library of premium (members-only) reports, including proven account opening strategies, country-specific banking options, and lists of banks for specific client types.
Plus, you unlock our account opening checklists, dedicated account opening alerts, and much more.
To get started, click here to see if GlobalBanks IQ is the right choice for you to start accessing the benefits of international banking today.
You can also view all of the account opening solutions offered by GlobalBanks on our products page.