I'm just as surprised as you are that I'm writing about Cuba's banking sector. But here I am, writing from my balcony in Havana.
While I've traveled to a lot of different countries over the years, Cuba never made the cut. So I decided to make a stopover while I was visiting banks in the region.
First, some context: I've seen everything, including post-soviet nations, military dictatorships, and frontier and emerging markets. So, a few things surprise me.
But I was surprised more than anything by how capitalist Havana is – much more than I expected.
---
KEY TAKEAWAYS
The convertible peso (CUC) and the money Nacional (CUP) can be used interchangeably in Cuba
There are some foreign banks still operating in Cuba
Banking in Cuba isn't for everyone
Non-residents are better off banking in other jurisdictions
---
In countries like North Korea, the regime rules with an iron fist and you really have to hunt for the black market. In Cuba, however, the black market is everywhere, easily visible, totally negotiable, and on every street corner.
There aren't any minders watching your every move. Tourists don't have to stay in specific hotels. You can do pretty much whatever you want.
And on top of that, it feels really safe. My female companion even commented on how impressed she was with the lack of catcalling, saying it was far less than other Latin American countries that we've traveled to.
So, in this centrally planned, quasi-market-based economy, what can we learn about banking?
The answer, quite simply, lies in the streets of Old Havana.
Everywhere you look there are banks, ATMs, and currency exchange centers buzzing with activity (and lines, lots of lines).
We are going to break down the Cuba banking sector below and give you an inside look at what to expect when banking here. And, whether or not you a Cuba bank account is right for you.
Feel free to use the table of contents to jump ahead to the sections most relevant to you.
Table of Contents
Overview of Cuba's Banking Sector
Forget what everyone tells you about Cuba having two currencies. Foreigners and locals can use the convertible peso (CUC) and the money nacional (CUP) interchangeably, though you'd be wise not to mix them up when making a purchase.
But here's the thing, whether you're buying a $0.60 pizza, a $2 mojito, a $4 bottle of rum, or a $7 cigar, you could easily forget that Cuba is centrally planned. Street vendors are everywhere, and if you're not careful you might end up paying the tourist prices with a few hundred percent markups.
Cash is present, the black market is thriving, and banks are scattered around Old Havana.
Now, just because there are banks doesn't mean that Cubans actually have bank accounts. The lineups that you'll see in the streets typically include Cubans waiting to cash in their government pensions and salaries.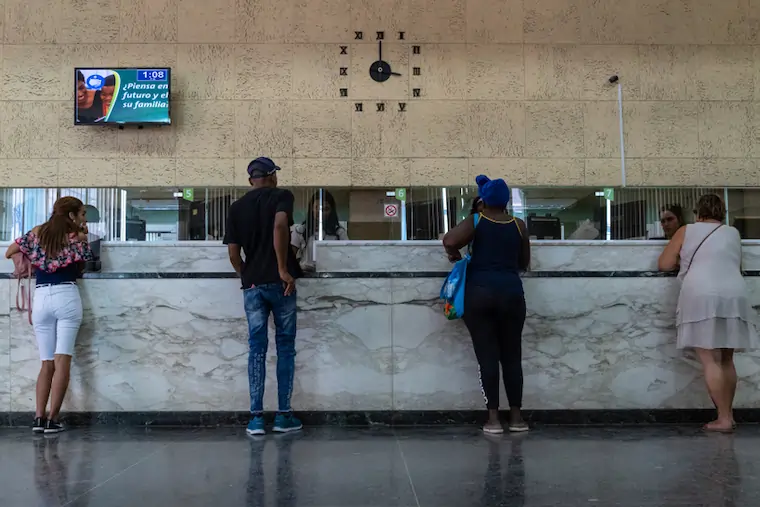 But there are still banks. In fact, you'll even see the facades of the pre-revolution banks, now occupied by Cuban banks and other government operations.
While this was not in any way a "work trip," I still managed to stumble across the former locations of the Bank of Nova Scotia, Royal Bank of Canada, and Chase Manhattan.
Their old headquarters are now replaced by Banco Metropolitana, the Tribunal Supremo Popular, and Banco de Credito & Comercio, respectively.
In fact, Scotiabank, RBC, and Chase represent half of the six foreign banks that still operated in Cuba just before the revolution – along with the National City Bank of New York, the First National Bank of Boston, and the Bank of China.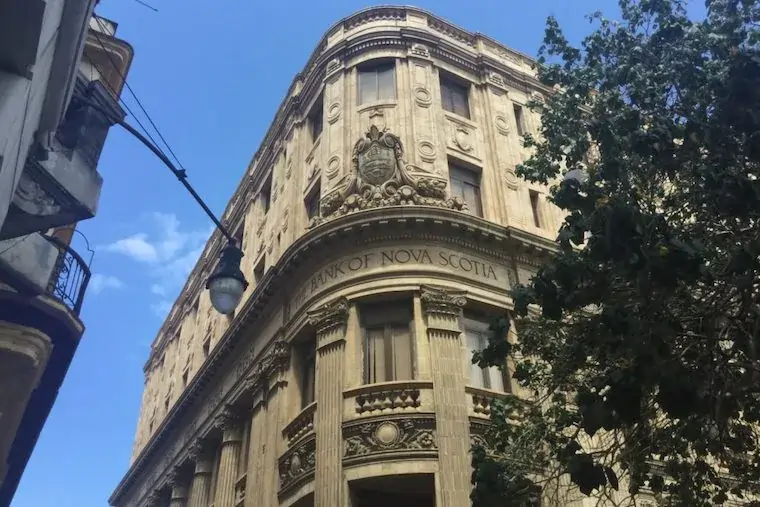 Bank of Nova Scotia's former Cuban headquarters.Not surprisingly, at the time of the revolution, each of these foreign banks was an important player in Cuba's banking scene.

And Scotiabank was one of the few banks that retained the right to continue operating in the country post-revolution. Though, like the other banks, they ceased operating branches in 1959.
Royal Bank of Canada's former Cuban headquarters.But pre-revolution Cuba wasn't completely dominated by foreign banks… at least not initially.

Around the end of World War I, two things happened that influenced Cuban banking:

First, the Cuban government introduced monetary reforms and established gold-backed Cuban coinage to complement the use of USD, resulting in a surge in the value of the domestic currency.

Secondly, the end of WWI resulted in a massive spike in demand for Cuban sugar, and with it came a need for financing to meet international demand. In the following years, 40 local banks emerged to facilitate the growing needs of the sugar boom.

But unfortunately, Cuban sugar producers quickly became over-leveraged, went bankrupt, and many of the Cuban banks that had accepted sugar as collateral imploded.

As a result, US sugar producers and foreign banks consumed Cuba's sugar industry – helping to lay the foundation for the society and foreign-owned economy that would later spark a revolution.

So, what does any of this have to do with the future of banking?

Cuba Banking Takeaway #1: Cuba Isn't an Outlier

On the surface, Cuba is an important reminder that political systems and economies are always changing – whether through brute force or more slowly through gradual shifts in policy.

Cuba isn't an outlier. It's just one more example of why you need to understand the social, political, and economic conditions in any country that you bank in.

That's a warning for anyone looking at far-flung countries for banking. Don't follow the crowd and open an account in a fad-jurisdiction without understanding the fundamentals.

But it's not just the risk of a looming revolution. Understanding regional risks, domestic issues, and the general health of the economy is key to making sure you don't get caught in the crosshairs of a bad situation – like Cyprus, Greece, or Venezuela.

Cuba Banking Takeaway #2: Governments Don't Stop, Won't Stop

Despite Cuba's relative openness to the black market and relaxing rules on private business, the Cuban economy is still centrally planned.

But whether you're in the United States, Canada, Europe, South Africa, Venezuela, or Cuba, you can see the signs of such government planning through ineffective fiscal policies.

Knowing what these policies look like and understanding how they can impact your bank account is key.

For example, you need to understand exchange controls, domestic currency restrictions, and any tax implications that could impact you before opening an account – think South Africa, Brazil, or Argentina.

Cuba Banking Takeaway #3: Decide For Yourself

Almost all of the foreign banks active in pre-revolution Cuba were forced to close their doors when the banking sector was nationalized.

How could a group of foreign banks that previously dominated the banking sector have their assets seized? Did they see the signs of socialism on the horizon?

Cuba was a powder keg: A fanatical dictator. An economy entirely dependent on collapsing Sugar prices. Zero history of banking regulation. And more.

And that's just it, there are always warning signs.

Just because someone else, even a bank, thinks opening accounts in a country is a good idea – it doesn't mean you should. You need to be aware of the signs and understand when things could set off.

Cuba Banking Takeaway #4: Banks Go Bust

Cuba's banking system was made up of mainly domestic banks after WWI. That is until their overexposure to the sugar industry hit back at them. This overexposure and the leverage they had on the books made them go bust.

Now, we've written about banking failures before, but this is just another example of why you need to know what your bank is investing in. After all, when a bank invests, it's usually investing depositor (aka: your) money to try and turn a profit.

Fortunately, we have many more resources at our fingertips today than we did back in the early 1900s. So check out the financial statements for yourself and make your own assessment on whether a bank's financials are being managed properly.

Cuba Banking Takeaway #5: Diversification Saves

In every horrible situation, like a revolution or war, certain people end up better off than others. The ones that come out on top, see the warning signs, and take action.

Even today, there is unrest and uncertainty in relatively stable jurisdictions like Chile, Hong Kong, and Spain. It's difficult to predict what the future looks like.

If you're smart, you diversify your money and assets internationally before problems arise. And as a result, you'll thrive when everything falls apart.

Opening bank accounts in stable and safe banking jurisdictions is just another way that you can protect yourself and your assets, no matter what happens.

Final Conclusions on Banking in Cuba

I didn't open an account in Cuba. Just thinking about the process is painful enough.

In fact, even Cubans are hesitant to keep money in the bank here. That's what years of nationalization, devaluation, and confiscation will do.

Cuba's a great reminder that the jurisdiction you choose to bank in matters. Look under the hood and assess the economy, politics, and the underlying banking system.

Ask yourself, is this a stable country that is going to keep my deposits safe for the next 10, 20, or 50 years? Are there hints of instability, corruption, or a potentially floundering economy?

And don't forget to pick the right bank. Picking a foreign bank that has a nice reputation in your home country isn't the end of your journey. And it doesn't mean that your banking experience will be all 'candy canes and rainbows' overseas. In Cuba, even the mighty foreign banks had their assets seized and were nationalized.

How Can You Start Opening Accounts?

If you're ready to take action and start opening international accounts now, you can access GlobalBanks IQ, our dedicated international banking intelligence platform.

GlobalBanks IQ gives you everything you need to start finding and opening accounts for you or your business today.

When you join GlobalBanks IQ, you immediately unlock the GlobalBanks Database of international banks — home to 250+ banks in 50+ countries. 

And, you get access to our library of premium (members-only) reports, including proven account opening strategies, country-specific banking options, and lists of banks for specific client types.

Plus, you unlock our account opening checklists, dedicated account opening alerts, and much more.

To get started, click here to see if GlobalBanks IQ is the right choice for you to start accessing the benefits of international banking today.

You can also view all of the account opening solutions offered by GlobalBanks on our products page.