When it comes to banking in the European Union, most people don't consider opening an Irish bank account as a non-resident. Instead, they typically look elsewhere in Europe, consider inferior jurisdictions, and open with lower quality banks.
Irish bank accounts for non-resident clients offer a full suite of services, English customer support, and remote account opening. Providing access to EU banking, SEPA transfers, and certainty during the unraveling of Brexit. Unfortunately, such accounts can be difficult to open, unless you know which banks (and bankers) to contact.
In this article, we explore the advantages and disadvantages of Irish banking for non-residents. We answer the question of who can open accounts in Ireland (and who can't). And we also cover the common mistakes people make when trying to open accounts.
Of course, Irish banks have had their ups and downs. From riding the highs as a Celtic tiger to becoming the first country to bail out banks during the Global Financial Crisis. It hasn't always been a fairy tale here.
But for some non-residents and foreign companies, Ireland might end up being the perfect jurisdiction to establish banking ties in Europe — so long as you can open an account.
Before diving in, download your free copy of the Non-Resident Banking Starter Guide. It's a quick read and shares everything you need to know before getting started opening international bank accounts in places like Ireland.
Ireland Incentives 101
On the surface, Ireland might be known for rolling hills, incredible hospitality, influential artists, and of course Irish whiskey. But, to GlobalBanks Insiders, Ireland offers something more…
Bubbling below the surface, Ireland offers an interesting mix of banking and business incentives attracting entrepreneurs, non-residents, companies, investors, and the mobile affluent.
Boasting one of the lowest corporate tax rates in the entire developed world (12.5%), a huge network of international tax treaties, and other well-architected incentives, Ireland is truly a wonderland of fiscal opportunity for those with the right structures in place.
This is a place where "Single Malt" doesn't just refer to a whiskey — it's a tax strategy.
And, keep in mind, 12.5% is just the starting point for corporate taxes. So, if you have a good advisor and know what you're doing, rates can go even lower.
We'll dig into a few of these incentives in greater detail below. But for now, let's get back to banking and look at why people are opening Irish bank accounts as a non-resident in the first place.
Irish Bank Account + Non-Resident Clients

Whether you're an individual, have a full-blown business, or own an Irish LP, having an Irish bank account as a non-resident has benefits.
Irish bank accounts can get you access to low-cost SEPA transfers, the Eurozone, and the ability to easily send and receive money between European markets.
Let's take a quick look at some of the top benefits that non-residents can capture when opening a bank account in Ireland.
Benefits of an Irish Bank Account for Non-Residents
Access to the EU banking system as an individual
Access to the EU banking system for certain non-resident companies
Low-cost SEPA transfers only available through EU banks
English language EU banking and customer support
Full range of retail and private banking services
Remote account opening is still possible
Avoid post-Brexit banking turmoil you could face elsewhere
Not considered an offshore jurisdiction or a tax haven
Why Open Irish Non-Resident Bank Accounts Now
As regulations increase, laws change, and non-resident banking gets even more difficult in Europe, those who are already existing customers will be at a huge advantage.
This is especially important as banks roll out their post-Brexit plans. Banking operations are going to be restructured, customers will be shuffled to different jurisdictions, and certain accounts may be terminated altogether.
If you don't have a coveted EU passport, aren't an EU resident, or lack economic substance in Europe, having bank accounts opened before these changes take place is important.
Ireland is one of the few countries that offers a combination of remote opening, stable banks, and English customer support, all wrapped up in a (relatively) stable jurisdiction.
With this in mind, let's discuss which non-resident groups should consider opening Irish bank accounts…
Who Should Open an Irish Non-Resident Bank Account?

Several groups are interested in Irish banking for different reasons. Reasons vary from backup accounts, payment processing, and business banking to post-Brexit planning, non-dom banking, deposit insurance. Others just want
Foreigners & Non-Residents That Want an EU Bank Account
Whether you want access to the EU banking system, a European bank with deposit insurance, low-cost SEPA transfers, or a backup bank account in the EU, Irish banks could be the solution. Of course, having an Irish bank account as a non-resident (especially if you're a citizen of a non-EEA country) can also offer access to platforms and marketplaces such as Transferwise, Paypal, Stripe, EU brokerage platforms, and more.
Foreign Companies With a Connection to Ireland
Opening an account for a foreign or offshore company anywhere in Europe is increasingly difficult. Banks want to know what your connection to the country is and that your reason for opening the account is logical. So, if you have any connection to Ireland that can help express your business' need for an Irish bank account, you could be a candidate for account opening.
EU Businesses Requiring EU Banking & Payment Processing
Many entrepreneurs and business owners need an EU bank account to access EU payment processing, marketplaces, and European customers. For this reason, having an Irish bank account for a non-resident company (or a company with local operations) is useful. Certain Irish banks also offer merchant accounts and payment processing solutions. Additionally, many Irish banks have special business banking packages for entrepreneurs and small businesses.
UK Residents Wanting EU Accounts Before Rules Change
After banks implement their post-Brexit plans, account opening in the EU will likely get more difficult for UK residents. It's unclear how (or if) this will change in Ireland. But by opening an account now, before the account opening rules change, you could get grandfathered in and won't have to deal with stricter account opening measures later.
Non-Residents Requiring Remote Account Opening
Non-residents who need remote account opening in Europe may want to consider Ireland as an option. While it's not guaranteed, it is possible. Of course, you will need the right information, know which Irish bank to contact, and (ideally) contact the right banker.
Non-Doms Outside of Ireland
Given Ireland's close proximity to the UK and Europe, it's not uncommon for non-doms from surrounding countries to open an Irish bank account as a non-resident. If you have "non-dom" status, you're usually only taxed on funds remitted to your country and foreign-sourced income and investments are usually exempt from tax. For this reason, Ireland can offer an interesting EU banking option while keeping foreign-sourced income in a stable banking jurisdiction.
Non-Doms in Ireland
Inherited from the UK, the Irish non-dom-scheme is lesser-known and relatively off the radar for most people. In 2019, over 7,000 individual Irish non-doms were registered in the country. These folks benefit from the tax incentives offered by the program. That number is growing. However, remitting income to Ireland (and an Irish bank account) as a non-dom triggers taxes. So many Irish non-doms choose to open an Irish bank account as a non-resident before obtaining non-dom status.
Irish Partnerships
US LLCs, UK LLPs, and Canadian LPs (and EPCs) are popular structures amongst entrepreneurs and digital nomads with online businesses. They're especially beneficial for individuals who have tax residency in a territorial tax country, as they can often be operated tax-free with the right setup in place. The Irish LP, or an Irish Limited Partnership, is a similar structure. It's basically the more expensive, more complicated older sister of the structures mentioned above.  So, similar to having a US bank account for a US LLC or a UK bank account for a UK LLP, an Irish LP may want to open an Irish bank account as a non-resident to support business operations outside of the country.
Difficulties & Challenges of Banking in Ireland
Yes, non-residents can open Irish bank accounts. They can even open accounts remotely. But like anything worth doing, it's not always easy. With this in mind, let's take a look at some of the challenges that non-residents can face when opening bank accounts in Ireland.
Establishing an EU Connection
If you're a non-EEA citizen, account opening will require more paperwork, and, by default, you'll be subject to more scrutiny. Most banks will want to understand your connection to Ireland and why you want to bank there. And, many will want to see proof of a local address.
Bank, Branch & Banker Selection
There are more than 60 banks in the Republic of Ireland, represented by nearly 1,000 branches and over 8,000 bankers. But when it comes to opening an Irish bank account as a non-resident, only a small fraction of these banks, branches, and bankers will accept non-resident clients. So knowing where to go and who to contact is critical to successfully opening an account as a non-resident.
Proof of Address
As is the case elsewhere, when opening an Irish bank account as a non-resident, you may run into difficulties when providing proof of address. Banks in Ireland have specific requirements that vary from other countries. And these requirements can vary when opening non-resident accounts vs resident accounts.
Connection to Ireland
When applying for a bank account in Ireland as a non-resident or expat, being able to show that you have a connection to Ireland is an advantage. Having valid proof of a local residential address, a letter from your employer, having a local company, or even local health insurance can be helpful.
Authentication Requirements
When opening accounts in Ireland, it's important to know each bank's specific authentication requirements. Depending on where your documents are from, what language they're in, and what type of account you're applying for, you'll need to get them authenticated according to the bank's specifications. If you're overseas or in a non-EU country, it can be difficult (and expensive) to get your documents authenticated in Ireland. Plan for this ahead of time.
Opening an Irish Bank Account as a Non-Resident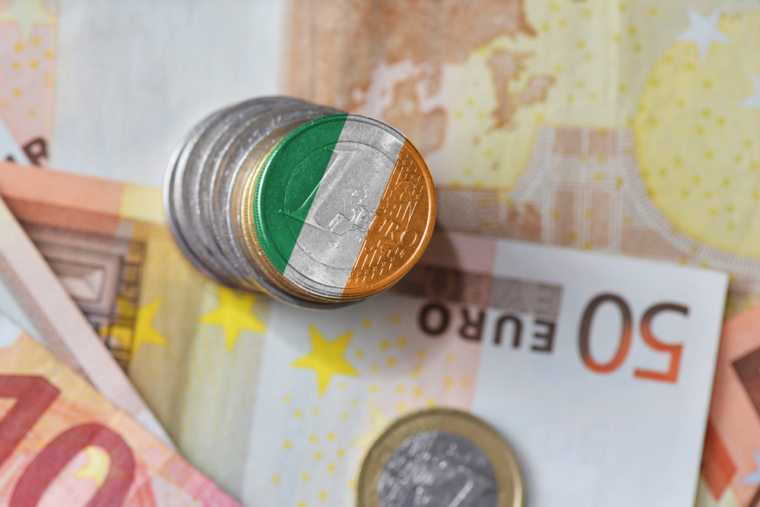 By now, the message should be clear: It's possible to open an Irish bank account as a non-resident. And as we've shared above, there are plenty of non-resident individuals and companies that can benefit from banking here.
The key, of course, is opening an account with the least amount of hassle and cost. To do that, you need the right information, to know which Irish banks are best for non-residents.
If you require remote (or online) opening, you'll need to know the steps involved and which banks actually accept online applications from you without requiring you to visit the country.
Remember, remote account opening is becoming increasingly rare across Europe for non-residents. And as time goes on and regulations increase, the doors for non-resident remote opening opportunities like this will continue to close.
So, if you're already a GlobalBanks Insider and want to open an Irish bank account as a non-resident, get in touch with the team so you can start the account opening process immediately.
Ready to Open an Irish Bank Account as a Non-Resident?
If you need help sorting out your banking options, want to know which banks you should apply to, or just aren't sure where to turn, we can help.
If you're ready to take action and start opening international accounts now, you can access GlobalBanks IQ, our dedicated international banking intelligence platform.
GlobalBanks IQ gives you everything you need to start finding and opening accounts for you or your business today.
When you join GlobalBanks IQ, you immediately unlock the GlobalBanks Database of international banks — home to 250+ banks in 50+ countries. 
And, you get access to our library of premium (members-only) reports. These include proven account opening strategies, country-specific banking options, and lists of banks for specific client types.
Plus, you unlock our account opening checklists, dedicated account opening alerts, and much more. 
To get started, click here to see if GlobalBanks IQ is the right choice for you to start accessing the benefits of international banking today.
You can also view all of the account opening solutions offered by GlobalBanks on our products page.