Account opening requirements for non-residents at European banks are changing. In fact, there are brand new requirements that didn't even exist 2 to 3 years ago. 
You used to be able to open an account by simply showing up and having a semi-justifiable reason for wanting a bank account. 
Today, you'll be hard-pressed to find a bank that will accept you if you don't already have residency in a European country… or present yourself as an attractive, high net worth client.
Now before you go complaining about banks increasing regulations and cracking down on customers, let discuss why these changes are actually happening.
We'll also tell you how you, as a non-resident, can still access great European banking options for private, personal, and corporate accounts.
If you'd like to get a head start on account opening in Europe as a non-resident then download our FREE Non-Resident Banking Starter Guide right now!
Why Is This Happening?
Contrary to popular belief, tougher compliance isn't being imposed to feed the sick fantasies of banking regulators. On the contrary, tougher compliance means more mind-bending work – why would anyone willing to expose themselves to that unnecessarily?
There are real catalysts driving these changes. 
We've previously talked about the collapse of ABLV Bank in Latvia. After closer inspection, ABLV highlighted two things to regulators:
The bank was not being managed correctly, and

ABLV had horrendous compliance and a massive non-resident banking problem
But ABLV wasn't the only bank with these problems. And Latvia wasn't the only where these problems were apparent. Estonia, Latvia's Northern neighbor had money laundering and compliance problems of its own. Danske Bank's Estonia branch got caught up in a $220 billion money-laundering scandal.
And then there were more compliance scandals in Andorra and Malta that resulted in bank failures and drew even more attention to Europe's poor banking compliance standards. 
Now, we've talked about banking failures before. So why are these different? What makes them unique? And how could they have such a direct influence on regulations that it's impacting your ability to open accounts?
Well, ALBV had something in common with Danske Bank – they all had a) easy account opening requirements and b) an abnormally high percentage of deposits in the name of both non-residents and offshore companies. 
On the surface, a high number of non-resident and offshore accounts might not seem like an issue. But as we like to point out, the biggest risk to your deposits can often come from your fellow depositors. 
Here's a map of Latvia and Estonia. Do you notice anything unique compared to other banking jurisdictions?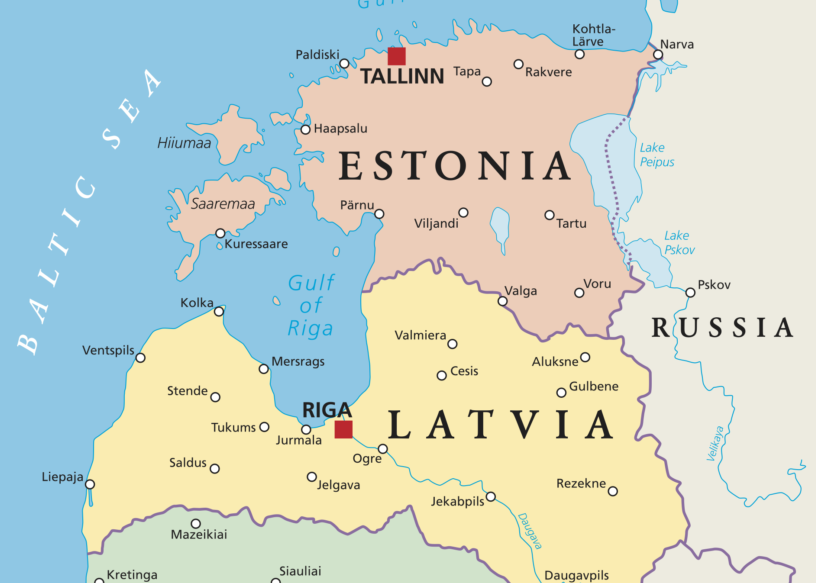 Here's a hint: They're bordering Russia. 
And if you're wondering where a large percentage of those offshore and non-resident accounts originated, you'd be right to assume that Russia represented a very large percentage. 
In case you're not familiar with the general relationship between Russia and the West, things are a bit icey these days. So banks facilitating money-laundering anywhere, but especially for Russians, would be particularly concerning to the US government.
So, authorities in Europe cracked the whip, closed the loopholes, made account opening way more difficult. In Latvia, they even said "no more non-resident banking."
But according to some (a.k.a. the United States Government) European regulators weren't doing enough. It was time to turn up the compliance.
As a result, some European banks feel more threatened by the US government than by their own banking regulators and tax authorities. And with good reason. 
The US is forcing European banks to get their compliance departments in order because, well, the European regulators have been too soft and too light on penalties.
Europe's money-laundering scandals have also highlighted to regulators that European countries have segregated compliance systems, which makes moving money across borders easier for criminals than if there was a unified compliance system.
Result: Major de-risking across European banking jurisdictions. New and tougher account opening procedures. Stricter compliance non-resident accounts and offshore companies. And a major aversion to anyone and anything Russian.
European Banking: How You Can Open Bank Accounts?
If you're reading this article, chances are you still have some desire to open up a European bank account. So, let's switch gears and talk account opening. 
Don't get us wrong, as a non-resident, your options are more limited in Europe than they have ever been before. But limited doesn't mean impossible. 
As long as you know where to look, which banks to approach, which strategies to use, and how to avoid expensive mistakes – you can open a bank account as a non-resident at a well-managed bank with strong financials. In fact, you'll even avoid the bad banks that are often targeted by criminals and later by banking regulators. 
Here are the options available to you…
European Banking Option #1: Legitimize Yourself
What we mean by "legitimize" quite simply is to actually become a resident (or resident-like) of somewhere.
To do this, you're going to need to choose a residency program in a country that makes sense for your own personal and tax goals. For this reason, many prefer to acquire residency in a low-tax or territorial tax jurisdiction. 
In Europe, your options might include places like Malta, Andorra, Bulgaria, Portugal, Monaco, etc.
As we discussed in our last article, any bank accounts that you open with your new residency will trigger an automatic exchange of information. In other words, the bank will send your financial information to the country of residency that you provide – assuming you are banking are in one of the 106 countries that are signatories to CRS. You can see the full list here. 
European Banking Option #2: Go to Lax European Countries
While banking regulations are increasing, there are still some countries that are slower to adopt these changes than others. 
And if you know where to look, you can still find countries where opening an account as a non-resident is possible. But keep in mind, you're not the only person looking for such accounts – easy banks attract undesirable fellow depositors. Just look at ABLV and Danske Bank in Estonia, for example.
Now, this isn't a new strategy and it won't get banks that fit the standards GlobalBanks looks for in terms of financials, management, or compliance. But sometimes opening an account as a non-resident is easier and requires less hoop jumping in lax European countries, particularly in central and eastern Europe.
If this is your preferred approach, you'll likely be considering banks in places such as Czech Republic, Hungary, Poland, Bulgaria, Cyprus, Slovakia, or Montenegro.
European Banking Option #3: Skip Banks and Go Fintech
At GlobalBanks, we warn Insiders about relying on neobanks and electronic money institutions (EMIs) for banking needs. EMIs don't always have banking licenses, they are not always regulated like banks, and they do not offer the same protections as banks. 
That said, EMIs do offer some value. If you are looking for platforms that allow for managing transactions, receiving and sending payments to and from Europe, or simply having a destination for third parties to send you money with an IBN – this could be the solution you're looking for.
Don't get us wrong, there are still hoops to jump through and the compliance procedures at many EMIs can be just as rigorous. But, we view EMIs as more of an interim solution for day-to-day transactional banking and we wouldn't recommend keeping your life-savings in them. 
European Banking Option #4: Start Trading (Kind of)
In some parts of the world, opening a brokerage account can be a gateway to getting an account with the bank of your dreams – Insiders should take a look at our Singapore Account Opening report in the Banking Intelligence section of the membership site for more details.
In fact, depending on your situation and which country you bank in, having a brokerage account that pays a decent interest rate and is protected by deposit insurance can be even better than having a bank account. 
Obviously, you need to go through an account opening process. But the process is often it will be more streamlined than most European banks.
European Banking Option #5: The Big Question
As the curators of a global banking platform, it feels like we have a duty to ask the obvious question… 
Why do you want to open a bank account in Europe?
We live in a globalized world where you are not bound by the borders of countries that we live in. Competition is global. So are your choices. 
With banks from more than 50 countries currently covered in the GlobalBanks database, your banking options are endless. And while some European banks still offer great service and decent financials, they are sadly becoming the exception and not the rule.
The truth is, there are solid banks with great customer service available. And if you look carefully, you can even find favorable interest rates. In fact, you can even find banks that will offer better protection for your money in a number of European countries. So, if you're only looking at Europe as the place to bank, you're sorely limiting the options that are available to you.
With that in mind, your "European Banking Option #5" is to bank outside of Europe.
What does this mean for
GlobalBanks IQ Members
?
GlobalBanks IQ members looking for European banking solutions as non-residents will face more scrutiny and regulations when opening accounts. This is just a fact. If you do not have residency in a European country or don't have residency anywhere, that's a problem. This trend isn't changing, and it's not slowing down. 
As we said in our article yesterday, non-resident banking is going to continue increasing in difficulty. Prudent individuals are taking action now to secure residency in tax-efficient jurisdictions. This will allow them to prosper and increase their banking options at the same time.
We've outlined a number of alternative banking options that you can consider. You can use these if you're still interested in opening accounts as a non-resident in Europe. But ultimately, the best option is to find banks that want your business. And you can do this in strong banking jurisdictions around the world. Yes, they're out there.
If you are a GlobalBanks IQ member, you should look at the following reports in the Banking Intelligence section of the members' area for account opening strategy and specific banking options:

These reports will identify banks that will actually accept you. They will also give you direct contact details and proven account opening strategies. Plus, you'll receive recommendations and tips on how to best approach these banks for the best results.
How Can You Start Opening Accounts Now?
If you're not a member BUT you're ready to take action and start opening international accounts now, you can access GlobalBanks IQ, our dedicated international banking intelligence platform.
GlobalBanks IQ gives you everything you need to start finding and opening accounts for you or your business today.
When you join GlobalBanks IQ, you immediately unlock the GlobalBanks Database of international banks — home to 250+ banks in 50+ countries. 
And, you get access to our library of premium (members-only) reports, including proven account opening strategies, country-specific banking options, and lists of banks for specific client types.
Plus, you unlock our account opening checklists, dedicated account opening alerts, and much more. 
To get started, click here to see if GlobalBanks IQ is the right choice for you to start accessing the benefits of international banking today.
You can also view all of the account opening solutions offered by GlobalBanks on our products page.