Guernsey offshore banking and bank accounts are misunderstood topics. While there are over 20 banks operating on this tiny island, they cater to specific clients with very unique banking requirements.
Not surprisingly, if you fit into one of these client categories, Guernsey could be an excellent place to bank. If not, you may want to consider another offshore alternative such as a Jersey bank account instead.
In this article, we'll explore the specific client types that are best positioned to benefit from Guernsey offshore banking. We'll also share the specific benefits and advantages that clients here can look forward to. And, we'll discuss how to get started with banking in Guernsey, even if you're starting from scratch and have never banked in the Channel Islands before.
Do You Want to Explore All Your Offshore Banking Options?
Feel free to jump ahead to the areas most relevant to you by using the table of contents below.
Table of Contents
Guernsey Offshore Banking 101
Guernsey offshore banking is often misunderstood. That's because most people simply label Guernsey as a "tax haven," assume it has limited banking options and leave it at that.
But, Guernsey offshore banking is far more sophisticated than what you'd expect in the typical offshore financial center. And, unlike many offshore hubs that are dying off as significant portions of the offshore world move back "onshore", Guernsey is becoming more relevant and increasingly important. But, more on that in a bit.
Here's a quick overview of what you need to know in order to determine if Guernsey offshore banking is right for you or not…
Bailiwick of Guernsey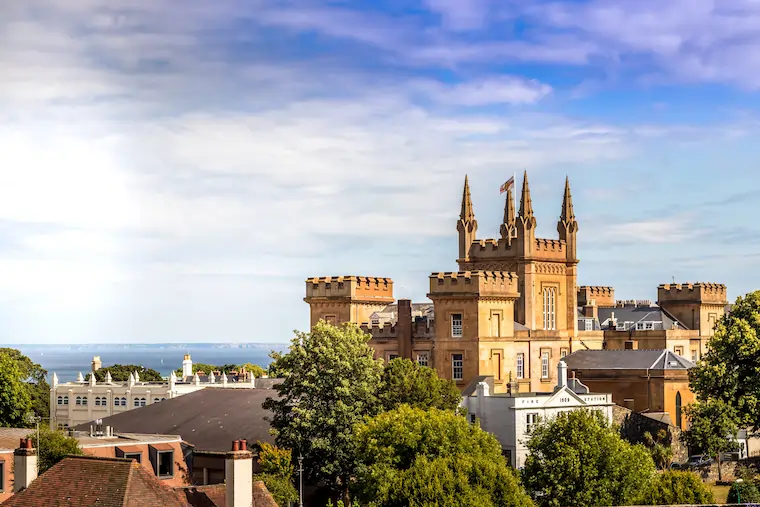 The Bailiwick of Guernsey is a collection of small islands, sitting off the coast of Normandy, France. Just like Jersey, Guernsey is a British Crown Dependency, and together they form the Channel Islands.
The Bailiwick of Guernsey includes three separate states (or sub-jurisdictions) which are Guernsey, Alderney, and Sark. Each of these states is its own island, has its own corporate registry (except for Sark), is fiscally autonomous, and makes its own laws related to taxation and a variety of other civil matters. In this article, we will be discussing Guernsey only, as Alderney and Sark will be covered in other articles.
Similar to Jersey, Guernsey also has strong ties to the UK and the City of London. As a Crown Dependency, the UK is responsible for defense and foreign affairs. Additionally, local legislation still technically requires approval from the UK Privy Council.
Guernsey Offshore Industry
Like many offshore jurisdictions, Guernsey offshore banking has evolved since the mid-1900s. That's when the banking sector started to expand. London merchant banks established a presence in the 1960s, and the groundwork for Guernsey's offshore financial industry was formed.
However, the evolution of Guernsey's offshore banking industry was (and still is) heavily dependent on specialized financial and wealth management industries. In particular, this includes the formation and administration of trusts, the administration of various investment vehicles, and captive insurance entities.
Not surprisingly, Guernsey has become a popular jurisdiction for institutional investors and financial service professionals. Likewise, Guernsey offshore banking has become a favorite destination to service the banking needs of such entities.
Guernsey Offshore Today
Today, Guernsey banks have over £100 billion in deposits, making it a significant offshore financial center. Though, unlike other financial centers, Guernsey doesn't find itself on any blacklists or watchlists.
That said, Guernsey is considered a tax haven. In fact, like other offshore financial centers, it has no capital gains tax, no inheritance tax, no wealth tax, no corporate tax (except for banks at 10%), and favorable income tax rules.
Plus, Guernsey has other benefits as well…
Guernsey Becoming Increasingly Important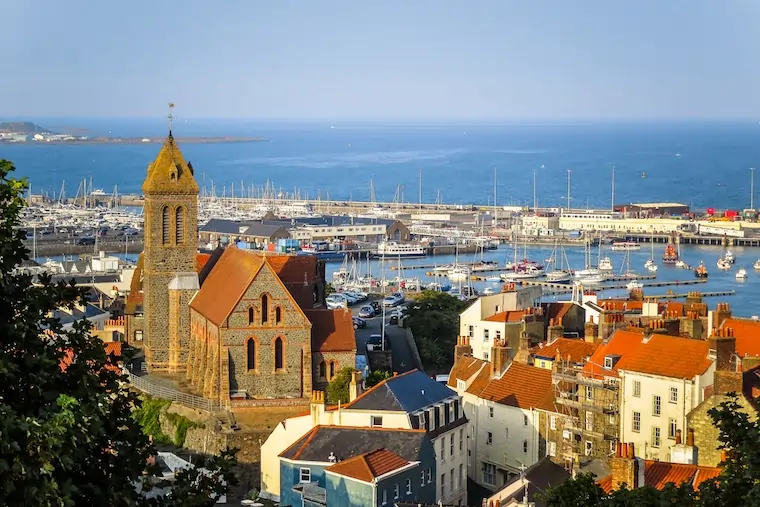 Guernsey is becoming increasingly relevant to certain client groups, in particular, those active in fund management, estate planning, international asset management, private equity, and more.
For example, in 2018 over 30% of the European junk bond issuance moved to Guernsey's stock exchange. That represented over US $25 billion in one year. Two years prior, that number was basically zero. This was thanks to new EU regulations forcing transparency on bond issues, which (thanks to its independence) don't apply in Guernsey.
Likewise, while the EU and the UK continue to wrestle through their marital issues, Guernsey is an independent state from all involved parties. And this makes Guernsey (along with Jersey and the Isle of Man), an ideal hub for individuals and businesses that have financial commitments in both the EU and the UK — especially if SEPA transfers are a priority.
Finally, Guernsey is an important launching pad for companies planning to list on the London Stock Exchange. In fact, there are more Guernsey companies on the LSE than any other country in the world — not including the UK of course.
But, what if you don't have any plans to list on the LSE or issue European junk bonds? Well, Guernsey offshore banking might still work for you.
Who Should Consider Offshore Banking in Guernsey?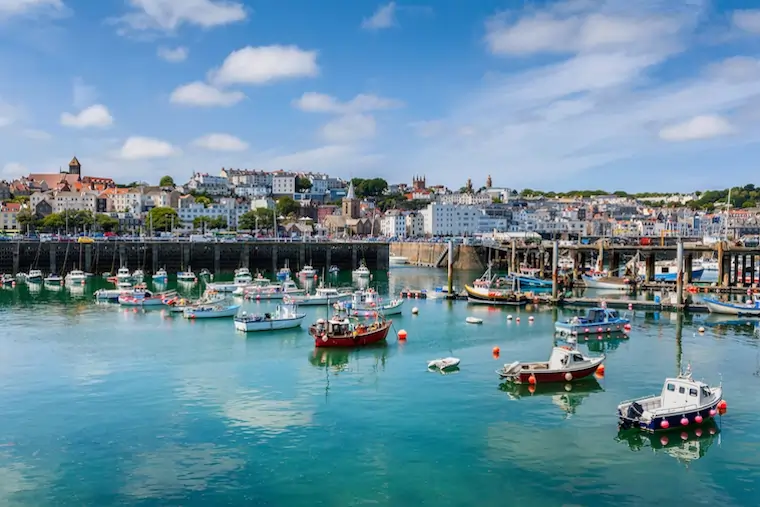 Now that you're up to speed on Guernsey offshore banking and its status as an offshore hub, let's discuss who should consider banking here.
Client Types That Can Open a Bank Account in Guernsey
Guernsey offshore banking caters to the same clients that the island's offshore industry is designed to serve.
Institutional investors
Guernsey trusts
Guernsey foundations
Investment funds
Family offices
Independent asset managers
Captive insurance vehicles
Guernsey companies
High-net-worth individuals
With this in mind, it should be no surprise that prospective clients of Guernsey offshore banking are typically after private banking, wealth management, financing, and investment management.
For this reason, if you're looking for personal banking or day-to-day business banking, your options in Guernsey will be limited — though there are some options if you choose carefully.
Alternatively, you may want to consider opening an Isle of Man offshore bank account or a Jersey bank account instead. Both islands offer similar benefits to Guernsey but are better suited to the offshore banking requirements of non-resident individuals.
You can read more about banking in the Isle of Man and Jersey in our free articles:
Isle of Man Offshore Bank Account Opening
Jersey Bank Account Opening [Start Here]
Offshore Banking Financial Services in Guernsey
Guernsey offshore banking focuses on the needs of wealthy individuals, institutional investors, and wealth management entities. With this in mind, the types of services you should be seeking in Guernsey include private banking, wealth management, custody, and other related services. We'll discuss each of these in detail below.
Private Banking in Guernsey
Today, private banking is a loaded term that can cover a range of services, many of which vary widely from bank to bank and country to country.
Generally speaking, in the context of Guernsey, we're referring to traditional private banking services provided to high net worth (HNWI) and ultra-high net worth individuals (UHNWI), and their wealth planning vehicles.
Such services include a range of banking services, lending, and more. Of course, this also includes being able to access wealth management as well as investment products and services, which we discuss below.
Trust & Fiduciary Services in Guernsey
Guernsey is best known for trusts. And, this little island is widely considered a leading and reputable jurisdiction for the structuring and administration of trusts.
In fact, Guernsey was one of the first countries to regulate fiduciary trust services. And while modern trust laws were adopted in the 1960s and 1970s, Guernsey trusts date back hundreds of years. Today, it's reported that there are over 20,000 trusts in Guernsey — though no registry exists.
Not surprisingly, many of the international banks that operate in the Guernsey offshore banking sector specialize in the administration of such trusts. This allows clients to unlock the benefits of estate and succession planning, asset protection, tax neutrality, and much more.
Custodian Services in Guernsey
Finally, custodian services are available from many banks in Guernsey. However, these services almost exclusively cater to the needs of institutional, financial, and corporate clients. Such services include the settlement of accounts, reporting requirements, dividend services, and more.
Non-Resident & Expat Banking in Guernsey
In some instances, it's possible to access certain non-resident and expat banking services. These services range from international bank accounts to international mortgages to acquiring properties in the UK. However, bank selection is critical as very few options exist. So, make sure to scrutinize the services your chosen banks offer (along with the related fees), before opening an account.
Challenges of Guernsey Offshore Banking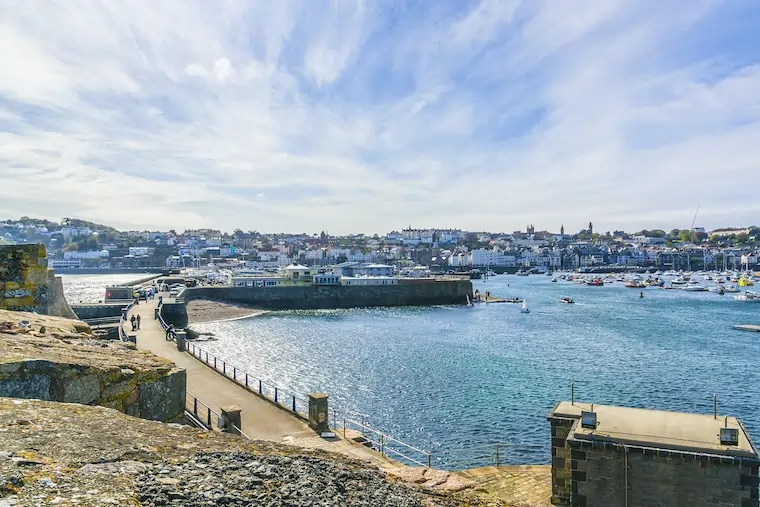 Like all offshore financial centers, banks in Guernsey each have their client preferences, areas of specialization, and different requirements for account opening. In Guernsey, this includes an emphasis on deposit requirements.
In fact, even though there are a few brand-name international banks active on the island, your chances of opening accounts without knowing which banks cater to your client profile, your investment needs, and actually want you as a client are extremely low.
For instance, banks specializing in private banking and wealth management want to know where you fall in their wealth brackets. They also want to understand which specific services you intend to use. In other words, they want to know how profitable you'll be as a client for the relationship manager and the bank.
Of course, banks in Guernsey have other non-financial considerations as well. Certain banks only accept clients from a small number of countries. Other banks may require specific ties to certain regions or jurisdictions.
Here's an overview of the challenges applicants face when looking to access Guernsey offshore banking:
Finding banks that accept their client profile
Finding banks that offer their required services
Having sufficient ties to required jurisdictions
High deposit and investment requirements for certain banks and client types
Unlocking the benefits of Guernsey offshore banking doesn't have to be difficult. As long as you have the right information, account opening strategies, approach the right banks, and have the right banking contacts. Of course, other banking jurisdictions are offering similar benefits that could be significantly easier (and more beneficial) for you to access as well.
Frequently Asked Guernsey Banking Questions
Below are a few of the most common questions we receive from people exploring Guernsey offshore banking. If you have further questions about online offshore banking, don't hesitate to contact us directly.
Can You Open a Bank Account in Guernsey?
Yes, you can open a bank account in Guernsey if you meet the account opening requirements and have a suitable client profile. In most cases, Guernsey banks are suitable for foreign non-residents looking for priority and private banking services. That said, the Guernsey banks available to each prospective client will depend on their citizenship, residency, deposit level, and banking needs.
How Much Money Do You Need for an Offshore Bank Account?
The amount of money needed to open an offshore bank account depends on the type of account being opened, the desired country, the bank being considered, and the profile of the prospective client. In most cases, applicants can expect to deposit anywhere between USD 10,000 and USD 500,000 to open an offshore bank account.
Can I Open a Bank Account in the Channel Islands?
Yes, you can open a bank account in the Channel Islands. Both Jersey and Guernsey, which make up the Channel Islands, are home to banks that offer offshore banking services to foreign non-resident individuals. That said, not all banks in the Channel Islands will be suitable for all client profiles. With this in mind, bank selection is a critical factor when deciding where to apply for an offshore account as a foreign non-resident.
Do You Want Help Opening Offshore Bank Accounts?
If so, you can access GlobalBanks IQ and start the process of applying for an offshore bank account online in a few clicks.
GlobalBanks IQ is our flagship international bank account opening solution. It gives you instant access to the…
+ Expert insights on which banks to choose & why
+ Step-by-step reports to open bank accounts in the best banking hubs
+ GlobalBanks international bank database & detailed bank profiles
+ Tried & tested banks for high-risk, offshore, & non-resident clients
+ Plus, get YOUR most pressing bank account opening questions answered by our team!
And "yes!" GlobalBanks IQ helps foreigners and non-resident individuals open bank accounts.
In fact, GlobalBanks IQ even helps non-resident, foreign & offshore entities open bank accounts.
To learn more about opening accounts with GlobalBanks IQ, just click here now. Or, contact us directly with any questions!