If you're interested in opening an Isle of Man offshore bank account, you're not alone.
Thousands of people have already taken advantage of offshore banking in the Isle of Man. In most cases, these accounts are opened remotely, with well-capitalized banks, in what many consider one of the most stable offshore jurisdictions.
However, if the Isle of Man is not a suitable option for you, there are other alternatives within the Crown of Dependencies you might want to consider. Including, opening a bank account in Jersey or banking in Guernsey.
\
---
KEY TAKEAWAYS
Banking in the Isle of Man is safe, politically stable, and well-regulated
Non-residents can open offshore bank accounts here 100% remotely
There are common challenges non-residents need to navigate when opening offshore accounts in the Isle of Man
Deposit requirements will vary depending on the bank, your client profile, and banking needs
---
In this article, we're going to share how you can open offshore bank accounts in the Isle of Man. This includes the opening challenges, important considerations, who should bank here, and how you can get started today.
Do You Want to Explore All Your Offshore Banking Options?
Great international banking hubs offer a combination of economic stability, political certainty, rule of law, strong banks, and a culture of professionalism and accountability. The Isle of Man, unlike many other island nations with offshore financial centers, ticks all the boxes.
While many other countries that offer similar financial and corporate services are often labeled as "tax havens" or get added to international watchlists (or blacklists), the Isle of Man is often considered cleaner, better regulated, and well respected.
Now, if you have ties to Gibraltar and are able to make a sizable deposit you might want to open an offshore bank account in Gibraltar instead. That said, Gibraltar isn't for everyone. You need to meet a specific client profile in order to bank here.
Another suitable option is Guernsey. Guernsey offshore banking typically is reserved for individuals and businesses seeking private banking, wealth management, and investment planning.
But, unlike many of the other offshore banking hubs you might be considering, the Isle of Man is home to several large UK banks. Compare that to the many small, "shoebox" banks that you'll find scattered across the Caribbean, and you'll start to see why the Isle of Man may be a better option for banking.
Feel free to use the table of contents to jump ahead to the sections most relevant to you.
Table of Contents
Is an Isle of Man Offshore Bank Account Safe?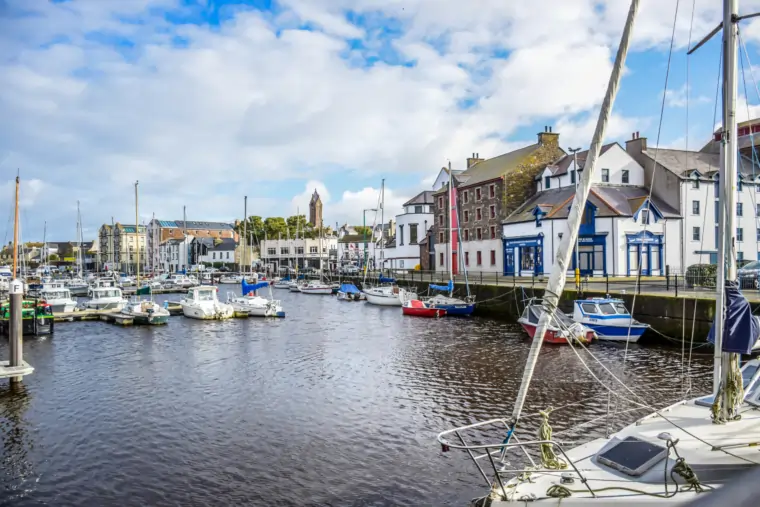 But, is opening an offshore account in the Isle of Man really safe? Well, that comes down to two important factors. First, the Isle of Man itself. Second, the bank you choose to open accounts with.
Is the Isle of Man a Stable Place to Bank?
The Isle of Man is a safe, politically stable, and well-regulated jurisdiction. Over the last 60+ years, this little self-governing Crown Dependency has proven itself to be an important offshore financial hub.
And, thanks in large part to the protections (and special incentives) bestowed on it by the City of London, the Isle of Man (along with Jersey and Guernsey) benefits from greater stability than other island-based financial centers.
In fact, while many offshore jurisdictions are constantly under threat and rotating between watchlists, politically motivated blacklistings, and regulatory scrutiny — the Isle of Man has emerged unscathed and has maintained a relatively clean reputation.
And, that makes sense since the island (and the UK) has a lot to lose if things go south. The Isle of Man is home to £45 billion in deposits from individuals, companies, and investment funds from around the world. Many with strong UK ties.
Are Banks in the Isle of Man Safe?
Isle of Man banks are safe when compared to most offshore jurisdictions. However,  it's important to investigate each bank's financials, business model, compliance quirks, ownership structure, and limitations l before opening accounts. To do this, follow the instructions in the Non-Resident Banking Starter Guide, available above.
We also discuss how to identify bank risk (and red flags) more in-depth in GlobalBanks Insider.
Another risk to consider is: what happens if the bank fails. Well, in the case of the Isle of Man, the Isle of Man's Depositors Compensation Scheme (DCS) covers deposits up to £50,000 per person per bank. So, if deposit insurance is important to you and you want to deposit more than £50,000 in an Isle of Man offshore account, consider opening with more than one bank.
Isle of Man Offshore Banking Secrecy
If you're interested in banking secrecy in the Isle of Man, you're a couple of decades too late. Due to the introduction of Common Reporting Standards (CRS), the Foreign Account Tax Compliance Act (FATCA), and the Automatic Exchange of Information (AEOI), banking secrecy no longer exists as it once did. In other words, you can expect banks here to report your financial holdings to tax authorities to your home country or country of tax residency. To learn more, check out the following articles to get more detailed information:
Non-AEOI Countries
CRS Country Tracker
Banking Secrecy is Over
Who Should Open a Bank Account in the Isle of Man?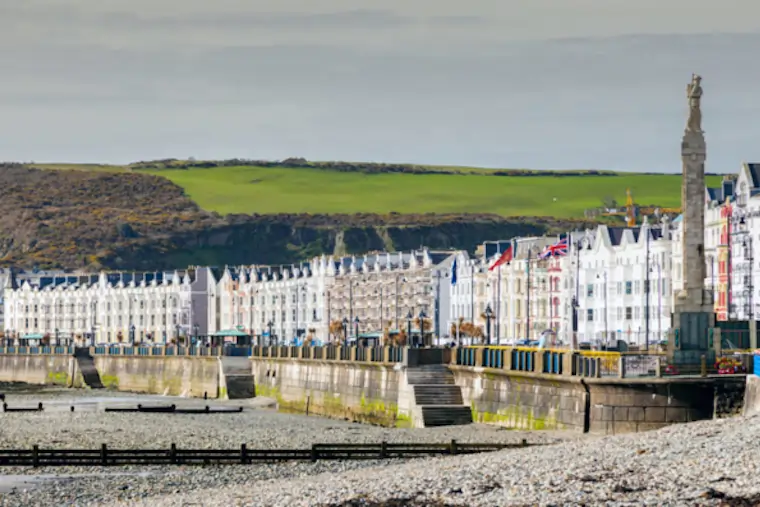 Offshore banking in the Isle of Man is attractive to many client groups, including non-residents, expats, and digital nomads. We'll outline a few of these groups for you in detail below.
But first, as a general rule, the Isle of Man can be a cost-effective solution with low barriers to entry for anyone interested in opening an offshore account. That's because maintenance and transfer fees tend to be lower than in other offshore hubs and, by following the right steps, most people can open accounts remotely.
Expats Seeking Stability in a Developed Country
Non-residents and expats living outside of their home country can benefit from an account in a stable, first-world jurisdiction. Depending on your objectives, opening offshore accounts in the Isle of Man might meet your criteria.
In addition to stability, banks here actually cater to the needs of "third country expats." This refers to people who live and work outside of their country of citizenship and who need to bank outside their country of residence. If that's you, Isle of Man banking could be worth considering.
GBP-Denominated Banking
As a Crown Dependency, the Isle of Man offers a mid-shore solution for anyone who needs to transact in GBP but doesn't want to (or can't) open accounts in the UK. If that's you, instead of wasting time trying to open with onshore banks in the UK, you may want to consider the Isle of Man as a less complicated banking option.
People Who Require Remote Account Opening
As mentioned, opening offshore accounts remotely is 100% possible. Of course, there are some variables you need to consider. And, this isn't available to everyone. But, if you have the right information, the right contacts, the right documents, and know which banks to approach, this is entirely possible.
So, if opening an offshore account from the comfort of your couch is a priority, the Isle of Man might be worth considering.
Benefits of Opening an Isle of Man Bank Account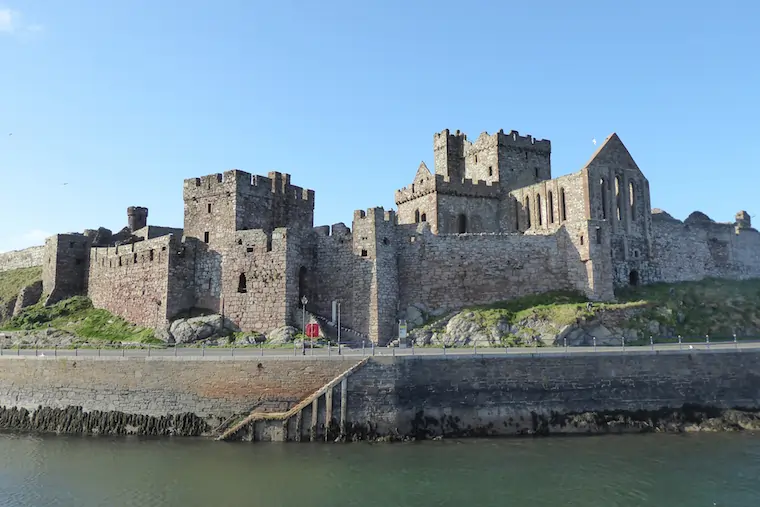 In past articles, we've discussed the benefits of banking in the Isle of Man for individuals, businesses, and beyond. So, we won't go into the same level of detail here about all the client groups who can benefit from banking here.
To illustrate the advantages, here are some of the top benefits of opening an Isle of Man offshore account:
Remote account opening
Familiar with non-residents and foreign entities
Low minimum deposit requirements
Access to major international currencies
Low monthly maintenance fees
Low transaction fees
Sophisticated financial sector with experienced staff
English language customer support
Deposit insurance up to £50,000 per person per bank
Clean reputation and on the OECD "white list"
Sophisticated corporate structuring services
Not surprisingly, the benefits of opening an offshore account in the Isle of Man stem from the island's well-developed offshore financial center, close ties to the City of London, and laws heavily influenced by English common law.
These three influences have turned the Isle of Man into one of the most well-respected offshore hubs in the world today. So, it's no surprise that so many individuals and corporations are interested in opening accounts here.
Challenges of Opening Accounts in the Isle of Man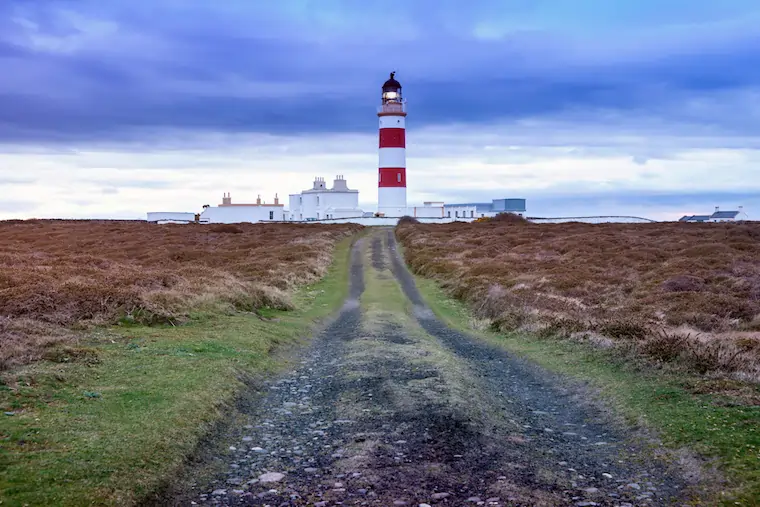 There are some challenges that most people encounter when trying to unlock Isle of Man banking. One of these is choosing the right bank.
Like all banking jurisdictions, banks in the Isle of Man each have their own client preferences and different requirements. And, unlike other jurisdictions, banks in the Isle of Man are very particular.
In fact, even the big box, brand-name banks on the island have surprising requirements and client acceptance policies. For instance, certain banks only accept clients from a small number of countries. On the other hand, some banks require specific ties to certain regions or jurisdictions, or entities with certain characteristics.
Here's a quick breakdown of a few common challenges applicants face when trying to open offshore bank accounts in the Isle of Man:
Finding banks that accept their client profile
Having sufficient ties to required jurisdictions
Having sufficient ties to the Isle of Man (if applicable)
High upfront account opening fees (if you apply incorrectly)
High deposit requirements for "high-risk" clients
Corporate account opening challenges
Fortunately, with the right account opening strategies most applicants can open an account in the Isle of Man from the comfort of their home. But, to do so, it's critically important to first choose the right bank (and banker), the right account opening strategy, and then follow the proven steps to apply.
Opening Bank Accounts in the Isle of Man
We explain exactly how to open offshore bank accounts in the Isle of Man in our premium report How to Open Accounts in the Isle of Man. It delivers the actionable intelligence, tools, and banking strategies you need to successfully open bank accounts remotely.
This report shares specific banks, the latest (and most successful) account opening strategies, the unspoken rules, and the lesser-known account opening requirements that individuals and companies need to be aware of.
Frequently Asked Isle of Man Banking Questions
Below are a few of the most common questions we receive from people exploring the Isle of Man offshore bank account. If you have further questions about online offshore banking, don't hesitate to contact us directly.
Can Anyone Open a Bank Account on the Isle of Man?
Yes, anyone can open a bank account on the Isle of Man if they are able to meet the bank's account opening requirements and present a suitable client profile. Of course, the banks available to them will depend on their citizenship, residency, deposit level, and banking needs.
Is It Illegal to Have an Offshore Bank Account?
No, it is not illegal to have an offshore bank account. It is, however, illegal to use an offshore bank account for the purpose of hiding money to avoid paying taxes or reporting requirements. With this in mind, if you are looking to open an offshore bank account and want to better understand the implications based on your citizenship and residency, feel free to contact us to discuss.
How Much Money Do You Need for an Offshore Bank Account?
To open an offshore bank account you generally need to deposit between USD 5,000 and USD 500,000, which is a very wide range. More specifically, basic offshore bank accounts can be opened with a small deposit between USD 5,000 and USD 25,000. Priority offshore bank accounts typically require a deposit between USD 150,000 and USD 300,000. Lastly, private bank accounts can usually be opened with a deposit of USD 250,000 and USD 500,000. It's important to note that these are estimates and each deposit will be assessed based on the unique profile of the individual applying for an account.
Do You Want Help Opening Offshore Bank Accounts?
If so, you can access GlobalBanks IQ and start the process of applying for an offshore bank account online in a few clicks.
GlobalBanks IQ is our flagship international bank account opening solution. It gives you instant access to the…
+ Expert insights on which banks to choose & why
+ Step-by-step reports to open bank accounts in the best banking hubs
+ GlobalBanks international bank database & detailed bank profiles
+ Tried & tested banks for high-risk, offshore, & non-resident clients
+ Plus, get YOUR most pressing bank account opening questions answered by our team!
And "yes!" GlobalBanks IQ helps foreigners and non-resident individuals open bank accounts.
In fact, GlobalBanks IQ even helps non-resident, foreign & offshore entities open bank accounts.
To learn more about opening accounts with GlobalBanks IQ, just click here now. Or, contact us directly with any questions!