When it comes to international banking, most people don't think to open a bank account in Andorra. And for many, that's a missed opportunity.
Andorra is a tiny, landlocked microstate sandwiched between France and Spain. It's known for skiing in the Pyrenees, cheap cigarettes, and low taxes.
Duty-free shopping is a sport here. Literally, 11 million tourists flock to Andorra each year to power shop.
The country has 80,000 people. Virtually no unemployment. And, it's not part of the EU. In other words, it's an idyllic country high in the mountains looking down on the rest of Europe.
To a select few though, Andorra is a banking treasure.
In fact, Andorra is one of the world's most exciting and lesser-explored banking enclaves. And in this article, we're going to tell you why.
To start, let's cover the benefits of banking here and who should consider opening a bank account in Andorra.
If you'd like to get a head start on account opening in Andorra as a non-resident download our FREE Non-Resident Banking Starter Guide right now!
Who Should Open a Bank Account in Andorra?
Like most banking jurisdictions, certain groups of people will benefit more from banking in Andorra than others. And given that this article is about how to open a bank account in Andorra for non-residents, that's where we'll focus our attention. 
There are three types of clients that should consider Andorra, these include individuals, companies, and wealth management entities. 
Non-Resident Individuals
Maybe you're a non-resident with plans to move to Andorra and become a resident in the future. If that's you, you'll have a wider range of account options, and low-cost retail banking in Andorra, depending on where you are in the residency process.
For more traditional non-residents who don't plan to move here, Andorra is a great shortcut into the world of wealth management and private banking. 
Now, before any Andorran bankers get upset, "shortcut" doesn't refer to a lack of services or sophistication. On the contrary, Andorra is an excellent offshore banking hub offering high-end wealth management services.
By "shortcut," we simply mean that you can access private banking services in Andorra with a lower minimum deposit. 
Compared to the US $250,000  to $500,000 minimum deposit that you will need to open a private banking account in Austria, Liechtenstein, Luxembourg, or Switzerland, you should be able to open an account here for less. We detail the exact steps on how to do this in our Andorra Banking Report–more on this below.
Foreign & Offshore Companies
The second group that should consider Andorra are foreign and offshore companies. 
Andorran banks are familiar with a wide range of international companies and jurisdictions, so they'll be less likely to shy away than banks in other banking hubs. 
That said, the accounts that foreign and offshore companies should consider are also private bank accounts, not transactional business accounts. 
Wealth Management Entities
Finally, Andorra has a lot to offer for a wide range of structures that have been set up for wealth management and estate planning. These might include foundations, trusts, and similar entities from a range of jurisdictions.
Andorran banks are familiar with a range of entities and jurisdictions. In addition, Andorra also offers world-class wealth management services. This includes the full range of asset classes and international investments that you would expect from any private banking hub. The only major difference is that the minimum deposit to gain access is sometimes a bit lower. 
Final Thoughts on Who Should Open Bank Accounts in Andorra
In any of the cases listed above, in order to be accepted, you'll obviously need to first pass due diligence and KYC checks at the bank you apply to. And depending on where you, your company, or entity are from, that due diligence could be more or less complex.
GlobalBanks Insiders can access a premium report on Andorra. This report provides valuable insights into the Andorran banking sector and tells you how to open an account as a non-resident for less. 
It also shares the account opening process at the most desirable banks in the country. And it outlines the pitfalls that you need to watch out for, which account opening strategies to use, the special loopholes that can benefit you, and how to get in with a low minimum deposit.
Of course, this also includes bank recommendations, specific bank contact information, and the specific bankers to contact to open accounts. 
If you're not yet a GlobalBanks Insider and would like to learn more about this report and the benefits you can receive, click through below.
What Are the Benefits of Banking in Andorra?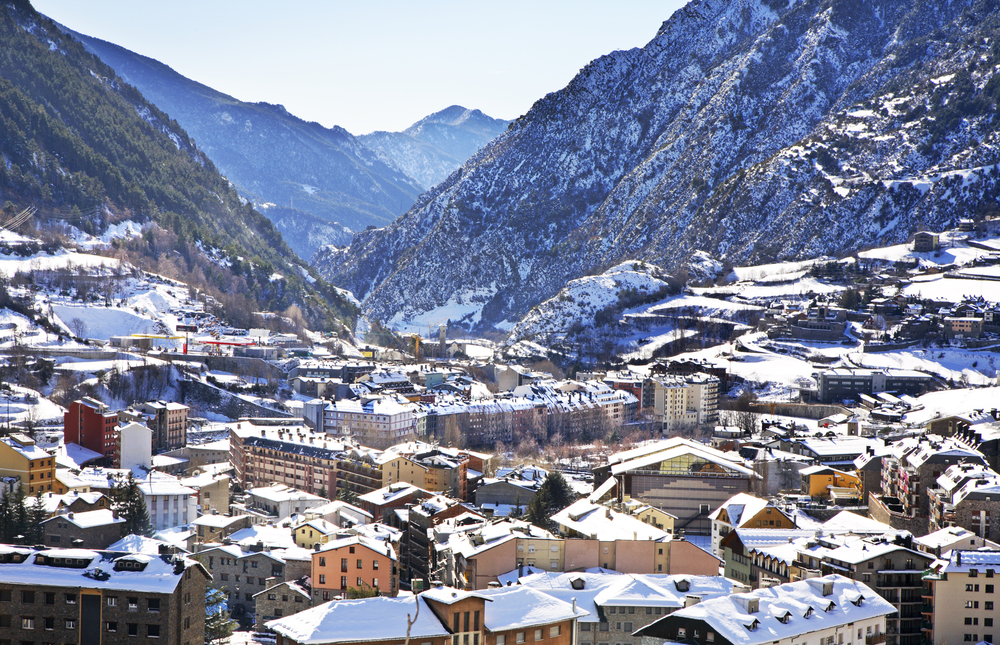 Why would you want to bank in Andorra? There are many reasons. But it also depends on what you're looking for and trying to achieve.
For instance, are you looking for a bank account with a certain type of functionality? Do you want wealth management services? Or are you looking for a particular type of investment product or investment platform?
Or maybe you're just having difficulty opening a bank account for yourself or your offshore company and are desperately trying to find a bank in a first-world country that will accept you.
Many high-net-worth individuals (HNWI) and expats come for Andorra's private banking services. The fact that bank accounts can be easily operated remotely and physical presence isn't needed after the account is opened is a big plus.
In addition, those who aren't necessarily in the HNWI category yet, but are still able to make a decent-sized deposit are attracted to this European private banking hub.
Benefits of Opening a Bank Account in Andorra:
Safe, well-run banks with solid financials. If something catastrophic happens, they'll be left standing.

The ability to bank in a stable, first-world, European country that is outside the EU and also offers deposit insurance up to €100,000.

Low-cost private banking and wealth management that's cheaper than Switzerland, Liechtenstein, and other traditional hubs.

Multicurrency accounts. Send and receive different currencies without exchange fees.

Access to investment products and foreign markets that aren't accessible in your home country.

Andorran banks accept a wide range of customers including non-residents, foreign companies, and wealth structures.
Additionally, Andorran bank accounts can also be useful for American expats who live abroad and want multi-currency accounts at stable banks. We recently covered opening accounts for American's overseas, and Andorra is one of the jurisdictions they should consider. 
To read more about how to open a bank account as a US citizen (and what to watch out for) click here to read our recent article.
Why is Banking in Andorra Interesting for Non-Residents?
If you're in the market for private banking but aren't thrilled about depositing a small fortune, Andorra might be the place for you.
Wealthy expats and international clients who don't have enough money for Switzerland, Liechtenstein, or Monaco may find private banking here more accessible. 
They accept non-residents and foreign companies. If, of course, you know where to go, what to do, and which bankers will give you the time of day. If not, you'll likely be one of the many applicants that still get rejected.
Banks here also understand offshore businesses and structures. In fact, offshore companies and individuals living in low-tax countries abroad are welcome here. Assuming, of course, they can pass the required KYC and compliance checks. 
But like many private banking hubs, how much you can deposit matters here. In fact, it's critical to getting your foot in the door. 
Keep in mind, you don't come to Andorra for transactional banking. In other words, if you need to make more than 10 transfers per month and pay utility bills, look elsewhere. Or be ready to deposit a lot more money.
Andorran banks are also extra sensitive about outgoing transfers and proving that your source of funds is legitimate. This is likely a hangover from the fact that in 2015, the US government killed an Andorran bank (BPA) for AML failures. The culprit? Free-spirited incoming and outgoing transfers to shady characters.
In Andorra's case, the failure of BPA may have been positive. It forced the remaining Andorran banks to clean things up, get stricter, more transparent, and get serious about compliance. And that's better (and safer) in the long-run.
Are You Ready to Open a Bank Account in Andorra?
If you want to open a bank account in Andorra as a foreigner (or for a foreign company) and need help figuring out what to do next, you can get started by using the information in this article.
Or, you can get immediate access to our premium report Banking In Andorra: Accessible Private Banking & World Class Banks. This report provides valuable insights into the Andorran banking sector and tells you how to open an account as a non-resident for less. 
It will also share the account opening process at the most desirable banks in the country. And it outlines the pitfalls that you need to watch out for, which account opening strategies to use, the special loopholes that can benefit you, and how to get in with a low minimum deposit.
To access our Banking in Andorra report, you need to join GlobalBanks IQ:
If you're ready to take action and start opening international accounts now, you can access GlobalBanks IQ, our dedicated international banking intelligence platform.
GlobalBanks IQ gives you everything you need to start finding and opening accounts for you or your business today.
When you join GlobalBanks IQ, you immediately unlock the GlobalBanks Database of international banks — home to 250+ banks in 50+ countries. 
And, you get access to our library of premium (members-only) reports, including proven account opening strategies, country-specific banking options, and lists of banks for specific client types.
Plus, you unlock our account opening checklists, dedicated account opening alerts, and much more. 
To get started, click here to see if GlobalBanks IQ is the right choice for you to start accessing the benefits of international banking today.
You can also view all of the account opening solutions offered by GlobalBanks on our products page.