If you're like most people, "How can I open a bank account in Aruba?" isn't the first thing you think of when it comes to banking in the Caribbean.
Last week, members of the GlobalBanks team descended on several Caribbean islands (including Aruba) to explore various banking sectors and determine whether or not they are worthy of banking hubs for our members.
And while many parts of the Caribbean have been picked over, there are still a few non-obvious banking hubs. These can be banking gems offering special capabilities for certain clients… making them interesting for GlobalBanks Insiders.
If you're new to the offshore world and need an initial primer on why you should be moving a portion of your money abroad, get started with our Ultimate Guide to Offshore Banking for free by clicking right here.
Aruba is a well-known holiday hotspot for vacationers from Europe and North America. Unfortunately, it's overlooked by offshore banking experts.
There are a number of reasons for this. First, Aruba is ignored because there are better, more established banking options in the Caribbean. The other reason is that Aruba has one of the smallest financial sectors in the Caribbean. They care more about domestic tourism than being a banking powerhouse.
But as we continue to see offshore banking hubs wiped out by regulatory pressure, it might be time to start considering alternative banking destinations.
So, we set out to see if Aruba could be an interesting option for offshore accounts…
Aruba is a tiny island 13 miles off the coast of Venezuela. And, like other islands in the region, Aruba is a Dutch constituent country, meaning it's actually part of the Netherlands.
And while it's neighbor, Curacao, made an appearance in the Netflix series Narcos, Aruba has remained under the radar… at least in terms of banking.
Back in the 1940s, during WWII, Aruba was home to the second-largest oil refinery in the world. Today, this tiny island is supported by tourism.
As for banking, being a Dutch constituent country comes with other pros and cons. Information sharing with European countrymen, a con for many. Strict regulation and sound banking practices, usually a pro.
We'll cover these and other important considerations in today's article on offshore banking in Aruba for non-residents…. 
There are a few obvious factors that make Aruba a more secure and stable banking hub than other banking options. But instead of accepting these factors at face value, we decided to dig a little deeper. In doing so, we got to the heart of the issue.
If you'd like to get a head start on account opening in Uruba as a non-resident then download our FREE Non-Resident Banking Starter Guide right now!
Why Would Anyone Open a Bank Account in Aruba?
Aruba one of the most pristine islands in the Caribbean. It's home to postcard-perfect white sand beaches and crystal blue water. Culturally, it has a fusion of Dutch and Afro-Caribbean vibes that give it a unique and interesting flair.
And that brings us to one of the first reasons why people bank in Aruba…
Aruban banks actually offer mortgages to foreigners and non-residents who want to purchase real estate and even time-shares on the island.
As a haven for vacationers, it makes sense that some of them purchase local real estate. And while the overwhelming majority of people who visit Aruba are vacationers, a select few do end up staying.
The second reason why foreigners look to bank offshore in Aruba is that they actually spend a considerable amount of time in the country…
Aruba is one of the islands that attract affluent foreigners for extended stays. For this reason, banks are experienced in dealing with non-residents and foreigners opening accounts to facilitate travel and local spending.
And while that might seem like an obvious need, non-resident banking is becoming difficult. If you don't have any formal "ties" to a country and don't have a residency permit, banking can be tough. If fact, it's not even possible in many countries.
To round things out, we should tell you why you wouldn't want to bank in Aruba… and that's for any type of business banking.
In fact, many of the business owners and investors that we met within Aruba expressed that they did all of their commercial banking "off-island". They typically looked to bank in Curacao, a surrounding Caribbean country, or directly in the United States.
As we've mentioned before, banking in the US is a great option for non-residents and foreigners. Especially for those looking to facilitate business banking or payment processing. We cover this in detail in our Comprehensive US Banking Guide. Click here to learn more.
Aruban banks charge high fees for inbound and outbound transfers. And they are above average in terms of exchange fees. Also, they don't offer any valuable commercial banking products. So if you're looking for a business banking option in the Caribbean, Aruba is a pass.
Is it Safe to Bank in the Caribbean?
Caribbean banking hubs have suffered from a number of embarrassing scandals over the past 5 years. That can't be denied. But the Caribbean isn't the only region under the microscope.
When compared to the challenges in jurisdictions like Estonia and Latvia, or established hubs like Andorra and Germany… the Caribbean can be an attractive option for some people.
So before believing the false narratives being perpetuated by the media and Hollywood that "all offshore banking (especially in the Caribbean) is bad", we ask that you direct your attention to the many banking failures, money laundering scandals, and illegal activities that are being uncovered in Europe and the US on a regular basis.
In other words, the Caribbean has its issues like everywhere else. It's up to you to choose a politically stable and financially sound jurisdiction. After that, the more important consideration is the individual bank.
Benefits of Opening a Bank Account in Aruba
Unlike many banking hubs around the world, for the reasons we explained above, Aruba is still open to non-resident account opening. Of course, there is a requirement to show up in person. And it's a great place to visit to open an account.
For this reason, one of the most important benefits of account opening in Aruba is the fact that some banks here will actually consider opening accounts for non-resident foreigners. It's comforting that the banks are familiar with foreigners. And they are experienced with opening accounts for such customers.
And if you choose the right bank, you could also be on your way to owning your own property in Aruba with domestic financing, which is a nice bonus.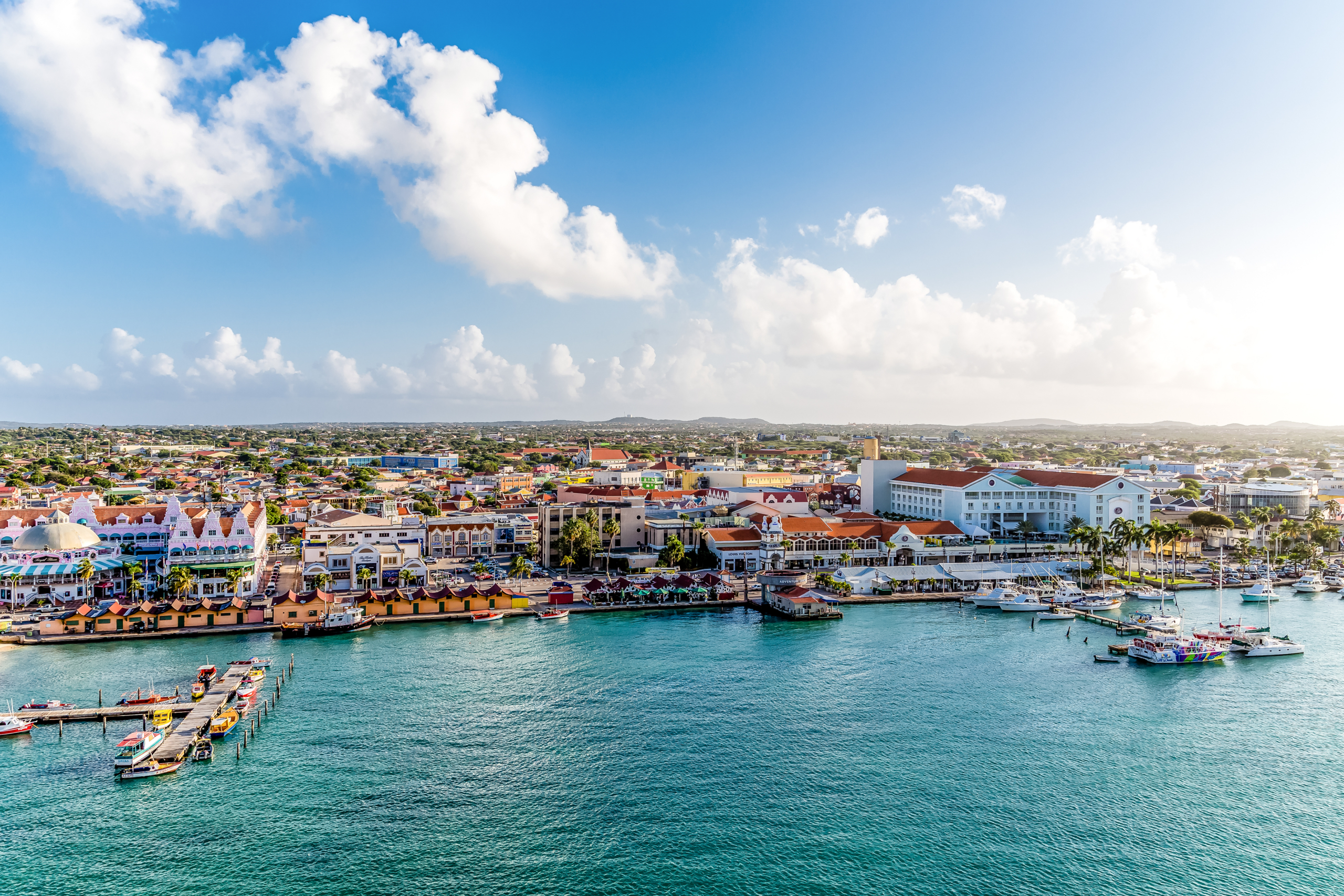 That said, you do need to be careful about which banks, branches, and accounts you choose. The account details, charges, and requirements vary and not all banks will accept non-resident account holders.
In fact, opening with the wrong bank in Aruba can lead to painful customer service experiences. It can also result in long waits for support and the need to show up in person to resolve account issues. That can be a problem if you're a non-resident and not spending a huge amount of time on the island.
Know your bank account options in Aruba…
Choosing the wrong account can also result in extortionate international transfer fees, foreign currency fees, and very high maintenance fees, all of which can contribute to your Aruba bank account being more hassle than benefit.
Fortunately, if you are interested in opening an account in Aruba and you are a GlobalBanks Insider, you will be able to compare the banks in Aruba and get our analyst insights using the GlobalBanks Database, which is currently being updated with a number of our preferred Aruba banking options.
And if there is enough interest from GlobalBanks Insiders, we will also recap the specifics of account opening with a premium intelligence report on account opening strategies and specific contact details for banks in Aruba.
Risks of Opening a Bank Account in Aruba
There are of course risks to banking in Aruba, like any country. And before opening accounts, you should consider the various issues that you can face both when opening and maintaining an account here.
Aruba also sits only 13 miles off the coast of Venezuela. And while the two jurisdictions have maintained relations for many years, there is always a risk that the situation in Venezuela could negatively impact Aruba, as it continues to deteriorate.
Similarly, external pressure from another country or foreign regulatory authority could also have a negative impact on Aruba. Canadian banks, a long-time stalwart in the Caribbean are beginning to roll back their operations across the region. This is already happening in Aruba and will likely deliver changes in the coming years. That said, Canadian banks are not our preferred banking options in Aruba. Instead, there are two other banks that we strongly recommend considering first.
Lastly, as mentioned, Aruba is a constituent country of the Netherlands. Literally, Arubans are Dutch citizens and carry Dutch passports. So you should expect information to flow freely between the EU parent country and your home country (or wherever you have tax residency). With this in mind, if you have concerns about information sharing, consider one of the non-CRS countries that we have shared in the CRS tracker.
Ready to Start Opening Accounts?
If you want to open an account in Aruba, you have a number of options available. But knowing which one is best suited to your needs (and won't cost you a fortune) is key to making your account opening a success.
For example, if you are looking to open an account for geographical diversification, you'll be interested in one of two banks.
Alternatively, if you're looking to open an account with the hope of purchasing real estate or a timeshare in Aruba, there is one bank in particular that you should consider.
Alternatively, if you are looking to secure high interest deposits, Aruba isn't a destination that we would recommend considering. There are better options within the region that you should consider instead. Similarly, if you are looking for a transactional account, Aruba is not the best destination.
How to Open a Bank Account in Aruba
If you're ready to take action and start opening international accounts now, you can access GlobalBanks IQ, our dedicated international banking intelligence platform.
GlobalBanks IQ gives you everything you need to start finding and opening accounts for you or your business today.
When you join GlobalBanks IQ, you immediately unlock the GlobalBanks Database of international banks — home to 250+ banks in 50+ countries. 
And, you get access to our library of premium (members-only) reports, including proven account opening strategies, country-specific banking options, and lists of banks for specific client types.
Plus, you unlock our account opening checklists, dedicated account opening alerts, and much more. 
To get started, click here to see if GlobalBanks IQ is the right choice for you to start accessing the benefits of international banking today.
You can also view all of the account opening solutions offered by GlobalBanks on our products page.