Buying a BVI shelf company with a bank account was all the rage in the 1990s and 2000s. But, does paying more for a bit of extra convenience today really make sense?
Or, are you better off incorporating a new company, saving yourself $5,000 – $15,000 in fees, and using that money towards an opening deposit at a credible bank?
In this article, we'll explore the "BVI shelf company with a bank account" craze, the benefits, what to watch out for, and what you might want to do instead.
If this is your first time visiting GlobalBanks, don't forget to download your free copy of the Business Banking Starter Guide. The secrets inside will help you find and open accounts in top jurisdictions for your company.
Understanding BVI Shelf Companies
Every now and then, our team comes across offshore structuring and banking techniques that are painstakingly outdated. Many of these tactics emerged in the 1980s or 1990s when different rules and laws governed the offshore world– and when the internet emerged, no one bothered to correct them.
Buying a "BVI shelf company with a bank account" is one of those things…
In the days before the internet, buying a BVI shelf company was pretty common. After all, in the 1990s and 2000s, it could take weeks (or even months) to incorporate a new BVI company and get a bank account open.
Back then, you couldn't quickly and easily purchase BVI companies as you can today.
So, corporate service providers started incorporating tons of BVI companies, keeping them "on the shelf", and ready for immediate purchase. This was a godsend for anyone who needed a ready-made BVI structure that could start doing business immediately.
Back then, the benefits were pretty simple:
You didn't have to waste weeks going back and forth with your service provider about incorporation logistics such as name selection, getting registrar approval, appointing directors, and waiting for documents to arrive. Instead, you just bought your BVI shelf company with a bank account and went on with your business.
But today, the benefits just aren't really there…
Value of a BVI Shelf Company With a Bank Account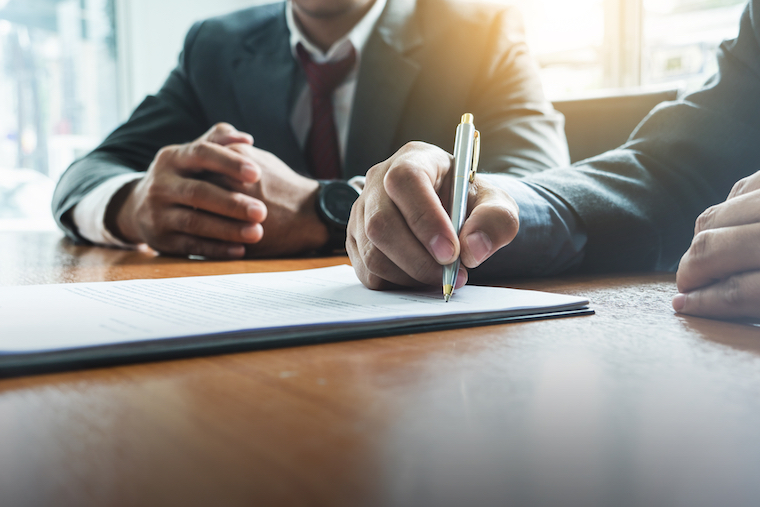 Sometimes a BVI shelf company is referred to as an aged, seasoned, off-the-shelf, or ready-made BVI company. But, they all mean the same thing… a company that is already registered and ready to do business.
It usually has no trading history and has never conducted any commercial activity. Since incorporation, the company has simply been sitting "on the shelf" in the service provider's office, maturing.
Generally speaking, most service providers believe that the older the registration date of the company, the more valuable (and rare) the company is. For this reason, an aged BVI shelf company is "worth" more than a newly incorporated BVI company.
In reality, the older registration date simply reflects the fact that someone has been paying the annual maintenance costs to keep the company alive or the costs associated with covering any lapsed expenses to bring the entity into good standing.
This is especially true today when a new company can be registered in a matter of days. Literally, anyone can contact a service provider online or by phone to quickly incorporate a fresh BVI company. And, it doesn't take weeks or months anymore.
Why Do People Buy Shelf Companies?
Now, regardless of whether or not you see value in buying a BVI shelf company or not, the fact remains that people are still buying them today. In most cases, they're doing this for legitimate reasons and perceived convenience. But there are more nefarious reasons too.
Here's a quick look at why someone might still buy a BVI shelf company with a bank account:
1. Fast Corporate Setup
One of the only legitimate benefits of buying a BVI shelf company with a bank account is that there is no waiting for your company to be registered. Instead, you can buy a company, maybe even with nominee directors and a bank account, and be ready to start conducting business right away. This approach to buying a ready-made BVI shelf company is attractive to those who want a quick turnaround or have a specific deadline.
2. Older Registration Date
In some situations, using a newly incorporated company with zero history is problematic. For example, sometimes new companies aren't eligible for certain types of financing, can't bid on certain deals, or participate in certain government projects. So buying an "aged" company allows you to meet the specific requirements of such opportunities.
3. Banking Relationships
This is the most commonly cited reason why people want to buy a BVI shelf company with a bank account. But, as we'll discuss in the next section, the bank relationships don't automatically carry over to the new owners of the business. So you may have just paid a hefty premium for no reason at all.
4. Enhanced Credibility
In the days before Google, having an "aged" BVI shelf company was thought to be an easy way to enhance credibility and corporate image. But realistically, given the depth and scope of the internet, a company's reputation, business history, and financial standing can easily be cross-checked and verified. So, this isn't a benefit anymore.
5. Illegal Activities
Aged companies from many countries (not just BVI) are often acquired to backdate invoices, contracts, and even to create fictitious trading records. Of course, corporate service providers don't promote this on their websites, but it happens–and it's illegal.
Three Scenarios: Buying a BVI Shelf Company

When it comes to buying a BVI shelf company with a bank account, people are usually after speed and convenience. But in most cases, buying an existing company doesn't offer either of these benefits.
As we'll discuss in the following scenarios, this is in part due to the nature of banking in 2020. But it's also the result of freewheeling service providers trying to make a fast buck.
Of course, there are outliers. If you have enough money and you know how to navigate the offshore world, you might be able to extract value from buying a BVI shelf company with a bank account. But this is rare, and not something we recommend to most people.
Let's take a closer look at three scenarios that can play out when buying a BVI shelf company with a bank account…
1. BVI Shelf Company With a Bank Account That is Converted to the New Owner
In this scenario, after the company is sold, the bank is informed of the ownership change, new UBO, and any other relevant particulars. The bank immediately puts the new UBO (and any new shareholders and directors) through the standard due diligence process. If anything comes up fishy, the bank closes the account.
It's important to recognize that just because you buy a BVI shelf company with a bank account– it doesn't mean that the bank account it comes with will stay open. Nor does it mean that you get to "bypass" the bank's normal due diligence process when you take over the account. The bank can still terminate the account at any time if they don't like what they see.
In fact, the only difference between buying a BVI shelf company with a bank account and setting up a new company and applying for a bank account is that you have the old baggage of the past owners liabilities, debts, and past business history hanging over your head. In such instances, you're almost always better off starting from scratch with a new company.
For these reasons, we view this option as ineffective and almost always a waste of time and money. You'd be better off setting up a new company, saving your money, and opening a bank account with one of the bank banks that will accept BVI companies around the world.
2. Corporate Service Providers Sell BVI Shelf Companies and "Assist" With Opening Bank Accounts Later
In this scenario, you are buying a BVI shelf company without a bank account. The corporate service provider, first and foremost, wants to sell you a BVI shelf company. And additionally, they also want to sell you related support services. These can include nominee director appointments, administrative service, and more.
Opening a bank account is less of a concern for the service provider because if you can't open an account you'll still need to pay them the same amount to maintain the company and close it in the future.
And when it comes to opening an account, don't be surprised when your service provider introduces you to low-caliber banks in unstable countries with horrendous financials.
For these reasons, opening an account via a service provider is almost a waste of time, effort, and money. Banks are doing due diligence on you, so representing yourself at the bank is almost always better in the long run. To do this, you just need to know which banks will actually accept your company, which bankers specialize in your industry, and how to get in touch with them directly–more on this below.
3. BVI Shelf Company With a Bank Account, Courtesy of Your Private Banker
This is usually the preferred option for high net worth individuals and those who have existing private banking relationships. To the shock and amazement of many, banks and their service providers buy BVI shelf companies in bulk… and resell them to their clients.
The benefit of this option, obviously, is that if your banker is setting you up with a structure (or personally referring you to a provider), opening a bank account for that BVI company usually isn't going to be a problem. After all, your banker knows you and the bank has already done due diligence on you.
The obvious "pro" is that the BVI shelf company gets a bank account. The "con" is that the cost of the structure is often much more expensive. Additionally, for this to be an option, you obviously need to have an existing banking relationship and be dealing with a good banker.
What Should You Do Instead?
Now, if you're a millionaire, large corporate, or entrepreneur with a sizable business, buying a BVI shelf company with a bank account might make sense–of course, you still face the risk of banks closing down accounts when they see that there's been an ownership change.
For the average person, however, buying a shelf company doesn't really make sense anymore. And, if you don't know what you're doing, it can result in a waste of time, money, and headaches.
Opening Bank Accounts for BVI Companies
If you've decided that a BVI company is the best corporate structure for you, you'll be pleased to know that there are bank account options available.
In fact, with the right information, a bit of direction, and knowledge on which specific banks (and bankers) to contact, you can open a bank account without paying extortionate fees.
We cover how you can do this, including providing detailed account opening strategies, in our recent report How to Open International Bank Accounts for Offshore Companies.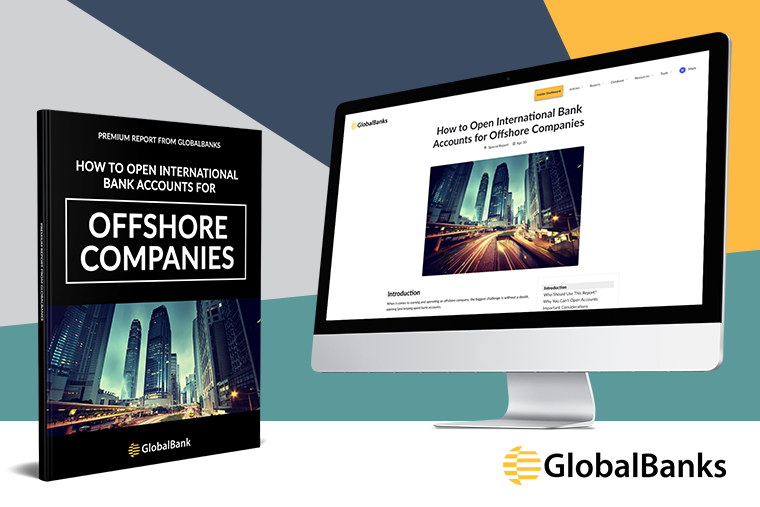 This report includes specific strategies, suggestions, and banks that cater to the needs of offshore companies incorporated in jurisdictions like BVI, Belize, Panama, Seychelles, and more. To access this report, you just need to join GlobalBanks Insider.
Ready to Open a Bank Account for a BVI Company?
If you need help sorting out your banking options, are struggling with account opening, or just aren't sure where to turn, we can help.
Whether you are set on opening a bank account for a BVI company or just want to explore your options, we can put you on the right path and tell you which banks to consider.
When you join GlobalBanks, you'll get instant access to our entire archive of Banking Intelligence Reports. These include proven strategies for opening accounts. We also share contact information for specific banks and bankers. And to make sure you don't waste time, we'll also provide details on each bank's preferences, sensitivities, and more.
You'll also get access to the GlobalBanks Database which includes easy-to-digest bank profiles, analyst insights, account opening contacts, and unique opportunities for the top banks in 50+ countries.
Plus, you'll get real-time analyst support through chat and email, and get answers to your most pressing banking questions.
GlobalBanks Insider is the most comprehensive international banking resource you'll find anywhere. Click through below to learn more…