One of the many desires of today's mobile affluent is Swiss bank account opening. Drilled into our subconscious by Hollywood and the media, this age-old wealth management tool is considered a rite of passage for high earners.
And, why not? Owners of Swiss bank accounts find themselves in good company. Their peers include wealthy philanthropists, European royals, celebrated entrepreneurs, powerful families, and investors.
Plus, private banking in Europe, Swiss accounts specifically, come with bragging rights, social status, and exclusivity. Not to mention, the ability to excuse yourself from a dinner party by saying "That's my banker in Zürich calling, I should really take the call" — hey, we're not judging!
---
KEY TAKEAWAYS
It is 100% for a non-resident to open a swiss bank account
Swiss banks offer private banking services and asset management services
Swiss bank accounts are not suitable for every client type
Deposit requirements in Switzerland can range from US $500,000 to US $1,000,000
Bank requirements will vary between banks, branches, and bankers
---
Of course, everyone has their own reason(s) for wanting a bank account in Switzerland. But, more often than not, most people are all chasing the same underlying benefits: safety, rock-solid banks, and secrecy.
This raises important questions about opening a bank account in Switzerland..
Is a Swiss bank account worth it?
Does a bank account in Switzerland really offer the benefits we've been sold?
Are there more cost-effective and efficient banking options available elsewhere?
In this article, we'll tackle these questions and more. Plus, we'll share how to navigate the complexities of opening swiss bank accounts and take advantage of one of the most exclusive banking hubs on the planet.
Before starting, don't forget to download your FREE copy of the Non-Resident Banking Starter Guide. It shares how to decide which bank to open accounts with and important considerations for non-residents in top banking jurisdictions like Switzerland.
Feel free to use the table of contents to jump ahead to the sections most relevant to you.
Table of Contents
Why Is a Swiss Bank Account So Popular?
Banking in Switzerland conjures up images of sleek-looking Swiss bankers, private jets, numbered accounts, and bullet-proof secrecy. And while, in some instances, this is true, it's not an entirely accurate picture of banking in Switzerland today.
Yes, Swiss banking has been around for hundreds of years. In fact, Swiss banking secrecy even predates present-day Switzerland. First adopted in 1713 to protect the interests of French kings who secured their finances with banks in Geneva.
Secrecy was, for hundreds of years, what attracted foreign financial interests to Switzerland. Every major international conflict brought inflows of foreign capital. And, in many instances, such as WWII, Swiss banks happily serviced opposing forces at the same time, such as the Nazis and the British.
Of course, a Swiss account was also attractive because it was the ultimate form of privacy — offering secrecy for families seeking a "safe haven" and protection from out-of-control governments, corruption, and taxation.
Today, however, banking secrecy in Switzerland no longer exists. Thanks to FATCA, the EU tax directive, and CRS, bank account information is now shared with the account holder's country of tax residence and/or citizenship, as required by law. And, this is the case for any CRS or FATCA compliant country today.
Given the dramatic changes in banking in Switzerland over the past decade, the question becomes: is opening a swiss bank account still worth it? And if so, is Switzerland still the best place to reap these benefits? We'll explore this in a moment, but first, let's look at what to expect when banking in Switzerland as a non-resident.
Swiss Banking for Non-Residents
Non-resident individuals interested in opening swiss bank accounts are usually looking for more than a day-to-day checking account. And that's good because Switzerland is focused on private banking and asset management. Non-residents looking for retail-level banking will quietly be ignored or shown the door.
In other words, to bank in Switzerland, you need a certain threshold of assets to get in. And, banking in Switzerland is most beneficial for those interested in private bank accounts, wealth management, or asset management. In other words, there is an expectation that you'll not only be making a sizable deposit, but you'll also be investing.
And, this comes with some expectations — both in terms of fees and deposit amounts, as we'll show below.
Benefits of Opening a Swiss Bank Account
Even though banking secrecy is long gone, there are still a number of benefits that most people (and entities) can achieve when opening a bank account in Switzerland.
The benefits of opening Swiss bank accounts are intriguing and wide in variety. Typically, they center around serving the needs of wealthy clients with international interests, cross-border families, and complex structures.
Here's a quick overview of the benefits that most people can expect to receive after opening a Swiss bank account.
Benefits of Opening a Swiss Bank Account
Financially sound banks
Sophisticated and responsive bankers
Stable political & economic environment
Stable currency
Familiar with the needs of international & non-residents clients
Willing to accept clients from the Unlucky Passport Club
Willing to accept foreign entities and asset planning structures
Wide range of international investment options
Additional wealth management, tax planning, and asset management services
There's a clear focus on international clients. Such services usually extend beyond banking and wealth management, including tax advisory, accounting, trust services, estate planning, financing, asset protection, and more. We dive more into these topics in our other banking articles in our private banking archives.
Put simply, if you require international planning, asset management, and trust services, you probably have enough money to open bank accounts in Switzerland. Or even the option to consider other alternatives including a Monaco bank account.
That said, if you meet the criteria and are in need of such services, then it might be time to investigate the process of opening an account in Switzerland and make your parlay into the private banking world.
But just to be sure, let's take a closer look at who should consider opening a Swiss account.
Who Should Consider Bank Account Opening in Switzerland?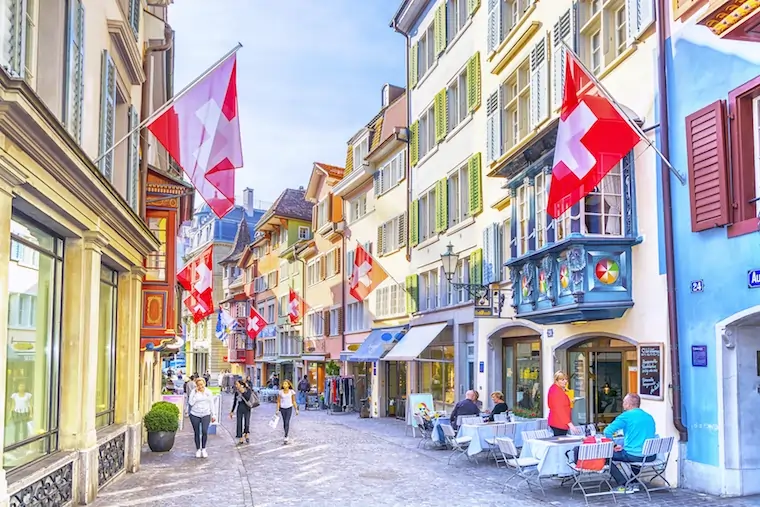 By now, it should be clear that opening a bank account in Switzerland is often reserved for wealthy individuals, families, and entities that can make sizable deposits.
But, what is sizable? And what is expected after an initial deposit is made? Let's explore these and other considerations to determine who should open a bank account in Switzerland.
Deposit Requirements for Opening Accounts
As discussed in previous articles, private banking typically requires minimum deposits in the range of US $500,000 to US $3mm, depending on the country, bank, and banker.
Of course, deposit requirements can be lower if you're considering less traditional private banking hubs such as Andorra, Isle of Man, or Panama. Check these countries if you are looking to open a private bank account with US $100,000 to US $300,000.
But Switzerland is about as traditional as you can get. So, when it comes to opening Swiss bank accounts, you should be prepared to make a deposit of at least US $1mm to successfully open an account.
Banks Investment Management Services
The process of opening a Swiss account is different from other countries for several reasons.
For instance, one of the first differences that most people new to private banking notice is the expectation that the money "deposited" will be invested. Typically, once the account is funded, it's then invested in one of a few ways:
By the bank via discretionary management
Through the bank via the bank's brokerage arm
With the bank via bank-owned investment products
Or through an external asset manager that uses the bank as a custodian
In other words, individuals considering opening an account with a Swiss bank should expect to invest all (or some) of the funds they deposit. If investing isn't your goal in opening a Swiss bank account, then you may want to consider alternative banking jurisdictions or banks that are not focused on private banking services.
International & Cross-Border Clients
Unlike many banking hubs today, Switzerland doesn't discriminate. Swiss banks offer services to clients hailing from a wide range of countries and residencies. Obviously, the normal rules apply to sanctioned countries. But outside of this, most Swiss banks are comfortable, familiar, and experienced with onboarding clients from countries that are typically considered undesirable, high-risk, or best avoided.
With this in mind, some individuals from the Unlucky Passport Club can consider opening personal bank accounts in Switzerland. This is especially true for individuals from Eastern European or Asian countries. Such countries may include Russia, Ukraine, Kazakhstan, China, the Middle East, CIS, and many more.
Likewise, clients with complex international structures (and lifestyles) may find opening an account with a bank in Switzerland more accommodating than other countries.
Additionally, remote opening is possible in certain circumstances and certain bankers will meet clients abroad. But, for this to happen, choosing the right bank, division, and banker in Switzerland is critical.
Warning About Bank Account Opening With Swiss Banks
In the world of banking and finance, opening an account with a Swiss bank is like owning a vintage Ferrari. It's flashy, rarefied, and makes a clear statement about the account owner. It's more than a private bank account, it's a Swiss private bank account. And to many, that's a distinction that they are willing to pay more for.
But, opening an account in Switzerland is not without its problems and challenges. And in some instances, you might be better off opening an account elsewhere instead.
A Swiss account is best suited to individuals, families, and entities with at least US $500,000 in investable assets, with plans to grow. It's equally important to have a grasp on the services you desire, require, and can afford.
Many private banking horror stories start and end with people blindly opening accounts they don't need, paying inflated fees, and being set up with accounts, services, and products they didn't require. As a result, the client ends up paying abnormally high fees, year after year.
But this isn't unique to opening an account with a bank in Switzerland only. This takes place in every country where you can open a private bank account.
Here are some important considerations to keep in mind while going through the process of opening a Swiss account:
Account management fees (Percentage of your invested amount)
Outgoing transaction account fees (Incoming is usually free)
Fees for extra services (Legal, tax planning, structuring, accounting, etc.)
Investment fees (Investment products owned by the bank)
Kickbacks on investments (for investment products not owned by the bank)
And more…
The best thing you can do is have a clear understanding of all the bank fees you'll be charged before opening the account and signing any mandates or agreements. Additionally, making sure you understand how (and when) such fees can change in the future is also critical.
We explain exactly how to do this in detail in GlobalBanks IQ. We'll show you how to take advantage of the private banking world, make more money, avoid the biggest (and most expensive) pitfalls, and give you everything you need to select the best bank and banker. To learn more about GlobalBanks Insider click here.
Alternatives to Swiss Banking
A common mistake people make when first stepping into the world of opening personal private bank accounts is they don't consider all the options available before applying to open an account.
Bank fees, product offerings, areas of specialization and expertise, banker accessibility, and responsiveness are all critical elements.
Surprisingly, there are a number of private banks available that are comparable to Swiss banks. Some have lower costs and a fraction of the required deposit minimums.
We've already covered several of these countries previously, in either Banking Intelligence Reports or past articles. Examples of other countries for private banking that we've covered include (in alphabetical order):
To choose the best option, you need to know which products and services you require, which areas of specialization and expertise you need, what fees you can afford, how much you're willing to realistically deposit and invest, and several other factors.
Then, you need to select the right banks, find a private banker who has your best interests at heart, know which terms and fees to negotiate, what's normal, and what to watch out for.
Sometimes, just sorting out what you need is a daunting and complicated process. But, it can be worth it if you're one of the clients referenced above and want to tap into the best personal banking services available.
Ready to Open a Swiss Bank Account?
Whether you're just starting to consider opening a Swiss bank account, exploring your private banking options, or you're ready to start applying for an account, we can help.
If you're ready to take action and start opening international accounts now, you can access GlobalBanks IQ, our dedicated international banking intelligence platform.
GlobalBanks IQ gives you everything you need to start finding and opening personal or business bank accounts today.
When you join GlobalBanks IQ, you immediately unlock the GlobalBanks Database of international banks — home to 250+ banks in 50+ countries. 
And, you get access to our library of premium (members-only) reports, including proven account opening strategies, country-specific banking options, and lists of banks for specific client types.
Plus, you unlock our account opening checklists, dedicated account opening alerts, and much more.
To get started, click here to see if GlobalBanks IQ is the right choice for you to start accessing the benefits of international banking today.
You can also view all of the account opening solutions offered by GlobalBanks on our products page.