If you're looking to open a Singapore bank account for US citizens, you've come to the right place.
Singapore is one of the most stable and desirable banking jurisdictions out there. But unfortunately, that also means it's one of the most difficult to get into.
This is especially the case for US citizens, for whom it's especially challenging to open accounts in Singapore. In fact, if you don't know where to go, it can seem impossible to open an account in the country.
---
KEY TAKEAWAYS
US citizens need to complete strict screening processes in Singapore
Large deposits are often required to access Singapore banks
US citizens have very limited access to investment products and banking services in Singapore
US citizens are required to meet different account opening requirements than other non-residents
---
Luckily our team has a lot of experience helping US citizens overcome the obstacles to opening accounts in Singapore. In this article, we'll share how to navigate the process of opening accounts in Singapore for US citizens. And, what you need to successfully open accounts here.
Feel free to use the table of contents to jump ahead to the sections most relevant to you.
Table of Contents
Is It Possible to Open a Bank Account in Singapore as a US Citizen?
Yes, you can open a Singapore bank account as a US citizen. But you need to know which banks accept US clients. Then you need to meet specific requirements and overcome an intense due diligence process. Read on for how to open Singapore bank accounts for US citizens.
Do You Want to Explore All Your Offshore Banking Options?
Why Should a US Citizen Open a Bank Account in Singapore?
Let's be absolutely clear from the start, for the average US citizen, opening a bank account in Singapore is probably not worth your while. It's expensive and time-consuming. You'll have to make a large deposit and jump through many hoops in order to open an account.
However, for some people, high-net-worth individuals, in particular, having a bank account in Singapore can be very advantageous.
This is because Singapore is hands down one of the best options for diversifying your assets. The jurisdiction has one of the most stable economies in the world and the banks are incredibly well managed and conservative.
So if you can overcome the barriers put up against US citizens to open an account in Singapore, you'll be able to tap into a number of lucrative benefits.
Before we dive into these benefits, let's first look at the reasons why US citizens want to open a bank account in Singapore.
Reasons US Citizens Open Accounts in Singapore
US citizens may choose to open a bank account in Singapore because they…
Are interested in purchasing real estate in Singapore
Work in Singapore
Frequently travel to Singapore
Are looking to access high-net-worth private banking services
Are seeking diversification
As mentioned, opening a bank account in Singapore as a US citizen can offer lucrative benefits. Here's a look at some of the most sought-after banking benefits you can tap into when you open a bank account in Singapore as a US citizen.
Benefits of Opening a Bank Account in Singapore as a US Citizen
Enhanced asset protection due to strict rule of law
Deposit insurance up to S$50,000
The ability to open accounts remotely (varies by bank & client profile)
Access to high-quality banks with exceptional customer service in a highly respected banking jurisdiction
The security of political and economic stability
Access to high-end private banking services
And more…
Note that part of what makes financial institutions in Singapore so stable and reputable is that they are very strict with whom they accept as clients. Because of this, it can be very challenging to open accounts in Singapore, especially as a US citizen.
Read on as we'll share the common challenges US citizens need to overcome in order to open accounts and benefit from banking here.
What Are the Challenges of Opening a Non-Resident Bank Account in Singapore?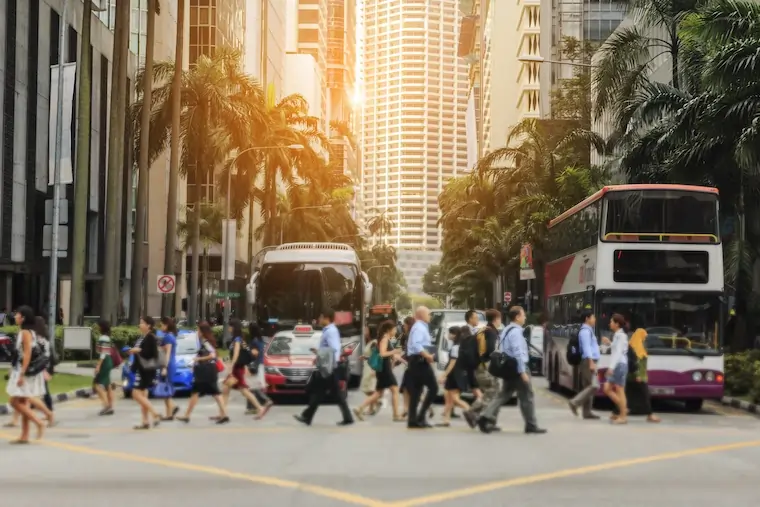 As mentioned above, it takes a lot of work to open accounts in Singapore. The banks here know how desirable they are and they can afford to be picky about who they let in.
As a result, the due diligence process is very strict. You will be required to provide a number of documents to support your application. Not to mention, make a large initial deposit in order to open the account. Unfortunately, for US citizens in particular, there are many more obstacles to opening an account than there are for non-US citizens.
With this in mind, let's look at the top three challenges US citizens face when applying to open a bank account in Singapore.
FATCA Compliance Systems
If you are not aware of the Foreign Account Tax Compliance Act, commonly known as FATCA, it's important to understand how this compliance system can impact you, as a US citizen, before applying to open accounts outside of the United States.
FATCA is a law that requires all banks that serve US customers to report certain activities to the US government. In an unprecedented move, this law suddenly placed a huge compliance burden on banks across the world and forced them to decide whether or not it was worthwhile to continue serving US customers.
While being open to US customers means more business, it now also means that you need a whole compliance department dedicated to keeping up with FATCA reporting requirements.
Not only does this mean significantly higher expenses and fees, but also a great deal of risk. Because if a bank slips up on any of its compliance measures, it can be fined millions of dollars in penalties.
As a result, some financial institutions decided that it was worth dealing with this additional compliance burden in order to keep working with US customers, while some decided that it wasn't. The latter closed the accounts of all of their US customers and now refuses to open new accounts for anyone with a US passport or residency.
Even the financial institutions in Singapore that do accept US customers are still very difficult to open accounts with. Because if any of their US customers do anything wrong, the bank too can be on the hook with the US government. So before taking anyone on, the bank wants to be absolutely certain that a potential customer is reputable.
Hopefully, this makes it crystal clear why opening a bank account in Singapore as a US citizen is such a tricky affair.
Restrictions on Investments and Services
In addition to the fact that a number of financial institutions in Singapore have chosen not to work with US citizens, many banks are not registered with the US Securities and Exchange Commission (SEC).
This means that even if you're able to start a bank account with one of these banks, by being a US citizen, you may not be able to access investment products and banking services with the account.
So, if you're looking for specific investment products or banking services, you really need to do your homework before applying for an account. You'll need to find banks that not only offer the investments and services you're after but also banks that comply with both FATCA and SEC.
Large Deposit Levels for Being a US Citizen
Whether you're a non-US citizen or a US citizen, opening an account in Singapore can be very expensive.
Typically the deposits required by the banks in Singapore will be upwards of $10,000. Though, there are some ways to get in for less than this.
But, as a US citizen, you'll likely be required to deposit a higher-than-usual amount. While the financial institutions may not say this outright, they do this to offset the additional costs and fees of FATCA and SEC compliance.
And if it weren't enough to find a financial institution that takes US customers, is registered with the SEC, and has deposit and document requirements you can meet, on top of it all, in order to successfully open a bank account in Singapore, you need to be able to demonstrate to the bank that you will be an attractive and profitable customer to them.
Now despite these challenges, it is 100% possible for a US citizen to open a bank account in Singapore. You just need to know where to go and how to apply to demonstrate that you will be a valuable client to the bank.
In this section, we'll cover how to do this and more.
How Can US Citizens Open Accounts in Singapore?
Like banking anywhere, to open a bank account in Singapore, you need to meet specific requirements. But that's not all. You will also need to submit proper supporting documents and overcome the strict due diligence application process.
Here are five of the most common documents you'll need to submit when applying for an account in Singapore as a US citizen.
Account Opening Requirements
Application forms
Government-issued identification
Reason for wanting to open a bank account in Singapore as a US citizen
Proof of income & source of wealth
An initial deposit (amount varies by bank)
Though it is possible for US citizens to open accounts in Singapore, as you can see by now, it's not a simple process.
Fortunately, we've already done the heavy lifting for you. Our team has worked with many US citizens in opening accounts in Singapore. We've outlined several proven strategies on how to successfully open accounts in Singapore as an expat, non-resident, and US citizen in our advanced banking report "Banking in Singapore: Global Banking at Its Best (And How to Get In)".
These strategies include methods to apply for (and open) a Singapore personal account and business account for non-resident individuals and their businesses. We even share how to open accounts 100% remotely.
These strategies can be unlocked when you become a member of our international banking platform, GlobalBanks IQ.
You can access this report immediately when you join GlobalBanks IQ.
Frequently Asked Singapore Banking Questions
Below are two of the most common questions we receive from people exploring how to open a Singapore bank account for US citizens. If you have further questions you would like answered, don't hesitate to get in touch with us directly.
Can Americans Open a Singapore Bank Account?
Yes, Americans can open a Singapore bank account as long as they choose the right banks and have a suitable client profile. That said, not all banks in Singapore accept Americans. So, bank selection will be an important factor to consider when choosing where to open an account in Singapore.
Which Is the Best Bank in Singapore for Foreigners?
The best bank in Singapore for foreigners or non-residents will depend on the person applying. More specifically, their citizenship, residency, deposit level, banking needs, and more. It's important to choose banks that accept similar client types, have requirements you are able to meet and offer the banking services you need.
Do You Want Help Opening Bank Accounts?
If so, you can get access to GlobalBanks IQ in just a few clicks.
GlobalBanks IQ is our flagship international account opening solution. It gives you instant access to the…
+ Expert insights on which banks to choose & why
+ Step-by-step reports to open accounts in the best banking hubs
+ GlobalBanks international bank database & detailed bank profiles
+ Tried & tested banks for high-risk, offshore, & non-resident clients
+ Plus, get YOUR most pressing account opening questions answered by our team!
And "yes!" GlobalBanks IQ helps foreigners and non-resident individuals open a bank account.
In fact, GlobalBanks IQ even helps non-resident, foreign & offshore entities open a bank account.
To learn more about opening accounts with GlobalBanks IQ, just click here now. Or, contact us directly with any questions!