There's a lot of confusion over how to open a Polish bank account for non-residents these days.
In fact, many foreigners are getting rejected from Polish banks unnecessarily because they don't have the right information, know which branches to target, and aren't sure who to contact.
In other words, most people are flying blind when it comes to opening an account with a bank in Poland.
---
KEY TAKEAWAYS
Non-resident individuals can open bank accounts in Poland, but not all banks in Poland accept non-resident clients
Opening an account with a bank in Poland means you have an EU bank account
Bank account opening requirements will vary between banks, branches, and even bankers
There are specific client groups that find opening bank accounts in Poland useful
---
So, we're going to cut through the clutter, dispel a few myths, and show you exactly how to open an account with a bank in Poland as a non-resident. And you'll be able to do it in under an hour!
We'll also show you the biggest advantages of having an account in Poland and why Europeans, non-EU citizens, and even foreign companies find them attractive and useful.
If you'd like to get a head start on account opening in Poland as a non-resident then download our FREE Non-Resident Banking Starter Guide right now!
Feel free to use the table of contents to jump ahead to the sections most relevant to you.
Table of Contents
Why Open a Polish Bank Account for Non-Residents?
Let's start with an obvious question: Why is a Poland bank account for non-residents interesting in the first place?
Well, Poland joined the EU in 2004…
So that means by having a "Polish bank account," you have an EU bank account. And having an EU bank account gives you certain advantages, which we'll dig into more below.
But, while Poland is more developed than other post-Soviet countries, it still suffers from Soviet brain drain in some areas.
And, this can be a good thing or bad thing, depending on how you look at it…
For instance, it can mean easier account opening, less scrutiny, and higher risk tolerance. This can be a benefit depending on your source of income, passport, and residency.
But it can also mean long wait times, low-grade customer service, outdated bureaucratic procedures, shortage of critical thinking skills, and more.
Here's a quick snapshot of the banking in Poland…
Poland has nearly 600 banks and almost 200,000 people employed in the Polish banking sector. But the average bank CEO is 58 years old and 90% of bank boards are between 45-72. And let's say 50% of senior operational staff are over 40.
That means the overwhelming majority of people running the Polish banking sector right now grew up under communist rule. And these are the people responsible for innovation…
So some lag time in terms of catching up with the rest of the world can be expected.
But the point is, many non-residents and foreign companies view Poland as an easy entry point to EU banking, and they're right…
But choosing a bank and figuring out the real requirements (in Polish no less) can be daunting.
Plus, account opening requirements vary from bank to bank and branch to branch. On top of that, not all branches in Poland accept non-residents, which only adds to the confusion.
In fact, most banks in Poland don't even publish the requirements for how to open a personal bank account for non-residents and foreigners. You have to request them, which normally involves calling or physically visiting each bank, quarterbacking the process yourself, and translating each option in real-time.
Not to mention verifying the requirements with a branch employee, visiting the branch to open the account, and praying that you brought all the right documents with you.
Then there are other considerations, like which banks in Poland allow remote opening? Which banks require multiple in-person visits just to open an account? And which banks will consider opening accounts for foreign companies?
Benefits of Opening an Account in Poland as a Non-Resident
On the surface, Poland might seem like an odd choice for non-resident banking. But for certain people, it can make a lot of sense.
Here are some reasons why non-residents are attracted to openings accounts in Poland:
Get a European bank account (a Poland bank account is an EU bank account)
Cost-effective way to hold and transact in European currencies
Don't need a local tax ID or be a Polish resident to open a bank account in Poland
Deposit Insurance up to the equivalent of €100,000
Low-cost transfers via SEPA system
Low fees monthly maintenance fees
Very low minimum balance requirements
Affordable "backup" bank accounts for businesses and foreign companies
Get "Premier" status at international banks by opening at that bank's Polish branch first
Who Should Open a Bank Account in Poland?
Like any country, opening an account with a bank in Poland isn't for everyone. But certain groups of people will benefit from banking here. Typically, this includes non-resident individuals, expats, digital nomads, entrepreneurs, freelancers, and foreign companies.
Here are some types of non-residents who might find having an account with a bank in Poland useful:
Anyone planning to visit Poland who wants a European bank account
Non-residents that want an EU bank account but can't open elsewhere
Non-resident companies that want a European bank account
Foreign companies that want (and can afford) remote opening
Foreign companies connected to Poland and can't open a business bank account elsewhere
Expats living or working in Poland
Anyone interested in acquiring backup bank accounts in a jurisdiction with deposit insurance
Challenges of Opening Accounts in Poland as a Non-Resident
Opening an account with a bank in Poland as a non-resident can be overwhelming and time-consuming if you don't know which banks to target and you don't have the right information.
Beware: Not all banks in Poland accept non-residents.
Some banks here only open accounts for citizens and residents who have a local tax ID number and proof of a local address, while others are willing to cater to foreigners and non-residents.
Similarly, different banks in Poland have different account opening requirements and procedures. For this reason, some banks are more time-consuming and expensive to open at than others.
For instance, some banks will require proof of a Polish address, while others won't. Some banks will want to see proof that you are a European citizen, others won't.
And some banks (not applicable to non-residents) will want to see proof that you have a valid visa and work contract in Poland, others don't.
Banks here also vary in terms of the proof they require to verify a non-resident's tax status. For example, some banks will require you to present a certificate of tax residency from the country that you have residency in.
If they do this, they'll usually require it to be translated into Polish by a certified translator. Meanwhile, other banks will accept your foreign residency permit or ID card as proof of your foreign residency.
Other considerations include how many times you physically have to visit the bank, address requirements, and a very tricky (and potentially expensive) local phone requirement for both opening and maintaining the account.
We'll be sharing solutions to each of these considerations and much more for GlobalBanks Insiders in a special report focusing on opening bank accounts in Poland as a non-resident.
If you're interested in having access to this report, you can send us a message using the chat feature below or sign up for GlobalBanks Insider.
How to Open a Non-Resident Bank Account in Poland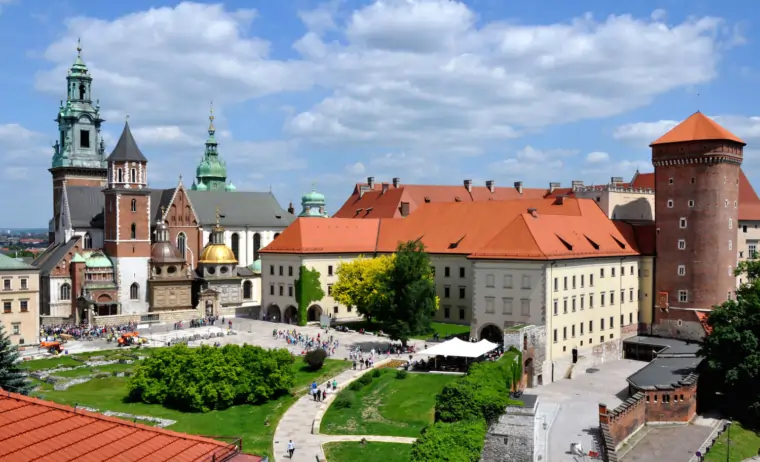 Depending on the bank you choose to open an account with and what documents you have, there are some serious hoops to jump through when figuring out how to open a bank account in Poland as a non-resident.
Sometimes, just finding a branch that's willing to accept non-residents can be time-consuming and tedious.
And, finding a competent banker that speaks English can be a challenge.
There's a lot of trial and error… and wasted time.
Pre-account opening logistics? Finding a bank that accepts non-residents, calling multiple branches, then confirming that branch's specific opening requirements, and hoping that the person you talked to didn't "forget" anything critical.
Failing (or forgetting) to mention a critical application requirement is incredibly common. After all, they're not used to opening accounts for foreigners, non-residents, and non-EU citizens.
For example, many bank employees won't even be aware that there are different application requirements for non-residents and non-EU citizens.
Bottom line, if you don't have the right information and contacts going in, prepare for frustrations.
Are You Ready to Open a Bank Account in Poland?
Fortunately, if you're a non-resident or foreigner looking to open a bank account in Poland, we can help you determine which banks are best for you and how to successfully open accounts.
If you want to know which specific banks will accept you, which banks offer the banking services you're after, which account opening strategies to use, how to avoid high fees, and overcome tough paperwork requirements, then we'd be happy to help you on your journey.
If you're ready to take action and start opening international accounts now, you can access GlobalBanks IQ, our dedicated international banking intelligence platform.
GlobalBanks IQ gives you everything you need to start finding and opening accounts for you or your business today.
When you join GlobalBanks IQ, you immediately unlock the GlobalBanks Database of international banks — home to 250+ banks in 50+ countries. 
And, you get access to our library of premium (members-only) reports, including proven account opening strategies, country-specific banking options, and lists of banks for specific client types.
Plus, you unlock our account opening checklists, dedicated account opening alerts, and much more.
To get started, click here to see if GlobalBanks IQ is the right choice for you to start accessing the benefits of international banking today.
You can also view all of the account opening solutions offered by GlobalBanks on our products page.