Opening a corporate bank account in Singapore is one of the best ways to secure your company's finances with a safe and well-run bank. In fact, banks in Singapore are some of the safest in the world–on equal footing with the top banks from Switzerland, Liechtenstein, and Luxembourg.
So, it's no surprise that Singapore banks can pick and choose who they want as a client. And if you're interested in opening a corporate bank account in Singapore, that can mean account opening hurdles.
In today's article, we're going to cover opening a corporate bank account in Singapore. This will include Singapore companies owned by non-resident individuals and offshore Singapore companies. We'll also be covering opening corporate bank accounts for foreign and offshore companies as well.
But before getting started, don't forget to download your free copy of the Business Banking Starter Guide. In it, you'll uncover our process for determining which bank is best suited to meet your company's banking objectives and more.

In past articles, we've detailed banking in Singapore for specific client groups, including non-residents and BVI companies. So, if you're after a personal bank account in Singapore, you can get started by clicking here. Similarly, if you're looking to open a bank account for a BVI company we suggest reviewing this article.
For everyone else, let's start by taking a look at opening corporate bank accounts in Singapore, remote opening options, bank selection, and how to find the best banks to approach.
How to Open a Corporate Bank Account in Singapore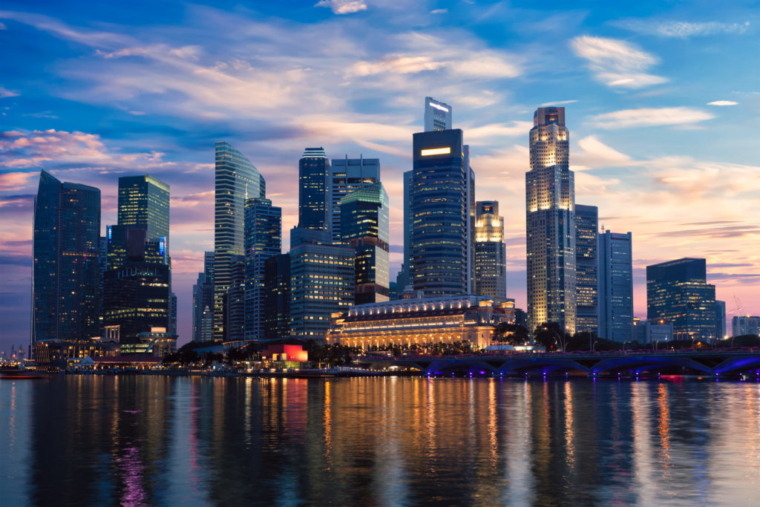 Your chances of opening a corporate bank account in Singapore ultimately boil down to how much you're willing to deposit, your business' profile, and the shareholders and directors of the company.
In other words, it's possible to open a corporate account in Singapore as long as the bank sees you as a valuable, transparent client that's worth dealing with and able to pass due diligence. Of course, you'll need to overcome some obstacles (see below). And it doesn't hurt to have a direct introduction to a motivated, responsive banker that genuinely wants to bank your business.
Will Your Business be a Profitable Client?
Determining whether your business will be valuable to a Singaporean bank is easy…
1. Are you ready to deposit at least six figures into an account?
2. Will you invest any of that money once it's in the account? or
3. Will the bank be able to generate fees from your banking activities?
If you answered "yes" to these questions, then you'll have a shot at opening a corporate account in Singapore. In fact, if you approach the right banks (and bankers), you might even be able to open a Singapore bank account remotely–but more on this below.
Is Your Business Profile Acceptable?
Banks in Singapore are well regulated, well-capitalized, and have strong balance sheets–and they don't need to take on any unnecessary risk. So, when opening a corporate bank account in Singapore, your business is going to be put under the microscope.
Keep in mind, Singaporean bankers have seen it all. So, it's no surprise that the due diligence process that your business will go through will uncover any discrepancies, risks, or unsavory activities. For these reasons, Singapore is best for businesses that don't engage in any high-risk activities. Such activities include gambling, activities that involve tough regulations, online dating, and the other usual suspects.
If your business is involved in a high-risk industry, feel free to message our team to learn about your other options.
Shareholders and Directors
One of the most important considerations when opening corporate accounts are the shareholders, directors, and beneficial owner(s) of the company.
These individuals will undergo the same detailed scrutiny that the business will be subjected to when opening corporate accounts in Singapore. Through this process, banks will assess your citizenship, residency, internal databases, and even open-source information.
Like all banking jurisdictions, Singapore is sensitive to individuals (and businesses) that are incorporated in, operating from, or transacting with countries that are either blacklisted, greylisted, on the EU list of non-cooperative jurisdictions, or considered high-risk.
Can a Foreign Company Open a Bank Account in Singapore?

Opening corporate bank accounts in Singapore is possible for non-Singapore companies. In fact, if you're the owner of a company from a foreign country or even an offshore jurisdiction, you can still open an account in Singapore.
That said, not all Singaporean banks accept foreign companies. So you need to do your homework, know which specific banks to approach depending on where you and your company are from, and what your initial deposit and transaction activity will look like. Likewise, if you have an offshore company, certain banks will require additional due diligence, have different requirements, or onboarding processes altogether.
With this in mind, the best way to ensure success when opening a corporate bank account in Singapore for a foreign company is to choose a bank (and banker) that have opened for companies like yours before. So, how do you do that? Well, If you're a GlobalBanks Insider, message us and we can share which banks are best for your company and country of origin. If not, continue reading for more account opening suggestions.
Opening Corporate Accounts in Singapore Remotely
If you're unable to travel because of a global pandemic or simply find yourself on the opposite side of the world, you'll be happy to know that it's possible to open corporate bank accounts in Singapore remotely–you just need to know which banks to approach, which specific account opening strategies to use, and which bankers to deal with when opening accounts.
What exactly is an account opening strategy? This is something we talk about a lot at GlobalBanks. And depending on the country and bank we're referring to, it can mean a range of different things.
In the case of Singapore, our team has outlined proven strategies that allow opening corporate bank accounts in Singapore remotely. Of course, these include 100% legal methods to apply for bank accounts without visiting the country. In other words, you can save thousands of dollars in travel expenses and still open accounts.
Of course, we share these strategies with our premium members, GlobalBanks Insiders, inside our Banking in Singapore Report.

GlobalBanks Insiders can access this report and the remote account opening strategies within it right now in the Insider Library.
Find the Best Business Account in Singapore
Like opening accounts in any jurisdiction, there is no "best bank" that is perfect for every person or business. Instead, your focus should be on finding banks that help you achieve your banking objectives. Of course, they also need to have your desired services, fee structures, and be willing to onboard you as a client.
For instance, the best bank for a Singaporean tech company is completely different than a BVI holding company. Likewise, the best Singapore bank for a Hong Kong trading company is completely different than a Greek shipping company.
With this in mind, take a closer look at the considerations we outlined above. And pay special attention to the perceived value of your business, your business' profile, and the profiles of your shareholders and directors. Then, find a bank that accepts you and also provides the specific services you need.
Ready to Open a Corporate Bank Account in Singapore?
If you're ready to start opening a corporate bank account in Singapore, then we'd be happy to help you on your journey.
If you're ready to take action and start opening international accounts now, you can access GlobalBanks IQ, our dedicated international banking intelligence platform.
GlobalBanks IQ gives you everything you need to start finding and opening accounts for you or your business today.
When you join GlobalBanks IQ, you immediately unlock the GlobalBanks Database of international banks — home to 250+ banks in 50+ countries. 
And, you get access to our library of premium (members-only) reports, including proven account opening strategies, country-specific banking options, and lists of banks for specific client types.
Plus, you unlock our account opening checklists, dedicated account opening alerts, and much more. 
To get started, click here to see if GlobalBanks IQ is the right choice for you to start accessing the benefits of international banking today.
You can also view all of the account opening solutions offered by GlobalBanks on our products page.