Did your card get declined at the coffee shop? Surprise right?
You contacted your bank and were surprised to learn that your bank account is currently being investigated.
So, you might be wondering what triggered this investigation. Well, in this article, we're going to share the specific factors that can lead to an investigation and the process that will follow.
---
KEY TAKEAWAYS
There are eight (8) potential risks that can lead to an investigation
Most risks will be resolved quietly by your bank
If you submit fake documents, you'll be reported to an FIU
High-risk transactions (crypto & gambling) can lead to freezes
There are four (4) steps in the investigation process
---
Here's a look at everything we'll cover in this article…
Table of Contents
Why is Your Account Under Investigation?
There are different reasons why your account could be investigated, starting from a False positive alert to a breach of severe regulatory issues.
But not all investigations are equal. In fact, despite the investigation, you might have partial or full access to your account, depending on why your bank account has been flagged.
Alternatively, your bank account might be frozen, and you could lose total control or access until the investigation is finalized.
Finally, an investigation could take about 7 days to 3 months; again, this depends on why your account is being investigated, which we'll take a closer look at now.
Do You Want to Explore All Your Offshore Banking Options?
Why Would the Bank Investigate My Bank Account?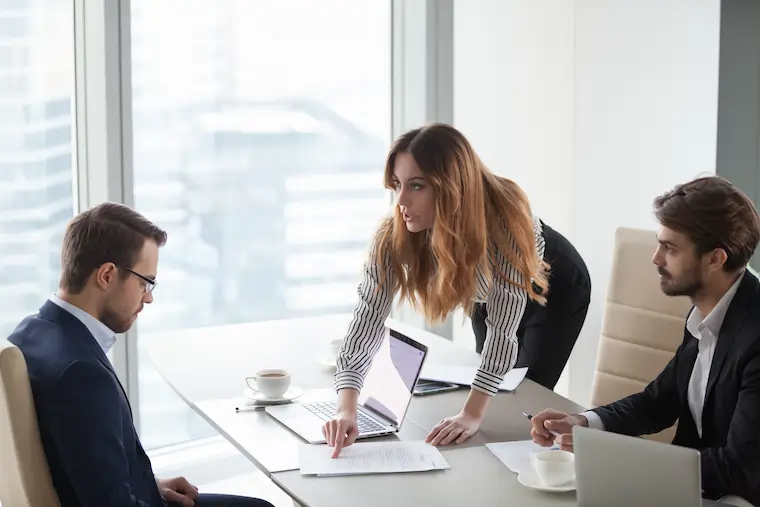 In this section, we'll discuss eight potential risk factors that could contribute to your account being investigated.
Forged or Fake Documentation Submitted
This is one of the fastest ways to get your account investigated.
Suppose you submit altered, forged, or fake documents during the KYC onboarding or enhanced due diligence process.
For regulatory reasons, banks must conduct periodic ongoing due diligence (ODD). If any fake or forged document is discovered, this will lead to an overall account investigation.
Once the bank has established that you provided a fake or forged document, there is no way to resolve this issue.
Although your account would be closed, if you didn't commit other criminal activities such as scams or receive funds from illicit activity, the bank might allow you to liquidate your funds.
However, bear in mind that the bank must legally report your account to the relevant Financial Intelligence Unit based on the faked document.
The Bank Received a Court Order Or Subpoena
This type of investigation occurs when an account is reported for criminal activities, and the bank receives a court order.
Depending on the severity of this court order or subpoena, this might lead to the bank placing your account under investigation for one of two reasons.
First, to support the ongoing investigation by the authority.
Second, to allow the bank to assess the level of risk they're exposed to by having a banking relationship with you.
Suspicious Activity or Irregular Transactions
Irregular transactions could also lead to an investigation of your bank account.
This might include sending funds to sanctioned or high-risk countries, regions, or individuals and frequent cross-border transactions without a clear economic purpose.
Other suspicious activities could include receiving or sending funds to scammers, your account showing a structuring or layering of funds pattern and flow-in and flow-out of funds within proximity without reasonable economic purpose. All of these examples are considered suspicious transactions.
Victim of Bank Fraud
If your bank suspects you are a victim of fraud, the bank can restrict some of your access to investigate your account for legal reasons and establish how the fraudulent transaction occurred.
If this happens, most applicants will have access to their bank accounts partially or fully. However, fraud investigations could take a while to finalize because this isn't necessarily about you; instead, the bank is trying to find a root cause and mitigate other customers against future financial crime.
Suspicious Keywords
Certain words are considered suspicious when inputted as a narrative when you send bank transfers. It is prevalent with an online bank transfer, including a note as a narrative to the receiver.
Basically, certain words are used by terrorists, human traffickers, people engaged in child sexual abuse materials (CSAM), and other criminal activities.
Some of these words are words we use in our day-to-day lives without any malicious intention but can lead your bank account to be investigated to establish that you are not using your account as a vehicle for an illicit transaction.
The bank silently resolves most cases if they believe you have no malicious intent with your narrative note. Usually, it can take up to 48 hours to two weeks to investigate.
Expected vs Actual Transaction Volume
This type of investigation occurs when you significantly deviate between your expected transaction volume. This includes the transaction volume you stated when opening the bank account and the established pattern of past transactions.
The investigation team would analyze your current situation, such as age, occupation, and type of bank account, to establish your income or wealth source.
Your bank account will be cleared if the investigation team finds answers matching your transaction volume. If not, the bank might reach out to you for further documentation and some KYC information.
Account holders have a high chance of positive feedback if you promptly provide supporting documents and bank information. Usually, this type of investigation would take about one to four weeks.
High-Risk Transaction Activity Such as Cryptocurrency, Digital Assets, or Gambling
It's advisable to read your bank terms and conditions properly before opening a bank account.
This is especially important if you plan to send or receive transactions between your bank account and any entities involved in high-risk activities (gambling, crypto, gaming, etc.).
Certain transactions are considered high risk even though they aren't illegal. That's because banks might view the transaction as a prohibited activity or transaction.
Usually, banks set a threshold for this kind of activity, and if your transaction volume goes above the threshold, your bank account will most likely be investigated.
During the investigation, if the bank confirms that your transactions have exceeded the set threshold, there is a likelihood that your bank account could be closed, especially with gambling.
Sometimes the bank might contact you to provide more information on a particular cryptocurrency or digital assets transaction and ask for proof of funds or source of wealth to support the transaction volume.
If the bank found no associated risk, the investigation outcome would likely be positive, and it's time to chat with the bank if you can continue conducting digital assets transactions; their response would put you in the right direction.
Suspected Terrorist Links
This investigation occurs when the bank receives information that your account is being used as a front for a person with alleged terrorist links.
Alternatively, it could happen if your name appears on a list of suspected terrorists. Examples of these lists include the terrorist names that can be found on the FBI website.
Of course, this could be a false positive alert if you have the same name as a known terrorist. For example, Mohammed Ali Hamade is a wanted terrorist. If your name is Mohammed Ali or Ali Hamade, it might cause your bank account to trigger an investigation. The bank would silently resolve this issue by cross-checking your information. Usually, it would be resolved within 48 hours.
Financial Intelligence Units send updated lists of these names on a daily basis and banks are required to run checks. This process falls under bank Politically Exposed Persons (PEP) and Sanction Screening.
What Happens When My Bank Account Is Under Investigation?

Now, you're probably wondering what is going on in the background when your account is under investigation…
Well, you don't have much control over the investigation's timeframe or outcome.
However, it's essential to keep in mind the bank is here to make a profit, so they are not looking to close your account unless the bank has sufficient evidence of a regulatory breach or considers banking with you high risk.
As stated earlier in this article, your access to your bank account functionality or funds greatly depends on the reason(s) why it's being investigated.
Basically, there are two most common scenarios that play out during an investigation.
Scenario 1: Full Freeze
First, the bank account is being investigated for severe issues such as your involvement in scams or fraudulent activity, an unauthorized transaction, forged documents, terrorism, or the bank has received a court order to freeze an account for whatever reason as stated in the court documents.
In these scenarios, you likely won't have access to your funds or functionality for the investigation period.
Scenario 2: Partial Freeze
The second scenario is when your transactions are deemed suspicious. Still, there isn't strong evidence, or you conducted some high-risk transactions such as gambling or cryptocurrency.
Additionally, this second scenario could play out if you relocate to a high-risk region or country, or if a change in your current situation causes the bank to consider you high-risk.
In cases like this, you usually have access to your funds and partial bank account functionality.
Note: It is important to note that each bank approaches investigation differently; the above scenarios reflect the most common experiences at Western banks.
Additionally, you should expect contact and communication from your bank during the ongoing investigation. Either for additional documentation or crucial information that could be helpful.
What Does the Investigation Process Look Like?
Depending on the reason for the investigation, there are several key steps you can take to support the investigation process to regain access to your bank account.
Step 1:  Make Yourself Available
Stay in contact with your bank during the investigation process, stating your willingness to support and cooperate with their investigation. Also, ensure you have all your contact information updated, such as your email address and phone number so they can get in touch when necessary.
Step 2:  Provide Supporting Documentation (When Requested)
Support the investigation process by providing additional documentation or relevant information that the bank requests.
Step 3: Wait Patiently
Once you have made yourself available and provided the requested documents, all you can do is await the bank's decision.
If you receive good news, your bank account was cleared and you received a positive outcome.
However, it could also go the other way and you might receive a negative outcome.
If that happens, you might receive a message like this:
'Account Restricted – After reviewing your bank account, we're sorry to say that we're no longer able to offer you our services. Please liquidate and transfer all remaining funds from your bank account by DD/MM/YYYY."
In most cases, a bank will give you between seven and 30 days to liquidate the bank account. Also, the bank can provide you with the option to provide a bank account for funds transfer.
Of course, a bank account could be restricted with frozen funds as well.
If you believe the bank has made a wrong decision either by closing or account freezing your funds, you can use the information in Step 4 to explore possible options.
Step 4: What's Next?
If the bank decides to end its relationship with you by conducting a mandatory account closure and releasing your funds, your options are limited.
In short, they don't want you to bank with them based on a risk assessment.
Even though this isn't the outcome you were hoping for, it is best to withdraw your funds because it's going to be hard to win a legal battle against the bank in this case.
We aren't saying it's impossible. However, considering the time, effort, and financial resources involved, it's probably not worth it for you.
Also, keep in mind you can't necessarily force a bank to have a business relationship with you legally, except if you have strong reasons why you need the banking services.
For those whose funds have been seized or frozen, it's either because there's a court order against you, you have been sanctioned, or the bank believed they have a piece of sufficiently strong evidence that you have committed fraud, criminal offenses, or financing terrorism.
Do You Have Any Recourse?
If there is a court order, subpoena, or sanctioned case against you, you would probably be well aware of your situation, and the decision regarding your bank account isn't necessarily with the bank.
However, if you haven't received any legal action against you and are unsure why the funds were seized or frozen, you could consider going through legal processes such as hiring a solicitor or a lawyer to deal with the bank.
Recap: My Bank Account Is Under Investigation
If you've made it to this point, you now have an idea why your bank account might be subjected to an investigation.
Additionally, if you want to reduce the possibility of an investigation, it's important to keep the bank up to date on your situation.
In other words, if there is a change in your current situation, such as a relocation, an increase in transaction volume, or a change in the source of funds, make sure to quickly inform the bank so it doesn't catch them by surprise.
Also, remember that you have little to no control over the timeframe or the outcome of an investigation.
But, if you believe the result or decision of the investigation was inaccurate, you could file a legal motion against the bank through your lawyer. After all, the investigating team is made up of humans so errors could be made. However, in most cases, we suggest just parting ways and opening a new account at a different bank.
Frequently Asked Banking Questions
Below are two of the most common questions we receive from people exploring why your bank account is under investigation. If you have further questions you would like answered, don't hesitate to get in touch with us directly.
What Does It Mean When Your Account Is Under Investigation?
The bank may choose to investigate your bank account for multiple reasons, including bank fraud, suspicious activity, court order, fraudulent charges, or due to illegal or forged documents. During the investigation, your account will either become partially or fully frozen.
How Long Does It Take for a Bank to Investigate Your Account?
A bank can take up to 7 days to investigate a bank account. That said, depending on the situation, the bank can take up to 3 months to complete an investigation.
Do You Want Help Opening Bank Accounts?
If so, you can get access to GlobalBanks IQ in just a few clicks.
GlobalBanks IQ is our flagship international account opening solution. It gives you instant access to the…
+ Expert insights on which banks to choose & why
+ Step-by-step reports to open bank accounts in the best banking hubs
+ GlobalBanks international bank database & detailed bank profiles
+ Tried & tested banks for high-risk, offshore, & non-resident clients
+ Plus, get YOUR most pressing account opening questions answered by our team!
And "yes!" GlobalBanks IQ helps foreigners and non-resident individuals open a bank account.
In fact, GlobalBanks IQ even helps non-resident, foreign & offshore entities open a bank account.
To learn more about opening bank accounts with GlobalBanks IQ, just click here now. Or, contact us directly with any questions!