If you're currently trying to open a Malta business bank account, you've probably already encountered enough roadblocks and bureaucratic nightmares to last a lifetime.
While Malta used to be a decent banking hub that was easy to access for foreign and offshore companies, those days are gone. Today, it's hard enough for Maltese residents to open a Malta business bank account, let alone a non-resident.
The fact is, business banking in Malta has changed. And in order to open accounts these days, you need the right information going in, know which banks will realistically accept you, what their unspoken requirements (sensitivities) are, and which bankers to approach.
So, in this article, we're going to break down the options for opening a Malta business bank account. We'll also explain why certain businesses might be better off banking elsewhere.
If this is your first time visiting GlobalBanks, don't forget to download your free Business Banking Starter Guide. It shares important information on how to get started opening business bank accounts for your Maltese business.
Why is it so Hard to Open a Malta Business Bank Account?
Like many international financial centers, Malta's banking sector has taken reputational hits and been forced to undergo serious derisking measures in recent years.
More specifically, Maltese banks have been forced to "de-risk" their operations. This means terminating accounts of existing customers when they fall outside the bank's acceptable risk parameters.
This was the fall-out from a number of high-profile banking blunders, Malta's banking sector has had to rapidly evolve in order to meet the demands of international regulators, correspondent banks, and foreign governments. It's the same thing we have seen in other offshore jurisdictions, such as Panama, Cyprus, and Andorra.
Of course, in addition to terminating current customers, Maltese banks also changed the rules for new customers, especially non-residents, Maltese companies operating outside of Malta, and foreign companies. Suddenly, the account opening process became slower and way more bureaucratic. Additionally, it's made opening a Malta business bank account nearly impossible for many companies and entrepreneurs.
More specifically, companies with limited ties to Malta that can't meet economic substance requirements will struggle to open bank accounts here. In fact, many Maltese companies doing business internationally have found that it's sometimes just easier to bank elsewhere.
Newly minted Maltese residents are often shocked when they discover they can't open a Malta business bank account for their new Maltese company. The most common reason? They don't have sufficient economic substance or a large enough business.
We discuss this in more detail and explain how to overcome problems like this in GlobalBanks Insider. In the meantime though, if you're struggling to open a Malta business bank account, feel free to get in touch.
Where Are All the Business Bankers in Malta?

There's another quirk to Malta business banking that's rarely talked about. And, that is: it's tough to find (or even contact) a good business banker.
Bank communication here can be spotty and inconsistent. And, you'll often find yourself exchanging emails with an administrative rep, not an actual business banker.
And, if you're lucky enough to stumble upon a business banker, they'll often just tell you to physically come into the branch anyway.
But, that's not helpful if you're not in Malta and still need specific answers because you're preparing your application.
The point is, if you don't plan on physically walking into a branch that happens to have an experienced banker, the account opening process can feel overwhelming and unclear.
And unfortunately, if a banker (or administrative rep) gives you inaccurate information, it can add weeks or even months to the account opening process.
What If You Can't Get In Touch With a Banker?
Many prospective banking clients find it impossible to contact (or even find) a responsive banker in Malta at certain banks. If you've experienced this first hand, don't worry, it's not you.
Finding a bank with a business banking division that's willing to onboard a new Maltese company with limited economic substance or low annual turnover is a challenge.
While there are normal business banks available on the island, there are other banks that are mere "booking centers." that can confuse prospective clients.
These are Maltese banks that simply book transactions through Malta, often for corporate structuring and tax minimization purposes. And, these booking centers have limited (or no) operations on the island.
In other words, the sole purpose of some Maltese banks is to increase the efficiency of the bank's operations elsewhere.
Recently, journalists started giving banks in booking centers evil-sounding names like "shadow banks." But in reality, this is just basic corporate structuring and tax planning. Taxes are lower in Malta than in other EU member states, so banks book a portion of their business through here.
As a result, these banks have zero interest in banking Maltese companies or individuals.
Not surprisingly, the banks that operate booking centers in Malta (and in similar countries) tend to be large international banks. The kind that you might already have accounts with in another countries. And while it might seem logical to open an account with an international bank that you have accounts with elsewhere, this might not be an option.
That's why knowing which banks (and bankers) to approach for your business is critical.. Otherwise, you risk wasting time and money chasing ghost banks that literally have zero interest in banking you or anyone else.
Types of Businesses That Want a Malta Business Bank Account

There are three types of businesses that can benefit from banking in Malta. Knowing which category your business falls into is key, as this will determine which strategies and banks are available to you. It'll also dictate your paperwork and documentation requirements for account opening.
Open a Malta Business Bank Account for a Malta Onshore Business:
Malta onshore businesses are registered in Malta, with local operations, employees (or contractors), local representatives, and a physical presence. In other words, the company has genuine operations in Malta. If your business falls into this category, you will have a wider range of banking options available in Malta than the following categories.
Open a Malta Business Bank Account for a Malta Offshore Business:
Malta offshore businesses are companies registered in Malta but that do not have any physical presence or local operations. They might have a local director and even a local manager who is a Maltese resident, but they do not have any economic substance or operational presence on the island. This is an important distinction and will determine what banking options are available to your business.
Open a Malta Business Bank Account for a Foreign Business:
For the purposes of this article, by "foreign business" we're simply referring to a foreign company doing business outside of Malta. In other words, we're only considering foreign and offshore companies that want to open Malta business bank accounts for non-resident businesses.
Which Business Do You Have?
If you're interested in opening a Malta business bank account for a local Maltese company with clear ties to the island, you shouldn't have a problem opening an account.
That said, if you have a company (Maltese or foreign) that does business outside of Malta and has no economic substance in Malta, then things become more difficult. Likewise, if you need to open accounts remotely, you may run into problems. If you fall into either of these categories, feel free to contact our team for suggestions on which banks to approach.
Fortunately, it's still possible for these companies to open accounts, though it may not be in Malta.
For those determined to bank in Malta, let's take a look at how to open a Malta business bank account for foreign companies and Maltese-registered companies doing business outside of Malta.
How to Open a Malta Business Bank Account

When it comes to opening a Malta business bank account, many people are surprised to find that the majority of the due diligence is focused on the ultimate beneficial owner (UBO), the economic substance of the business, and proof of business.
With regard to the UBO, the bank wants to know who owns and controls the business. This usually includes anyone with a 10% ownership stake or more.
Of course, your company will also have to pass due diligence. And if your company doesn't have any economic substance in Malta, you can expect to jump through additional hoops.
These hoops can include additional bank reference letters, commercial reference letters, source of funds, customer contracts, supplier agreements, and more. Of course, requirements vary from bank to bank, and some bankers may be more lenient.
However, if your business is considered high-risk, which many offshore businesses are, you can expect to pay up to €1,000 in upfront due diligence fees. And that doesn't even guarantee that your Malta business bank account will be opened. At some banks, this is just the non-refundable cost of being considered for an account in the application stage.
Should You Open a Malta Business Bank Account?
Now, while the focus of this article is Malta business bank accounts, it's important to ask yourself whether Malta is actually the best place for your business to bank.
Given the increasing restrictions and aggressive derisking campaigns, Malta isn't as welcoming as it once was. Not to mention the aversion to offshore and international businesses. With this in mind, there may be better banking options elsewhere.
In fact, depending on your industry and business activities, where the company has economic ties, and the individuals involved, you might even be able to access significantly better banking hubs with less hassle.
What You Should Do Instead…
If you already have a Malta business and need to open a bank account, there are international banking options available.
With the right knowledge on which specific banks (and bankers) to contact, you can open a bank account without paying extortionate fees.
We explain exactly how to do this, provide detailed account opening strategies, recommend specific banks, and more in our recent report How to Open International Bank Accounts for Offshore Companies.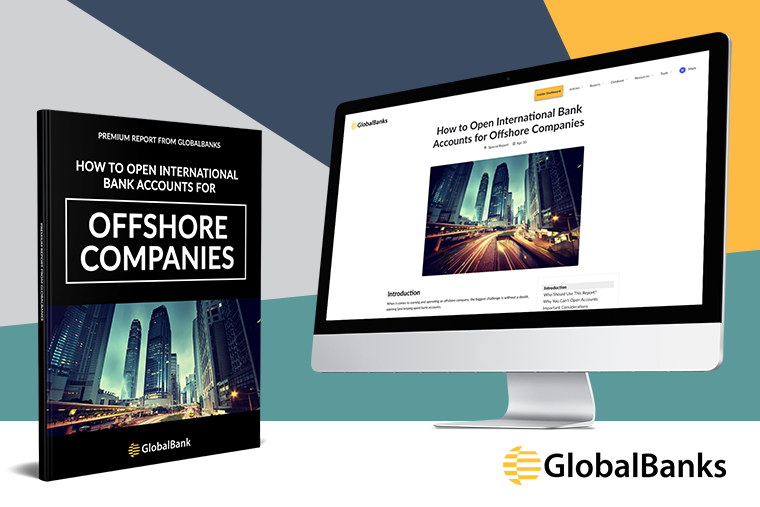 This report includes actionable strategies, specific banks, and account opening strategies. In other words, we tell you which banks actually cater to the needs of offshore companies registered in jurisdictions like Malta. To access this report, you just need to join GlobalBanks Insider.
Ready to Join GlobalBanks Insider?
If you're ready to open a Malta business bank account, use the article above to guide your decision-making.
But, if you want to know which specific banks will realistically accept your company, which account opening strategies to use, how to avoid pitfalls, overcome tough paperwork requirements, and more — then this information is already waiting for you inside GlobalBanks IQ.
If you're ready to take action and start opening international accounts now, you can access GlobalBanks IQ, our dedicated international banking intelligence platform.
GlobalBanks IQ gives you everything you need to start finding and opening accounts for you or your business today.
When you join GlobalBanks IQ, you immediately unlock the GlobalBanks Database of international banks — home to 250+ banks in 50+ countries. 
And, you get access to our library of premium (members-only) reports, including proven account opening strategies, country-specific banking options, and lists of banks for specific client types.
Plus, you unlock our account opening checklists, dedicated account opening alerts, and much more. 
To get started, click here to see if GlobalBanks IQ is the right choice for you to start accessing the benefits of international banking today.
You can also view all of the account opening solutions offered by GlobalBanks on our products page.