So, you want to open a non-resident bank account in Dubai. Well, you're not alone. Dubai is one of the safest and most stable banking jurisdictions in the Middle East. Over the last decade, Dubai has become a major banking jurisdiction.
Banks from around the world have set up operations in Dubai offering standard non-resident bank accounts to ultra-high-net-worth services, and everything in between.
But, like elsewhere, Dubai was hit with an onslaught of new bank regulations and forced to comply with stricter KYC and AML standards. Not surprisingly, this has increased the difficulty of account opening for non-residents, foreign companies, and even UAE businesses.
Many "offshore experts" will tell you one of two things. First, it's impossible to open a non-resident bank account in Dubai. Or second, it's possible but you'll need their help, which comes with a very high fee.
We're here to tell you that these experts are wrong. Opening non-resident accounts in Dubai is possible. And you don't have to pay an introducer an absurd fee to get the account open.
---
KEY TAKEAWAYS
Non-residents can open bank accounts in the UAE
Meeting the requirements to open a Dubai bank account can be challenging as a foreign non-resident
Opening a corporate bank account in the UAE is possible for foreign business owners
Opening a bank account for non-residents in Dubai often comes with restrictions and limitations
---
Our team of banking experts has analyzed all of the non-resident bank account options available in the UAE. And, we're happy to report that it is still very much possible to open non-resident bank accounts in Dubai. In some special cases, you might even be able to open an account without visiting the UAE, but this is increasingly rare.
The bottom line is that with the right information, the right account opening strategies, and knowing which specific banks and branches to contact, you can open a bank account in Dubai as foreigner.
In this article, we'll show you how to do just that and share what you need to know before applying. So, if banking in the UAE is something you're interested in, keep reading.
And as always, if you have any questions at any time while reading the article, just hit the chat button and speak with a member of our team members–they're here to help!
If you'd like to get a head start on account opening in Dubai as a non-resident then download our FREE Non-Resident Banking Starter Guide right now!
Feel free to use the table of contents to jump ahead to the sections most relevant to you.
Table of Contents
Who Should Open Bank Account in Dubai?
Before discussing the specific steps of opening a non-resident account in Dubai, let's take a closer look at who should bank here.
UAE non-resident accounts tend to attract individuals who are struggling to open accounts in other banking jurisdictions. They're also attractive for those who regularly visit or do business in the UAE or have limited banking options in their home country.
There are a number of reasons why Dubai attracts non-resident banking customers. But ultimately, it comes down to the fact that it's a safe, stable banking jurisdiction and banking hub. And compared to the rest of the region, it's banking system is more advanced and open to foreigners.
With this in mind, it should be no surprise that Dubai attracts foreigners from places like Russia, Ukraine, Lebanon, and other countries that carry a stigma making it difficult to open accounts. Citizens and residents from surrounding GCC and MENA countries also view the UAE as a safer, more stable banking option than their home countries.
By contrast, individuals from jurisdictions such as Canada, the US, the UK, Australia, and other more widely accepted jurisdictions tend to open accounts in Singapore, Switzerland, Liechtenstein, Austria, or other western banking hubs before considering the UAE.
If you're struggling to open accounts in these other banking jurisdictions, or you're having a hard time because of your industry or nationality, read on to learn about the account opening requirements and how to open a non-resident account in Dubai below.
Benefits of Opening Accounts With a UAE Bank
"We are determined to protect our financial and banking system… to preserve the interests of our country and people." – Sheikh Mohammed, Prime Minister of the UAE.
Those were the words spoken by Sheikh Mohammed, the Prime Minister of the UAE and Ruler of Dubai, during the 2008 financial crisis to his cabinet.
And those were the words that led the UAE federal government to guarantee 100% of deposits and savings in all national banks.
Keep in mind, in the UAE, the deposits of every customer were guaranteed regardless of the amount. It didn't matter if you had US $10,000 on deposit or US $10,000,000, the government was guaranteeing the safety of your money.
That's a stark contrast to the USD 250,000 limit in the US, the EUR 100,000 limit in the European Union, or the CAD 100,000 limit in Canada.
The UAE government's deposit guarantee, by contrast, was limitless.
Now, we don't recommend opening bank accounts in any jurisdiction based on government promises and deposit insurance schemes. But, it's a fact that certain countries are more fiscally responsible and better equipped to weather financial uncertainty than others. And UAE is one of the better jurisdictions.
Account Opening Requirements For a UAE Bank Account
Years ago, the UAE (and particularly Dubai), was an easy place for non-residents to open bank accounts.
In fact, banking in Dubai was predictable and reliable for non-residents, offshore companies, UAE companies doing business abroad, and various asset protection structures from around the world.
You didn't need a visa or UAE tax residency to open a personal account as a foreigner. Foreign companies also didn't face much scrutiny and didn't need to have a presence in the UAE to open a business account.
But, times have changed. Today, opening accounts in Dubai as a non-resident has become much more challenging. Maybe, like many reading this article, you've already experienced this first-hand.
We'll tackle the subject of opening accounts in UAE for foreign companies in another article. For now, just know that it's still possible to open business bank accounts for foreign companies, if you know where to look and what to do, though it's rarely talked about.
The dramatic increase in account opening difficulty in Dubai is happening for a few key reasons. And these reasons will, directly and indirectly, impact you and ultimately dictate what your account opening experience will look at Dubai banks.
The primary driver behind tough account opening is a shift towards hyper-transparency. This boils down to enforcing procedures to appease compliance departments and bank regulators.
Around the world, this continues to impact the account opening process for millions of legitimate clients and businesses in search of good banking solutions. So take some solace in knowing that you're not alone.
In Dubai, this can mean strict controls on who can apply for bank accounts. Additionally, it can often impact what sort of ties to the UAE or Dubai banks will accept. In certain instances, you can be a non-resident. But at other banks, they may require you to have a work visa or, at the very least, own investments domestically.
Types of Non-Resident Bank Accounts in Dubai
Let's take a quick look at the accounts that are available to non-residents in Dubai before discussing account opening.
If you manage to open a bank account in Dubai, you might be in for a rude awakening and a lot of fees if you're not careful.
What most people don't know (and discover too late) is that non-resident accounts in Dubai often come with restrictions and limitations. For instance, you might not be able to execute transfers online, only be able to transact in certain currencies, or not be allowed to have a debit card.
That's why it's so important to apply to the right banks in the UAE. If you have the right account opening information and a list of proven banking options, you'll be able to access the services you want.
For example, many banks in Dubai do offer credit cards, debit cards, and in certain instances credit products non-residents–though there are other considerations that you'll need to look at to determine whether or not you'll be eligible.
Additionally, foreign companies can also open business accounts in Dubai, assuming they can meet certain requirements. This process, however, will be much more challenging than opening a personal account as a non-resident. As mentioned, we'll tackle this topic in another article.
The bottom line, it is possible to open a bank account in Dubai as a non-resident. But you need to be careful. There are limitations, hidden fees, and only certain banks that will accept you. If you go to the wrong branch, say the wrong thing, and you don't know what you're doing – you can end up rejected or with a painfully expensive bank account that you can't even use.
Determining which bank is best for you will depend on what you need your account to do. With that in mind, let's look at how you can start opening accounts in Dubai today…
How to Open a Non-Resident Bank Account in Dubai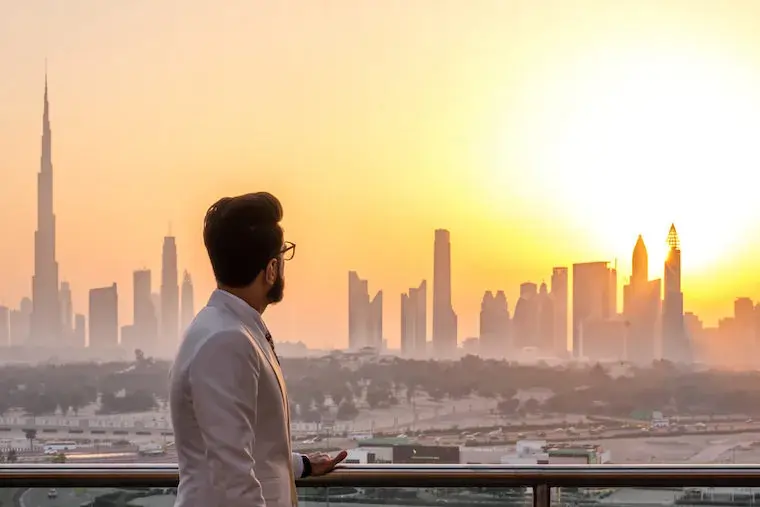 You can open bank accounts anywhere in the world, regardless of who you are and where you're from. But to do so, you need the right insider knowledge and contacts.
You also need to know which banks to target and which branches will accept you. This will include their likes and dislikes. Plus, you need to know if they have specific requirements for documentation. And of course, knowing the account opening strategies to use and which bankers to contact would help.
In other words, you need to know which banks are open to actually onboarding you as a client. And beyond that, which bankers are most willing to accept you and best equipped to represent you to their internal committees.
Many people make the mistake of hiring an "introducer" or bank account opening "consultant" to contact bankers. In certain instances, they even use them to prepare their application and due diligence documents.
Hiring an introducer to help you open a bank account is a mistake.
This is especially true in a world of strict KYC and AML procedures. Banks are legally obligated to know their customer. In other words, bankers want to deal with you directly, not a third-party service provider that doesn't know your business.
For this reason, and many more, paying an introducer $2,000 to fill out paperwork, email it to bankers, and play "gatekeeper" just doesn't make sense anymore.
With the right information and contacts, you're more than capable of doing it on your own. And only you will properly represent yourself and your interests to the bank.
We talk a lot about the dangers of introducers. In addition to charging extortionate fees, random third parties that don't know you or your business will never represent your interests fully. They often apply to the wrong banks and recommend the banks that give them the highest commissions.
When it comes to opening accounts in Dubai, you need a strategy and a plan of attack. And depending on your situation, you might find that the strategies and tactics you use will vary from bank to bank. So knowing each bank's preferences, sensitivities, and quirks before you approach them and apply is critical. It's the difference between success and failure.
But ultimately, there are strategies that almost anyone can follow to successfully open non-resident accounts in Dubai. But that means they need to have the right information. And of course, that information is difficult to come by.
One of the most successful account opening strategies in Dubai is what we call "coming in heavy".
This refers to opening a bank account with a large opening deposit. Here's what this might look like in practice…
Normal application process:
Applicant: Hi, I'm a non-resident from Russia.
Banker: Thank you. Goodbye. 
Coming in heavy:
Applicant: Hi, I'm a non-resident from Russia with US $2 million to deposit.
Banker: Please take a seat, sir. Can I get you anything to drink?
Now, depending on where you're planning to open an account, the meaning of "large deposit" can vary.
For instance, a "large opening deposit" will mean something completely different to a private banker in Dubai then it will to a banker in Panama. So you need to know the bank and the banker you're dealing with. That includes understanding what motivates bankers at that bank.
Of course, in order to use this strategy to open a bank account, you have to have a large enough deposit. And the deposits will need to catch the bank's interest. But that's not all. You also need to be able to prove your source of wealth for compliance procedures to sign-off.
In an upcoming report for our premium members, GlobalBanks Insiders, we'll outline several strategies in opening accounts in Dubai as a non-resident.
This report will include the step-by-step process to get accounts open. It will also have the best account opening strategies and the specific banks that we recommend opening within the UAE. We'll also discuss the best banking solutions for residents, non-residents, UAE companies, and foreign companies.
These additional strategies will share how you can open an account without the need to make a significant deposit. And in some special cases, GlobalBanks Insiders may be able to open a non-resident bank account in Dubai remotely.
Start Opening Accounts in Dubai Now
Don't pay introducers thousands of dollars to provide unnecessary paperwork and perform unneeded tasks. Instead, consider GlobalBanks and get the information you need to open a bank account in the UAE right now.
If you're ready to take action and start opening international accounts now, you can access GlobalBanks IQ, our dedicated international banking intelligence platform.
GlobalBanks IQ gives you everything you need to start finding and opening accounts for you or your business today.
When you join GlobalBanks IQ, you immediately unlock the GlobalBanks Database of international banks — home to 250+ banks in 50+ countries. 
And, you get access to our library of premium (members-only) reports, including proven account opening strategies, country-specific banking options, and lists of banks for specific client types.
Plus, you unlock our account opening checklists, dedicated account opening alerts, and much more.
To get started, click here to see if GlobalBanks IQ is the right choice for you to start accessing the benefits of international banking today.
You can also view all of the account opening solutions offered by GlobalBanks on our products page.