If you've ever thought about combining a BVI company with a Singapore bank account, then listen up. In this article, we're going to break down what you NEED to know before trying to open a Singapore offshore company bank account.
Yes, it's more difficult than it was five years ago. And the process is often grueling, expensive, and laced with hidden landmines – if you don't know what you're doing. These mistakes sink many first-time entrepreneurs, sizable businesses, and even investors.
But it doesn't have to be this way…
---
KEY TAKEAWAYS
Combining a BVI company & Singapore bank account is possible
Bank selection is critical if you want to successfully open
Managing the corporate risk profile can increase your chances
Being able to demonstrate clear regional ties is important
If you are looking for the lowest deposit possible look elsewhere
---
Over the past year, we've seen countless BVI companies fail to open bank accounts in Singapore and lose thousands of dollars in the process. And, even worse, it happened for totally unnecessary (and completely fixable!) reasons.
In this article, we'll explain why this is happening, where most BVI companies go wrong, and how to fix it. We'll also share the application killers that offshore companies (and especially BVI companies) miss when opening a corporate bank account in Singapore.
But first, if you want to get started opening bank accounts for your business right now, download your FREE copy of the Business Banking Starter Guide. It's designed to help offshore & foreign companies open accounts in top banking hubs like Singapore.
Feel free to use the table of contents to jump ahead to the sections most relevant to you.
Tables of Contents
Opening a Corporate Bank Account in Singapore
Why do so many foreign companies want to open bank accounts in Singapore? There are a lot of reasons, but here are some of the most popular:
Well-respected finance & banking hub
Economically & politically stable
Singapore banks are safe, fiscally responsible, and well-capitalized
Banks offer quality customer service
Strong rule of law and low corruption
Banks here accept foreign & offshore companies
Deposit insurance up to SGD 75,000
Territorial taxation
Why BVI Companies Struggle to Open Singapore Bank Accounts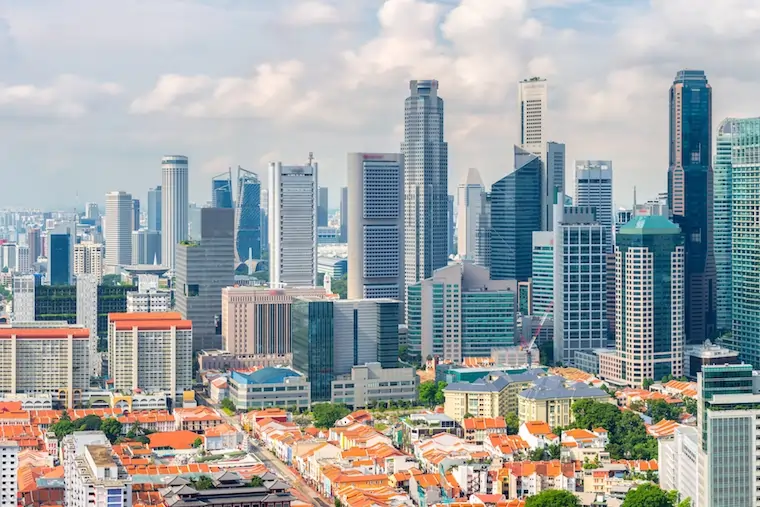 Why do so many BVI companies fail to open Singapore bank accounts? There are a few reasons, including reasons related to (1) offshore company formation in the British Virgin Islands and reasons related to (2) opening bank accounts in Singapore, we cover both below.
Challenges Related to Offshore Company Formation
1. Challenges Tied to BVI Company Incorporation
First of all, opening accounts for a BVI business company tends to be much easier than other forms of offshore company incorporation. The reason for this is that the British Virgin Islands is one of the most widely used jurisdictions for company registration. So, banks (and bankers) are very familiar with them.
That said, that are still some challenges tied to BVI company incorporation. In particular, is obtaining the necessary documents related to your company registration in order to open bank accounts. Certificates of good standing, registrar of shareholders and directors, and other documents from your corporate secretary can take time to obtain and are costly.
2. Normal Bank Account Opening Challenges
In addition to the specific challenges related to opening accounts for BVI business companies, business owners also need to navigate the normal account opening challenges. These can range from deposit requirements, address proof, regional ties, and much more. We will cover these in more detail below.
3. Layering Risks on Top of Offshore Company Formation
When opening a corporate bank account, it's important to think about your business from the perspective of the bank. In other words, knowing what you know about your business, would the bank want you as a customer?
This is particularly important when you have multiple layers of risk associated with your company. After all, the bank does not look at the entity (BVI BC or IBC) in a vacuum. They will also assess the beneficial owner (passport, residence, etc.),  business activities, regional ties, and more.
4. Not Meeting Corporate Bank Account Requirements
Corporate account opening requirements include the documents mentioned above, the account requirements covered in the next section, and the general business information required to help the bank understand you and your business.
Not surprisingly, it is easier for certain businesses to meet these requirements than others. In particular, it can be difficult for shelf companies to meet corporate requirements. This tends to be because they are quickly registered by the original lawyer and then transferred. Instead of being a "purpose-built" entity, registered to meet specific business requirements.
That's why we typically suggest against purchasing ready-made companies when people ask whether they should buy a Hong Kong company with a bank account or entities from similar jurisdictions.
Challenges Related to Bank Account Opening in Singapore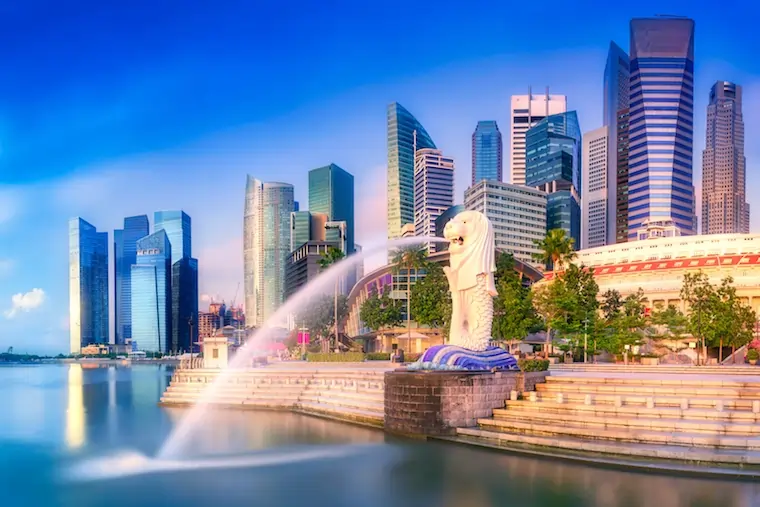 When it comes to opening accounts in Singapore, we find that most people go in completely blind and unprepared.
In other words, they rush through the account application, give careless answers, and don't understand the bank's preferences and sensitivities.
Result? Most people end up red-flagging themselves (and their companies) as "high-risk" and "undesirable" while they're still in the application stage. So more often than not, they end up getting rejected.
Even worse is the fact that most company owners are puzzled. They don't even know why or what they did wrong.
So, in this section, we're going to share the common problems we see BVI companies facing when trying to open in Singapore (and why so many end up rejected and without accounts).
We hope this list helps to demystify the situation and gives you some insight into why so many BVI companies struggle to open Singapore bank accounts.
Problem #1: Misinformation & Introducers
There's a lot of misinformation about banking options for BVI companies on the internet. And, bank introducers and intermediaries only add to the confusion.
Unfortunately, much of the information available to the public about BVI company banking is either false, so outdated it no longer applies, or from sources with conflicting interests. That's why understanding the introducer hustle is important.
Here are the misinformation trends that everyone with a BVI company should be aware of:
Many providers have a vested interest to say that opening a bank account for a BVI company is easy
It's super common for corporate service providers who make money by selling structures (or BVI companies), to say that opening a bank account is "easy." Why? People are more likely to buy a company if it's easy to open a bank account. On the other hand, if people think it's going to be tough to open a bank account, they'll probably incorporate it elsewhere.
The "Remote Opening" Hustle (with Nominee Add-on Services)
Another common tactic amongst corporate service providers (CSPs) is to advertise "remote opening in Singapore" for offshore companies, such as BVI, Seychelles, Belize, and others. To consumers, the offer is attractive since companies from these jurisdictions struggle to open bank accounts. But here's what usually happens: the CSP registers an offshore company for you, adds a nominee director or shareholder, and then the nominee attempts to open a corporate bank account in Singapore. Costs range from inflated to absurd, $5,000 to over $10,000. The catch: whether or not the bank account is opened, the CSP's fees are exactly the same.
"Pre-approving" a BVI company for a Singapore Bank Account
Many introducers claim they can "pre-approve" your BVI company for a Singapore bank account, for a fee of course. This is humorous. Why? An unregulated introducer can't "pre-approve" anything.
Singapore has some of the strongest, most well-capitalized banks in the world. Singapore banks are also well regulated and have very specific compliance protocols. In fact, all of Singapore is highly regulated and well managed. And, Singaporean banks don't allow third-party introducers to be involved in any aspect of the bank's internal compliance process.
So, if a CSP tells you they have the authority to "pre-approve" your BVI company for a bank account in Singapore, they're probably lying. Ask whether the bank is actually issuing the "pre-approval." Or, is this "pre-approval" something that the CSP is making up to justify a hefty $2,000 payment for a single "bank account introduction" to a Singaporean bank that doesn't even require an introducer? Most likely the latter.
If you're already a GlobalBanks member, you can read how to overcome all of these challenges in the following premium reports: Offshore Company Banking & Singapore Banking Report, and much more in the members' area of the website. To learn how you can get access, click here.
Problem #2: Singapore Banks Have Excellent BS Radars
Singapore banks can smell fake businesses, risky ventures, and unprofitable clients from miles away.
That's because Singapore bankers are smart, byproducts of the Singaporean education system, which is ranked as one of the best and most rigorous in the world. Translation? Home-grown Singaporean bankers follow rules and can do the math. So, don't try to outsmart Singaporean bankers, Singapore banks, and their compliance systems. You will fail.
Also, keep in mind: Singapore banks put every new applicant through the same, standardized compliance system. Almost all banks will ask you to submit your application and documents online for an initial evaluation. And this is where many BVI companies fail.
If your BVI company looks and sounds like a compliance problem, then it probably is (in the eyes of Singapore banks). And, Singapore banks aren't going to tell you this. Instead, they're just going to reject you after you spend $2,000 flying to Singapore for an in-person meeting.
Problem #3: You Think it's a Good Sign When Bankers say "Come to Singapore"
Many BVI company owners misread this as a positive signal that the bank is interested in your company business. In reality, the banks say this to everyone. It is a standard compliance protocol.
Here's what typically happens…
A BVI company submits the bank application & supporting documents to the bank online
The bank replies and asks the owner to make an appointment and visit the branch in Singapore
The owner misinterprets this as a sign that the bank approves of their business and their documents, and their company has a strong chance of opening an account
The owner goes to Singapore to meet the banker in person. During this time additional documents are provided
Singapore banks then reject the company
The owner is left feeling puzzled and their wallet is a few thousand short
Problem #4: You're High-Risk (But Don't Even Know It)
If the owner of the BVI company has citizenship or residency in a "high-risk" country, then the BVI company will struggle to open a bank account in Singapore. Each bank usually has a list of countries that they will not deal with. If the company transacts (or trades) with individuals or businesses in these countries, or if the shareholders or directors have ties to these countries, the risk level of the BVI company increases as does the likelihood of rejection.
Problem #5: You Have a High-Risk Business
Usually, there is a big disconnect about what is considered a high-risk business. For example, many people with high-risk businesses are blissfully unaware that they even have one. And, for this reason, they're often puzzled when they're rejected by banks. Check out our article about high-risk businesses to learn more. A few examples are:
Cryptocurrency-related businesses
Any regulated activity
Consulting services & service-based businesses
Precious metals
And more
Problem #6: You Chose the Wrong Singaporean Bank
If you have a BVI company and want to open a Singapore bank account, it's critical that you choose the right bank. Very few Singapore banks accept foreign companies (much less offshore companies), especially if they don't have economic substance or ties to Singapore. So, bank selection is key.
Problem #7: Your BVI Company Has no Connection to Singapore
If your BVI company doesn't have any connection to Singapore or the surrounding region, then by default, it's deemed a higher risk. In addition, you should also have a justifiable reason for wanting to open a bank account there. Literally, the reason you give will be factored into your company's overall risk score. We discuss this, along with all the nuances of Singapore account opening and banking in greater detail in the Singapore Banking Report here.
Bonus Problem #8: You Don't Realize How Important Documents Are
Many people with BVI companies who get rejected by Singapore banks often kick themselves afterward when they realize the importance of their supporting documents and application answers.
More specifically, many new entrepreneurs often overlook the importance of supporting agreements and paperwork. They rush through their application answers, give off-the-cuff answers when meeting with the bank, and slap together their documents. These documents, however, are important because they prove that you and your business are credible, verifiable, and real.
Want Help Opening a Singapore Bank Account for Your BVI Company?
If you need help sorting out your banking options, are struggling with account opening, or just aren't sure where to turn, we can help.
If you're ready to take action and start opening international accounts now, you can access GlobalBanks IQ, our dedicated international banking intelligence platform.
GlobalBanks IQ gives you everything you need to start finding and opening accounts for you or your business today.
When you join GlobalBanks IQ, you immediately unlock the GlobalBanks Database of international banks — home to 250+ banks in 50+ countries. 
And, you get access to our library of premium (members-only) reports, including proven account opening strategies, country-specific banking options, and lists of banks for specific client types.
Plus, you unlock our account opening checklists, dedicated account opening alerts, and much more.
To get started, click here to see if GlobalBanks IQ is the right choice for you to start accessing the benefits of international banking today.
You can also view all of the account opening solutions offered by GlobalBanks on our products page.