The best online bank accounts in Europe offer an attractive path to open a bank account in Europe as a non-resident, including in the EU.
In fact, if you're struggling to open a bank account with a traditional European bank, opening online may be your only option. Fortunately, Europe is home to suitable options for both personal and business banking.
But, unless you have the right information, know each platform's shortcomings, and understand their opening requirements, your chances of being approved and benefiting are slim.
---
KEY TAKEAWAYS
Opening with the best digital bank in Europe is possible
EU online banks will accept foreign non-residents
EU online banks will accept foreign business
Available currencies will differ between platforms
Payment card currencies typically include EUR & GBP
Online applications vary between countries & banks
---
Feel free to use the table of contents to jump ahead to the sections most relevant to you.
Table of Contents
​​Best Online Bank Account [Europe 101]
Finding the best account in Europe (as a non-resident) is possible. However, in certain instances, non-residents may be better served by a traditional account. Ultimately, this depends on several key variables. We detail these variables and the account opening process below.
Naturally, when banking in Europe, most foreign non-residents want to choose a bank with the lowest fees, attractive services, and the easiest account opening process.
But, opening at a brick-and-mortar bank in Europe can be difficult, expensive, and time-consuming. So, it's no surprise that many non-residents are trying to find the best account in Europe instead.
In this article, we're going to help you navigate your options and get started with opening accounts. We'll do this by covering everything you need to know about the best online platforms Europe has to offer. Including who can open an account in Europe, the benefits you can tap into, and how to get started.
But, before diving in, if this is your first time visiting GlobalBanks, don't forget to download your FREE Non-Resident Banking Starter Guide. It's designed to help non-residents open accounts in top banking hubs around the world.
​​What Are Online Accounts?
Before explaining how to find and open the best online bank account in Europe, let's define the type of account we're talking about to make sure we're on the same page.
Essentially, it's referring to a bank account offered by technology platforms that provide banking services to individuals and businesses.
These accounts can be offered by EMIs (Electronic Money Institutions), transfer services (Wise), a digital bank (Revolut), and other fintech-enabled platforms.
There are many labels that get used when talking about these platforms, including… online banks, European mobile banks, European challenger banks, digital challenger banks, fintech, etc.
But basically, they all provide the same thing which is either a euro bank account or a free multi-currency bank account. Although each platform offers slightly different banking services than the others, they're all online platforms that (with the right information) many non-residents can access. As a bonus, most of them enable you to open their bank account free of charge.
Other Considerations
Many of these platforms are considered personal and business-friendly banks for foreigners and non-residents. In fact, in many cases, they offer specific services designed to support personal and corporate clients, releasing unique features, etc. So they also provide a unique alternative to a traditional bank account for certain clients.
While opening an account online with a fintech platform is a great way to do your banking, there can be some drawbacks. For example, while these platforms offer many features and services, many of them don't have branches and ATMs like traditional banks, so you may have to pay more for ATM withdrawals or exchanging foreign currencies. Make sure to read the fine print before signing up for an account in order to avoid any surprises down the road.
It's even possible to open a non-resident bank account in Portugal where foreigners are required to provide a local fiscal number… though many people will say opening accounts remotely here is impossible (it's not).
​​Finding the Top Bank Accounts for Your Money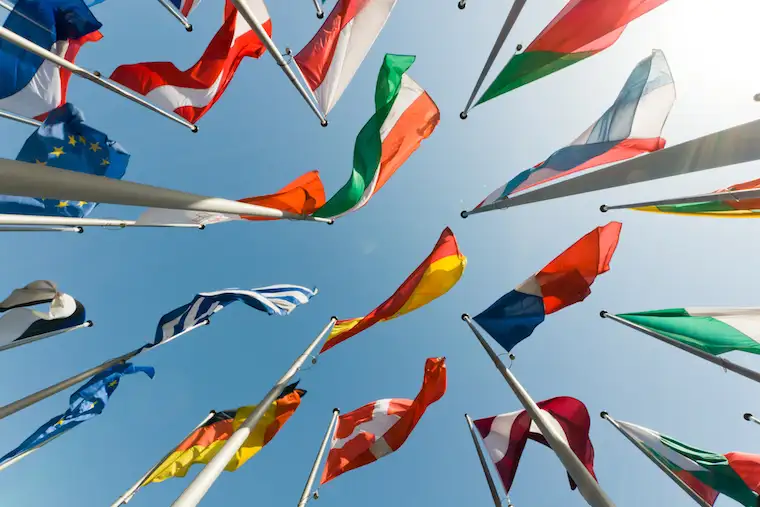 When determining which European online bank to open accounts with, many factors should be considered.
For instance, before you apply for an account with any of the available options, you should ask yourself the following questions.
Questions to Consider Before Applying
Do you actually need a bank account in Europe?
Which specific features & services do you need to access?
What are your most important banking priorities?
How much are you willing to pay in fees?
Have you tried opening at brick-and-mortar banks in Europe?
Are you able to meet the phone and address requirements of online banks?
Do they charge a negative interest rate on the account?
Do they offer a positive interest rate on fixed deposits?
Are there any hidden fees?
How much money do I need to deposit?
How long does it take to start an account?
What are the requirements for opening an account?
Of course, you also need to consider important questions related to each platform.
Platform-Specific Questions to Consider
Does the online platform have a banking (or similar) license?
If not, are they using someone else's entity (this is common)?
Is it one of the largest and most reputable platforms?
Do you know anyone else using this platform?
Do they accept clients with your specific profile?
Do they offer any special services to non-resident clients?
Can they send & receive money in your name?
Do they offer the international currencies you need?
Do they offer a preferential rate on transfers in certain currencies?
Do they transfer funds to & from the countries you need?
Which transfer networks (e.g. SEPA & SWIFT) are they using?
What are the fees for opening (and closing) accounts?
Are there restrictions on how long you can hold funds?
It's important you consider these questions for a few reasons.
First, understanding your banking priorities and the services you need will save you time and money by allowing you to apply to open a bank account online as a non-resident in Europe the first time around.
Second, answering these questions will help you uncover hidden fees and security concerns that most people miss. Plus, they also ensure you open an online account that actually meets your needs.
Here's a closer look at a few of the most important considerations:
Understanding Banking Charges
Many of the traditional brick-and-mortar banks charge fees for almost everything. From ATM withdrawals, account maintenance, transactions, and (in some cases) even opening accounts. But, fintech platforms are different. As you'll find, in most cases, fintech platforms include many basic services for free.
Let Your Money Go Further
Online banking platforms typically have lower fees due to lower operating costs and overhead. And when such platforms pass on those savings to customers, banking can be much more affordable.
But, not all online platforms have adopted this model. In fact, many online banks actually charge higher fees. This is usually because they cater to high-risk or non-resident individuals and entities.
For example, imagine you are a student from the United States studying in France. You may be able to find a bank that doesn't charge any fees for international transactions. However, if you were to open an account with a traditional bank in France, you may be charged for every ATM withdrawal and international transaction.
Likewise, if you have a high-risk business and want to open an account with a European fintech, you'll find that your options are limited. And, those platforms that might open for you will likely charge…
Possible Fees for High-Risk Clients
Non-refundable applications fees
Monthly account maintenance fees
Annual account review fees
Ongoing account compliance fees
Transaction-related due-diligence fees
Transaction search fees (for delayed transfers)
Account closure fees
As you can see, if you have a high-risk business, you need to be prepared to pay the fees for operating the account you need.
If you don't have a high-risk business, you can avoid being charged excessive fees by doing your research and understanding what fees will be involved before opening an account.
Of course, if you are considering opening an account where fees are involved, you should confirm onboarding fees, due diligence fees, and maintenance fees before applying. In other words, confirm exactly what you will be expected to pay in fees before applying for an account.
Confirming the Functionality That Fintech & Digital Banks Offer
There are many online banking platforms to choose from in Europe. But, each platform differs from the others.
Certain online platforms offer an easy account setup, international debit card, and zero transaction fees. But, other online banking platforms offer direct access to crypto, a preferred rate on transfers, enable transfers to and from exchanges, and will open for high-risk business.
So, it's important to find the best account in Europe based on your specific requirements. This will ensure you actually unlock the benefits and functionality that you're looking for.
In our team's experience, the majority of non-residents are looking for specific features and services. These include the ability to send foreign currencies, unlock a better rate on converting currencies, and be able to easily access their money for personal or business use.
Fortunately, most fintech platforms in Europe offer these services, features, and more. So the key is finding the one that does it for you without hitting you with hidden fees.
Find a Bank Account Online
Finding Europe's best online banks isn't easy. That's because there is no single European bank account that fits every client. This is true both with the best banks in Switzerland, really great banks in Portugal, and every digital bank account in between.
So, when deciding on where you want to bank, or more specifically the best account in Europe, you should be considering security, privacy, and protection.
In other words, make sure you're comfortable with the legal status of the entity, the regulatory environment it operates in, and how your information is going to be handled, remarketed, etc.
Otherwise, you may find that the account you opened is actually being serviced by an entirely different entity in a country you're not comfortable with. It happens.
In the end, finding the best digital bank in Europe comes down to choosing an online platform that best suits your needs and client profile. And, understanding the above factors can help you do that.
But, opening an account is just the beginning. You also need to make sure you're getting the most out of your account.
So, let's take a look at the benefits you can unlock when you find the best bank accounts in Europe to open online for you.
​​Benefits You Can Unlock With the Best European Bank
Let's take a look at what benefits a foreign non-resident can unlock when they find the best digital bank in the EU to open online for their profile.
Of course, it's important to note that these benefits will vary depending on the bank accounts you plan to apply with.
So, it's important to confirm which benefits you can access with each digital bank before applying for an account.
Benefits of Finding the Best Online Banks:
Less expensive international transfer fees
Access to different currencies
Payment cards in your preferred currency
Digital banks offer a more tailored experience
Better experience banking online
Personalized bank account details
Deposit guarantee
Free worldwide ATM withdrawals
No minimum deposit required
No minimum account balance
Free Euro deposits
Free SEPA transactions
Quick account opening process
Secure online banking platforms
Strong focus on technology
Transactions to and from crypto exchanges
And more…
Like banking elsewhere, not all European online banks will offer the above benefits. Instead, you need to determine which benefits are most important to you and find the platform that offers them.
For example, if you need to send money abroad frequently, you'll want an account with low international transfer fees. On the other hand, if you handle a lot of cash transactions, you might prefer an account that offers free ATM withdrawals.
​​How to Open the Best Bank Account Online in Europe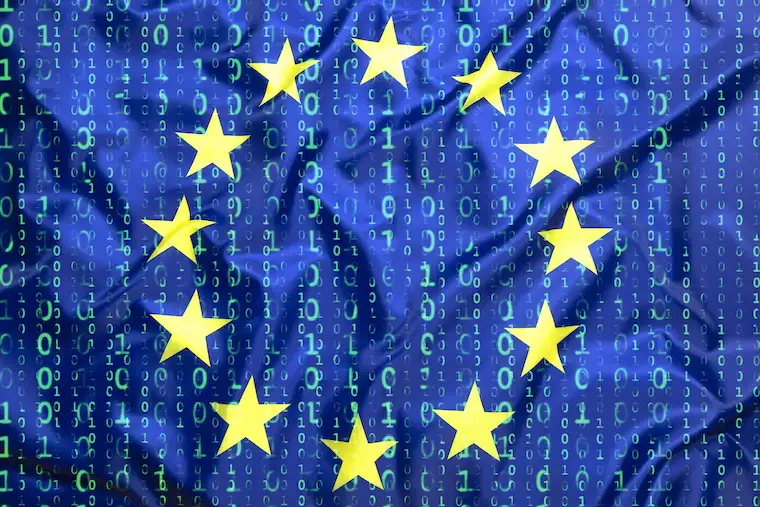 First things first, you need to know which accounts in Europe accepts foreign non-residents. An obvious first step, but the most important.
Second, as a non-resident, and depending on the bank accounts you choose, you may be required to provide proof of the following…
European phone number
European mailing address
Proof of address in Europe
European tax ID number
Now, if you're unable to provide proof of any of these items, finding the best accounts in Europe as a non-resident is going to be more difficult. But, it's still possible to open accounts with the right information and guidance.
In fact, if you're looking for more information on how to navigate the process of choosing the best accounts in Europe as a non-resident, you're in luck.
GlobalBanks IQ — our international banking intelligence platform — includes two in-depth premium reports that are dedicated to helping you find a digital bank.
You Can Access Our Premium Members-Only EMI Reports
The first report, "European EMIs for Non-EEA Individuals" includes everything you need to know to find and open accounts in Europe as a non-resident individual. Including breakdowns of each platform, who they are suitable for, and the account opening process.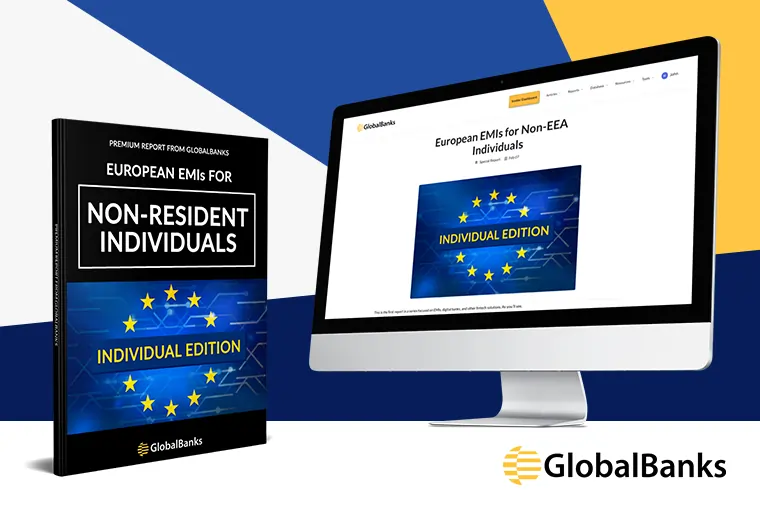 The second report, "European EMIs for Non-EEA Businesses" is a detailed look at opening accounts for non-EEA businesses. Including the account opening process, which jurisdictions are acceptable, which clients benefit the most, and much more.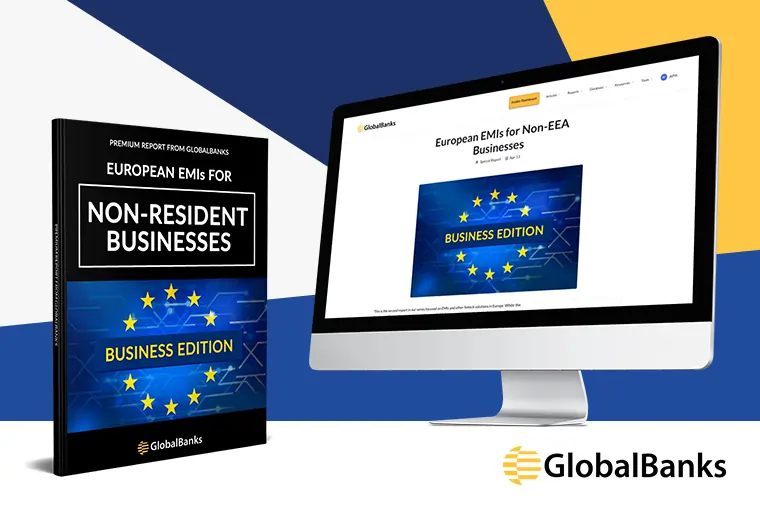 You can access both premium reports and all of our other members-only international account opening reports when you join GlobalBanks IQ.
​​Ready to Explore Your Options?
Of course, if you're trying to determine which accounts in Europe are best for you, you can start by using the information in this article.
But, if you're looking for a more immediate solution to finding the best online European banks, we can help.
Start Opening a Bank (or Digital Bank) Account Online Today
If you're ready to take action and start opening accounts with international banks right now, you can access GlobalBanks IQ, our dedicated international banking intelligence platform.
GlobalBanks IQ gives you everything you need to start figuring out where you should (and shouldn't) apply for accounts.
When you join GlobalBanks IQ, you immediately unlock the GlobalBanks Database of international banks – home to 250+ banks in 50+ countries.
And, you get access to our library of premium (members-only) reports. These include proven account opening strategies, country-specific banking options, and lists of banks for specific personal and business client types.
Plus, you unlock our account opening checklists, dedicated account opening alerts, and much more.
To get started, click here to see if GlobalBanks IQ is the right choice for you to start accessing the benefits of international banking today.
You can also view all of the account opening solutions offered by GlobalBanks on our products page.