When looking to bank in the Caribbean, opening a bank account with banks in Barbados is often shortlisted by non-residents of Canada, the UK, and elsewhere.
One of the major reasons for this is that Barbados has more than 40 double tax agreements in place, offering tax advantages to certain client groups. Another reason why Barbados is an attractive option is the fact they cater to individuals seeking expat wealth management services.
So it shouldn't surprise you that Barbados banking clients are looking for more than the standard banking benefits offered elsewhere–they want tax efficiency and (a bit more) respectability.
In this article, we'll explore whether or not you should consider banking in Barbados, the types of banks in Barbados that non-residents and companies can access, and who benefits the most from opening accounts here.
---
KEY TAKEAWAYS
Barbados is currently on the FATF greylist
Barbados is primarily focused on corporate banking clients
Banks here typically cater to individuals in need of private banking services
Banks in Barbados have strict account opening requirements
---
Before diving in, don't forget to download your FREE copy of the Non-Resident Starter Banking Guide. It helps non-residents navigate the world of international banking and start opening accounts faster and easier in countries like Barbados.
Feel free to use the table of contents to jump ahead to the sections most relevant to you.
Table of Contents
Banking in Barbados 101
Barbados was first occupied by the British in 1627 and it wasn't until 1966 (339 years later) that it gained full independence.
During the 1970s, while the long arm of the City of London extended across the Caribbean, Barbados wasn't considered one of the "crown jewels" like the Bahamas, Cayman, or BVI.
Instead, Barbados struck out on its own, signing tax agreements that put the country at the center of free-flowing tax efficiency deals with major players like the US, and yes even the UK.
But Barbados really made a name for itself in the '80s. In fact, in 1980, Barbados signed a double tax agreement with Canada, essentially encouraging Canadians and Canadian businesses to route their earnings through entities registered in Barbados.
In reality, the tax agreement with Canada turned Barbados into an unofficial part of the Canadian economy–becoming one of the most tax-efficient avenues for Canadian corporates to repatriate earnings back home.
Today, Canadian corporates, entrepreneurs, rich families, and their trusts flock to Barbados to take advantage of the available benefits. As of 2019, nearly $40 billion USD was held in Barbados on behalf of Canadian corporations alone. Not too shabby for a tiny Caribbean island with only 300,000 people.
Not surprisingly, the Canadian Revenue Agency (CRA) has ensured that Canadian tax law is updated to protect against abuse of the tax-treaty. So, you'll need to check with a qualified advisor to determine whether you can actually capture such tax advantages.
Could Losing the Queen Impact Banking in Barbados?
While Canadian connections are strong in Barbados, the country is apparently cutting ties with one of its other sovereign relatives: the UK.
In September 2020, Barbados announced that it was officially removing the Queen as its head of state… making Barbados the world's newest republic.
You may find some locals cheering in the streets, "Finally! Down with the Monarchy!"
But in reality, nothing is changing. Barbados will still have a prime minister, a Westminster style parliament, and it's even staying within the Commonwealth.
In other words, this is better explained as a change in branding than a shift that could impact economics, banks in Barbados, or existing tax treaties.
Barbados' Relationship With Blacklists & Watchlists
Not surprisingly, the biggest risk to banking in Barbados, like other small banking jurisdictions, is the ongoing de-risking by international banks, correspondent bank relationships (CBRs), and international regulators.
For example, Barbados is currently on the FATF greylist. Additionally, it was only recently removed from the EU blacklist, and is considered by the US Department of State as a major money laundering concern for the proceeds of drug trafficking.
So needless to say, the banking sector, local regulators, and banks in Barbados are all walking on eggshells. They want to make sure they get removed from existing watch lists and don't get added back onto the EU list of non-cooperative jurisdictions.
Understanding Banking in Barbados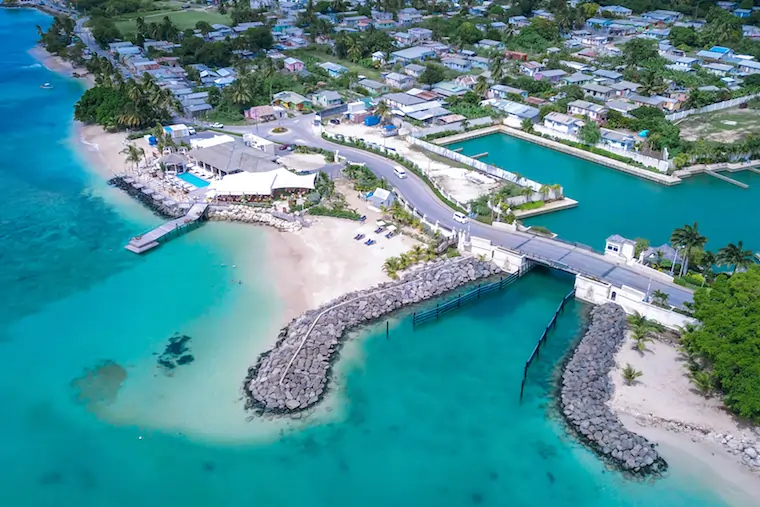 Now that we have a full picture of Barbados as a banking hub, it's time to take a look at the banks in the country.
Today, there are over 30 banks in Barbados operating. Many of them are medium-sized Caribbean banks, while others are international banks from first-world countries.
Canadian banks, not surprisingly, play a large role here–just like they do in other Caribbean island nations. But, this could change given the desire of CIBC, RBC, and Scotia to reduce their presence in the region.
Business Banking
That said, international banking in Barbados is primarily focused on corporate clients–representing approximately 85% of total assets. With this in mind, most of the larger banks on the island simply operate as tax-efficient booking centers for their parent companies and non-resident clients.
Personal Banking
Personal banking represents around 10% of the international banking activity in Barbados. However, the banks in Barbados cater to foreigners, non-residents, and expats who focus on investing and wealth management activities. So, if you're interested in offshore banking in Barbados, you should be in search of private bank accounts.
Banks With Regional Ties
Lastly, certain banks in Barbados have specific regional interests that could be of interest to certain groups. For example, some banks are more inclined to deal with North American and Latin American clients. Other banks will are more familiar (and comfortable with) Russian and CIS clients. Other niches include international corporates, trusts, regional businesses, and more.
Now, depending on your client profile, banking needs, and deposit level, there might be other suitable options for you. For example, if you or your business have an existing relationship with Cayman Islands or you are looking to invest in the Cayman Islands, then a Cayman Islands bank account might be a more suitable option.
As always, be sure to consider all of the private banking and wealth management jurisdictions available to you. It's also important to consider the cost of banking in Barbados before rushing to open accounts
Benefits of Banking in Barbados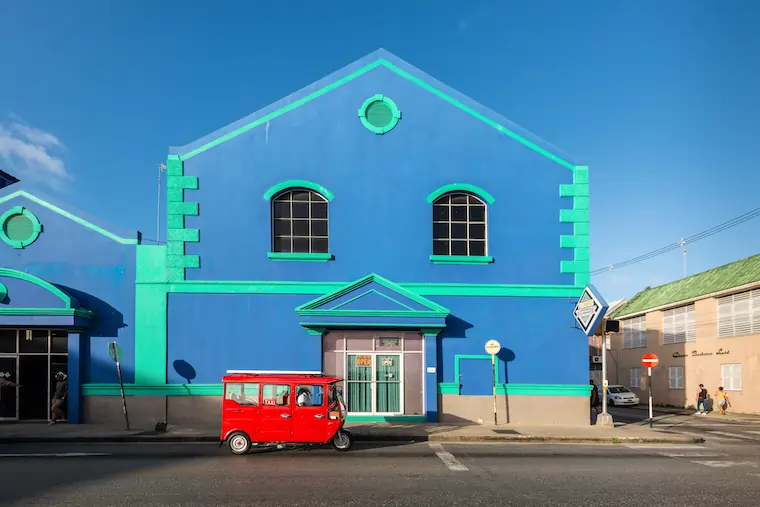 There are a few notable benefits to opening Barbados bank accounts compared to other Caribbean nations. These range from strong tax treaties with international jurisdictions to low domestic tax rates for offshore companies.
With this in mind, here's a quick list of the key benefits non-residents look to capture when opening accounts with banks in Barbados:
Access to large international banks in Barbados
Strong tax treaties with more than 40 countries
Commitment to international regulatory standards
The offshore company tax rate is 2.5%
Captive insurance company tax rate is 0%
Barbados offshore trust tax rate is 0%
Lax offshore trust requirements: no annual reporting
Educated and English-speaking staff at banks in Barbados
Educated and English-speaking professional service providers
Clearly, opening an account with banks in Barbados can offer unique advantages. But many of these stem from the double tax agreements that the country has with other nations. With this in mind, here's a list of the existing agreements currently in place with Barbados:
Austria, Bahrain, Botswana, Canada, CARICOM (Caribbean Community), Cuba, China, Czech Republic, Cyprus, Finland, Ghana, Iceland, Italy, Luxembourg, Malta, Mauritius, Mexico, Netherlands, Norway, Panama, Portugal, Qatar, Rwanda, San Marino, Seychelles, Singapore, Slovakia, Spain, Sweden, Switzerland, UAE, UK, USA, Venezuela
What Do You Need to Open a Bank Account in Barbados?
Like banking anywhere, if you want to open bank accounts with banks in Barbados, you'll need to pass each bank's onboarding and due diligence process. While the exact account opening requirements vary from bank to bank, you can assume that you'll need to provide certified documents for both yourself and your company, and much more, if opening corporate accounts.
But in addition to passing due diligence, bank selection is important. And, you'll want to make sure that you're opening with the best banks in Barbados. Again, there are 30 banks to choose from, but not all of them accept non-residents. Likewise, not all will accept foreign companies–even if junior staffers say they do. And, not all banks offer personal bank accounts to non-residents.
Of course, you also need to know which banking services you require. This includes which countries you need to send money to and from, which investments you want to access, and which currencies are important to you.
So when opening accounts with banks in Barbados, make sure you're applying at a bank that actually accepts your client profile. From there, the onboarding and due diligence process will differ depending on several factors. These include: who you are, where you're from, business type, risk profile, and more.
We explore everything you need to know about international banking, account opening, and bank and banker selection in GlobalBanks IQ. We'll even help you identify the best banks in Barbados to meet your specific objectives.
Frequently Asked Questions
Below are a few of the most common questions we receive from people asking about the list of banks in Barbados. If you have further questions you would like answered, don't hesitate to get in touch.
Can a US Citizen Open a Bank Account in Barbados?
Yes, a US citizen can open a bank account in Barbados. However, the banks available to US citizens will vary depending on the type of account they need, the banking services they are after, and their deposit level. With this in mind, it is important to compare all of the available options before deciding where to apply.
How Many Banks Are There in Barbados?
There are 30 banks in Barbados. Out of these 30 banks, there are a few major international banking brands like FirstCaribbean, RBC Royal Bank, and Scotiabank. Each of these banks caters to different client types, has different onboarding processes, and requires different deposit levels. Likewise, some banks here allow foreign non-residents to hold funds in the currency of Barbados and invest locally.
What US Banks Are in Barbados?
While there are no American banks in Barbados, there are some American banks that do offer international banking services to customers in Barbados. That said, the commercial banking sector in Barbados is largely dominated by regional and Canadian banks.
Do You Want Help Opening Bank Accounts?
If so, you can get access to GlobalBanks IQ in just a few clicks.
GlobalBanks IQ is our flagship international account opening solution. It gives you instant access to the…
+ Expert insights on which banks to choose & why
+ Step-by-step reports to open accounts in the best banking hubs
+ GlobalBanks international bank database & detailed bank profiles
+ Tried & tested banks for high-risk, offshore, & non-resident clients
+ Plus, get YOUR most pressing bank account opening questions answered by our team!
And "yes!" GlobalBanks IQ helps foreigners and non-resident individuals open bank accounts.
In fact, GlobalBanks IQ even helps non-resident, foreign & offshore entities open bank accounts.
To learn more about opening accounts with GlobalBanks IQ, just click here now. Or, contact us directly with any questions!