There's no such thing as a one size fits all strategy when it comes to banking for digital nomads. And there's a simple reason for that: every digital nomad is different — different citizenships, different sources of income, different banking requirements.
So the banking strategy that's best for each digital nomad needs to be tailored to meet their specific requirements and client profile.
And while there are a few good resources on the internet, 99% of websites that cover banking for digital nomads only share the solutions that pay them the highest commissions.
---
KEY TAKEAWAYS
Opening bank accounts abroad as a digital nomad can be challenging
Digital nomads will need to overcome numerous hurdles
There are three major changes impacting banking for digital nomads
Establishing tax residency is a must for digital nomads
---
In other words, few discuss real solutions, strategies, special service combinations, and banking stacks that solve major problems and inefficiencies related to banking for digital nomads.
Fortunately, there are some excellent banking options (and alternatives) available. And, since there is enough commonality across the digital nomad community, we can highlight some important hacks, opportunities, and considerations that will make banking for digital nomads easier to navigate and access.
But, before diving in, download a FREE copy of our Non-Resident Banking Guide. Inside, we share actionable information that is immediately applicable to banking for digital nomads. It'll help you find and open the accounts you need while avoiding pitfalls.
Feel free to use the table of contents to jump ahead to the sections most relevant to you.
Table of Contents
Banking for Digital Nomads 101
When it comes to opening a digital nomad bank account, those just starting out often think they can access any bank they want… that is, until they start applying for accounts.
Very quickly, digital nomads realize that opening bank accounts abroad (and even at home) is not as easy as it should be. If you don't have the right citizenship or residential ties, you don't have a chance at opening an account.
That's why, today, most banking for digital nomads is increasingly centered around fintech – such as EMIs, payment institutions, money transfer services, and prepaid cards.
But, this approach isn't without challenges. While there are new fintech solutions launched each year, many are restrictive and only accept people with certain nationalities and residencies. And, they typically have very specific criteria that new clients have to meet (more on this later).
Meanwhile, traditional banks are often overlooked due to increasingly difficult account opening, a reluctance to accept non-residents, lack of remote opening options, and high costs. Of course, there are still plenty of options out there that can overcome these hurdles, but you need to know where to find them and how to apply.
For these reasons, the most optimal banking stack for a digital nomad lifestyle is often a traditional bank in combination with fintech solutions that are international & low-cost.
The biggest hurdles impacting banking for digital nomads at banks and fintech include:
#1. Residency requirements
#2. Require proof of residency (different from #1)
#3. High deposit or minimum balance requirements
#4. Physical presence is required when applying accounts
#5. Proof of income requirements
#6. Account opening requirements (e.g. utility bill, bank statement, etc.)
#7. Justification for opening accounts
#8. High fees (e.g. application fee, maintenance fee, transfer fees, FX fees, etc.)
#9. Local phone number that can receive SMS messages from the bank
#11. Bank or fintech can't sync with needed services (e.g. Transferwise or Paypal)
#12. Limited (or expensive) credit card and debit card options
We'll discuss these issues (and how to resolve them) in more detail below.
But, the important takeaway here is: banking for digital nomads is laced with challenges and nuances – that the majority of the world population never has to deal with or even think about.
The root cause of these challenges boils down to the international lives digital nomads lead. For example, if you're traveling all the time and don't have "ties" anywhere — it's difficult to provide the necessary documents, show up in person (if you're on the other side of the world), or meet specific bank account opening requirements.
So, it's no surprise that when banking for digital nomads, most people try to find banking options with lax requirements (or that don't impose certain requirements at all). That usually results in one of five types of banks being considered, which are…
Options typically considered when opening accounts for digital nomads:
#1. Fintech and digital banking solutions (e.g. neobanks, EMIs, payment institutions, money transfer services, etc.)
#2. Good banks outside of international banking hubs (or in lower quality jurisdictions with under-developed banking sectors)
#3. Small offshore banks for digital nomads with high-fees and high deposit requirements
#4. Banks that are "digital nomad-friendly" (a.k.a they have a higher tolerance for international and non-resident customers)
#5. International private banking and premier banking options
Out of these five options, #2 and #4 are hard to find. #3 is expensive and may not sync with the services digital nomads need. And, since most digital nomads are still in the wealth accumulation phase of their lives, only a small percentage of them qualify for private banking, so #5 is out.
So, it's no surprise that digital nomads tend to go for option #1, digital banking solutions.  They're easy to open, affordable (sometimes), entirely online, and offer tailored solutions for younger, internationally mobile customers.
That said, they do have some limitations…
And, while fintech options do meet the initial requirements of banking for digital nomads, in reality, they're best for small transfers and low-level, day to day transactional banking. In other words, don't keep your life savings in a fintech and don't use them for large transactions. This is risky.
Remember: Bank account freezes and termination are common with fintech because they rely on outsourced compliance teams or algorithms to tell them when a customer (or a transaction) is high-risk. It's safer and more cost-effective for a fintech to terminate a potentially risky customer than risk penalties/fines, upsetting regulators, or losing critical correspondent relationships.
In addition, most fintech options do not hold banking licenses, are not subject to banking regulations, and don't have deposit insurance. So, if a fintech goes bankrupt, there's no safety net and customers can lose their deposits.
Small offshore banks and banks in lower quality jurisdictions have challenges as well.  For example, many small offshore banks have high account fees and charge every single item imaginable (e.g. monthly account fee, online banking fee, a fee for viewing transaction history, a fee for bank statements, a fee for reference letters, a fee for account closure, etc.).
Additionally, some banks located in lower quality jurisdictions are notoriously difficult to reach, have poor customer service, limited English-language support, archaic online interfaces, and other limitations that can make it very difficult to access your money or resolve problems.
So, needless to say, there are better options out there when banking for digital nomads.
In fact, the most optimal (and safest) solution when banking for digital nomads is combining a traditional bank with fintech solutions.
The only problem is, finding banks that are "digital nomad-friendly" and cater to internationally mobile non-residents is getting harder. Due to increasing regulations and new compliance rules, many banks now view non-residents, digital nomads, frequent travelers, and those without tax residency and economic substance as "high-risk" customers.
That leaves us with option #2 and #4, good banks outside of international banking hubs and digital nomad friendly banks — both of which are tough to find. But, our team regularly helps GlobalBanks Insiders uncover such options, based on their specific account opening objectives and client profile.
Navigating Which Banks to Choose for Digital Nomads
Sure, on the surface it may look like there are a ton of choices. But there really isn't. And many people get stuck. Especially if their accounts get blocked, restricted, or terminated. That's why carefully choosing which banks or fintech you open accounts with is critical, it can help you avoid serious headaches later on.
To help with account opening choices, our team is about to release a report focused on European EMI and fintech options for non-EEA residents and non-EEA companies. In it, we break down over 20 EMIs in Europe alone — highlighting lesser-known (and rarely talked about) banking alternatives, new opportunities, specific hacks and loopholes, and exactly how to navigate account opening as a location independent entrepreneur with limited European connections.
But EMIs aren't the only option. In fact, a combination of EMIs, fintech, and banks can offer a much better solution. With this in mind, we recommend reevaluating your entire banking stack. Then identify the most optimal combination of digital nomad-friendly banking solutions, acquire those relationships, and then pair them together.
Here's what this might look like…
Find a solution like Revolut, N26, or Neat that caters to your country or region of residency to act as cost-effective ways for you to receive payment.
Next, do like every other business and use a solution like Transferwise or IbanFirst (if you have higher volume businesses) and lock in low-cost outgoing transfers.
Finally, pair a traditional account at a high-quality brick and mortar bank to hold your deposits, facilitate investments, and provide access to financing and a wider range of banking services.
We share exactly how you can do this (and much more) in our premium report Banking for Digital Nomads: The Ultimate Guide to Account Opening.
In this report, we share over 20 account opening options, detail the account opening process (and the quirks), and provide solutions specific to banking for digital nomads.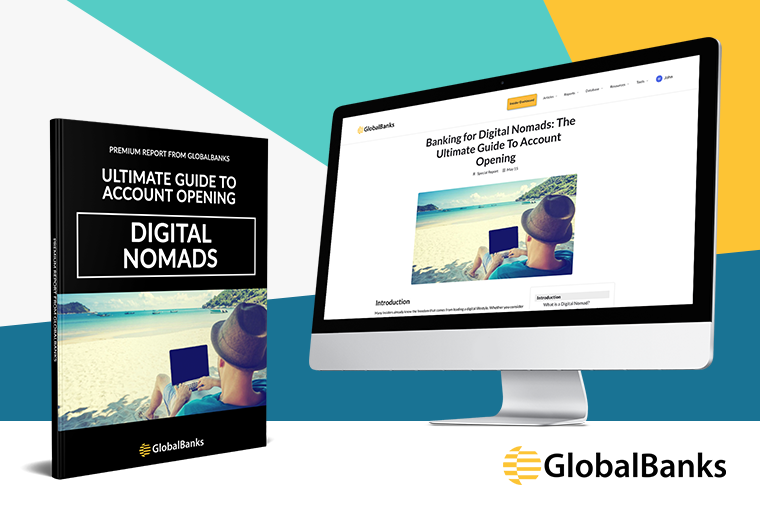 We also discuss the need for backup accounts, the best ways to acquire them, and how to use them. After all, backup accounts are one of the most critical components of any digital nomad banking stack. They ensure you always have access to your money and your banking stack is never compromised.
To access this report (and all GlobalBanks premium reports), you just need to join GlobalBanks Insider. You'll get immediate access to all premium reports, the banking database, the latest account opening strategies, along with the direct support from our team — more on this at the end of the article.
For now, let's take a look at the three most important catalysts that will negatively impact (and shape) banking for digital nomads in the future…
Three Major Changes Impacting Digital Nomad Banking
As we shared in our recent 2021 Edition of the Ultimate Guide to International Banking, there are some radically important changes coming that will impact banking for everyone.
But, these changes will have an outsized impact on banks for digital nomads.
In other words, a few of the existing banking difficulties and inconveniences that currently exist for digital nomads will become more pressing. This also means they'll become more widespread, and more difficult to overcome in the future.
Here's a look at the top 3 changes digital nomads need to watch out for now:
#1. Personal Tax Residency When Opening a Digital Nomad Bank Account
Many digital nomads live across several countries throughout the year and don't establish tax residency in any one country. And while this might be totally fine for you personally, it's not great for banking. In fact, it's becoming increasingly difficult to open a bank account without a tax identification number.
Plus, not establishing tax residency has unintended tax reporting consequences that most people are totally unaware of. But, we'll get into that another day…
Yes, there are exceptions. But such banks tend to be better suited to transactional banking rather than storing your money medium or long term.
And here's the thing, this will impact banking for digital nomads more and more each year. That's because more countries are signing on to participate in the automatic exchange of information for tax purposes.
So not only will banks for digital nomads in these countries require a tax ID from their customers, but they will also send your information to tax authorities in the country where you are a resident. And if that number doesn't exist or your proof is questionable, the bank will simply send your information to every country where they think you might be a resident.
Here's an example:
Let's say a German digital nomad named "Robert" wants to open a bank account in Singapore.
Robert travels frequently. He never bothered to formally establish tax residency anywhere. He splits his time between Germany, Indonesia, and Bermuda. When the bank asks him to confirm his tax residency, he proudly proclaims…
"I don't have tax residency anywhere. I spend time in three countries. Here's a bank statement with my address in Indonesia."
Result? The bank either doesn't open an account or sends Robert's information to every country he mentioned. That would mean Germany, Indonesia, and Bermuda could receive Robert's information.
As many digital nomads have already discovered, establishing tax residency somewhere is a must. With a strategically chosen tax residency, you can lock in low tax rates and other attractive benefits. Not to mention, it also ensures that multiple countries don't claim you as a tax resident. Plus, you'll be able to access better banking options and operate more efficiently as a digital nomad.
If there's one good thing that's come out of the pandemic, it's the increasing number of easy to access digital nomad residency programs that have sprung up around the world. So, if you're in urgent need of an affordable residency option, these countries could be a good place to get started.
#2. Corporate Tax ID & Operating Location
Regardless of where you're from, chances are you are using a company to facilitate your location independent business. This might be a US LLC, UK LLP, BVI BC, Estonian OU, Canadian LP, or any number of other options available.
Each of these structures has its pros and cons. But in general, they can offer good value when it comes to optimizing taxes, creating a legal barrier between the owner and the business, and (in some cases) making banking for digital nomads easier.
But, there's a problem…
If you're a digital nomad operating a location independent business, where is your business located? And, where does your business pay tax?
This is a problem that many digital nomads (and other international entrepreneurs) are now facing. And it's not an easy challenge to overcome.
Newer and stricter requirements regarding company tax IDs and operating locations can make banking for digital nomads more complicated and expensive. For instance, if you need to rent a physical office, provide proof of physical operations (e.g. hire local staff), and provide a corporate tax ID number just to open a business bank account – that's time-consuming and costly. Fortunately, some banks for digital nomads will still allow companies to open accounts even if they don't have a physical office.
But, each bank has different requirements and the rules are constantly changing. And, banking for digital nomads will become more difficult as more and more banks continue to demand proof of physical office, operations, and economic substance to open accounts.
As for corporate tax IDs, it has become almost universally required by banks that you provide this bit of data. If you don't, your application is on the fast track to being denied.
#3. De-Risking by Digital Banking Platforms
When new digital banks and fintech options launch, they cast a wide net, opening accounts for anyone and everyone. But then, they get tough on compliance, get more risk-averse, and start closing accounts.
The game plan is always the same: bring in as many customers as possible and then trim the fat later on. It's like a professional bodybuilder bulking up and then cutting fat before a competition.
Fintechs do this in pursuit of the elusive network effect that transforms businesses into the next unicorn. But, when it comes to banking for digital nomads this can cause serious problems.
And right now, we're seeing more frequent bank account freezes and closures than we have in the past few years. There are a few reasons for this, including tightening regulation and more aggressive AML/CFT policies. But it's also due to upgraded compliance, transaction monitoring systems, and maturing businesses. Of course, increased scrutiny due to recent scandals (e.g., Wirecard) also plays a role.
Fortunately, there are several useful fintech options still available for digital nomads. However, the specific solutions depend on criteria such as citizenship, residency, and address requirements. Of course, they also depend on source of income (e.g. crypto), transaction activity and volume, desired currencies, and more.
This is why bank selection is so critical. Likewise, so is determining whether or not you can realistically meet the requirements for your desired platform. After all, if you can't acquire the right documents, there's no point in applying.
Start Banking for Digital Nomads Today
If you're ready to take action and start opening international accounts now, you can access GlobalBanks IQ, our dedicated international banking intelligence platform.
GlobalBanks IQ gives you everything you need to start finding and opening accounts for you or your business today.
When you join GlobalBanks IQ, you immediately unlock the GlobalBanks Database of international banks — home to 250+ banks in 50+ countries. 
And, you get access to our library of premium (members-only) reports. These include proven account opening strategies, country-specific banking options, and lists of banks for specific client types.
Plus, you unlock our account opening checklists, dedicated account opening alerts, and much more.
To get started, click here to see if GlobalBanks IQ is the right choice for you to start accessing the benefits of international banking today.
You can also view all of the account opening solutions offered by GlobalBanks on our products page.